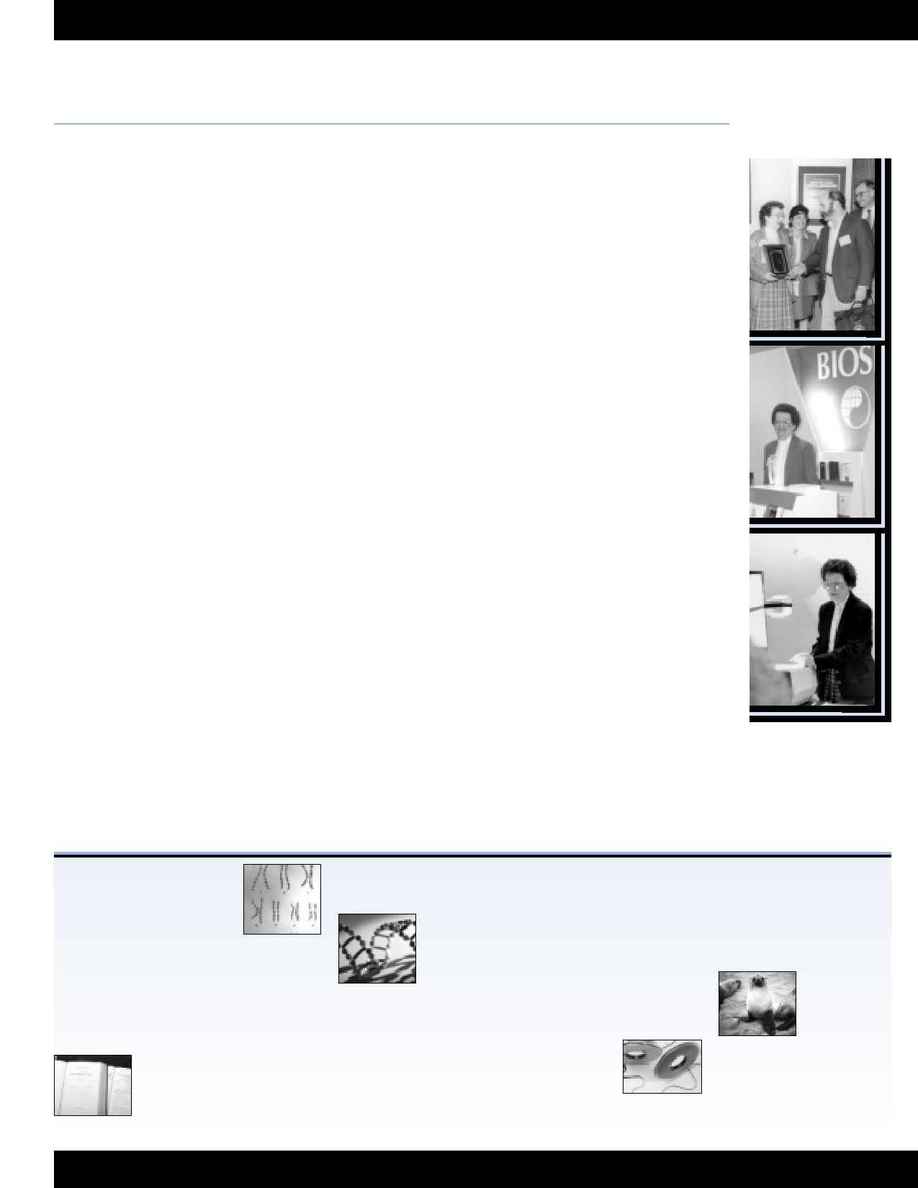 www.biosis.org
3
BIOSIS Evolutions
Vol. 8 Issue 1 2001
Ann Farren retired from BIOSIS last year, ending a
41-year career that spanned the company's most
significant period of development. The achievements
of her career are, in short, a history of the company
for the past four decades.
When Ann started in 1959, scientific research was
growing at an exceptionally quick rate. Advances
in methodology and instrumentation opened up
new worlds of knowledge to scientists. Research,
technology, and engineering built upon itself, and
with it, the urgency to progress even further.
The Director of BIOSIS at the time, G. Miles
Conrad, realized the need to process more
information more efficiently. He hired Ann as the
Technical Assistant to the Director, a position with
wide-ranging responsibilities. "I was a jack-of-all-
trades," she said. "I wrote the company's technical
and general press releases, I served as a BIOSIS
representative on committees with other database
producers and scientific organizations on various
projects, and I represented BIOSIS at scientific and
library exhibits and conferences."
Ann began to develop working relationships
with BIOSIS' customers that became a defining
characteristic of her work. In the mid-60's, she
implemented training seminars to teach the
intricacies of BIOSIS indexing.
"This indexing system lets users be very specific in
their searches. We had meetings, conferences, and
international journal coverage that no one else had;
and, because it was all indexed, it was easy to find.
If you knew how to search for it.
"So we traveled all across the country and Canada,
to universities, companies, and government agencies,
demonstrating the broad spectrum of BIOSIS
coverage, and training librarians and researchers
on some of the new features of BIOSIS indexing."
This type of training is expected now; but, at the
time, it was uncommon. "We were one of the first
database producers to provide this type of training,"
Ann said.
The need was more pressing than ever. In the
mid-70s, BIOSIS made its main database, BIOSIS
Previews
, available for online searching through
Dialog, CANOLE (Canada Online Enquiry), and
SUNY Biomedical Information Network. The
universities and companies that used these systems
had trainers to teach their users, but the trainers
themselves were unfamiliar with the advantages
of BIOSIS indexing. "There wasn't any education
material available back then, even for the trainers,"
Ann explained. "So we prepared training-course
material for them, on our indexing and how to
search it, so that they could, in turn, train their users."
The benefit of this ground-up approach was twofold.
First, since she had no strict guidelines to follow,
Ann was able to tailor the training to the specific
needs of the end-users. Second, the feedback she
received from librarians and researchers provided
invaluable contributions to later enhancements of
the indexing system.
Ann Farren ­ A Look Back
C
AREER
A
CHIEVEMENTS
R
EFLECT
H
ISTORY OF
BIOSIS
First informal
meeting of
biologists
was held to
discuss the
establishment of
a comprehensive
abstracting
journal for all
areas of biology.
First issue of
Biological
Abstracts
®
Thomas Hunt
Morgan won the
Nobel Prize in
Medicine for his
discoveries
concerning the
role played by
the chromosome
in heredity.
First electronic
computer is
unveiled
at the University
of Pennsylvania.
James D.
Watson and
Francis Crick
discovered the
structure
of DNA.
First author
indexes
produced
by electronic
data processing
for Biological
Abstracts
Invention of the
microchip
BIOSIS publishes
millionth abstract
The environmental
movement starts
with the release
of Silent Spring,
by Rachel
Carson.
The Biosystematic
Index is
introduced into
Biological
Abstracts.
BIOSIS installs
its first IBM
computer.
The Internet was
created.
BIOSIS
Previews issued
as machine-
searchable
magnetic tapes.
BIOSIS' first
nonprinted
product.
The first
restriction
enzyme was
isolated.
The Endangered
Species Act was
extended and
strengthened.
The first
recombinant
DNA molecules
incorporating
mammalian DNA
were produced.
Split genes were
discovered.