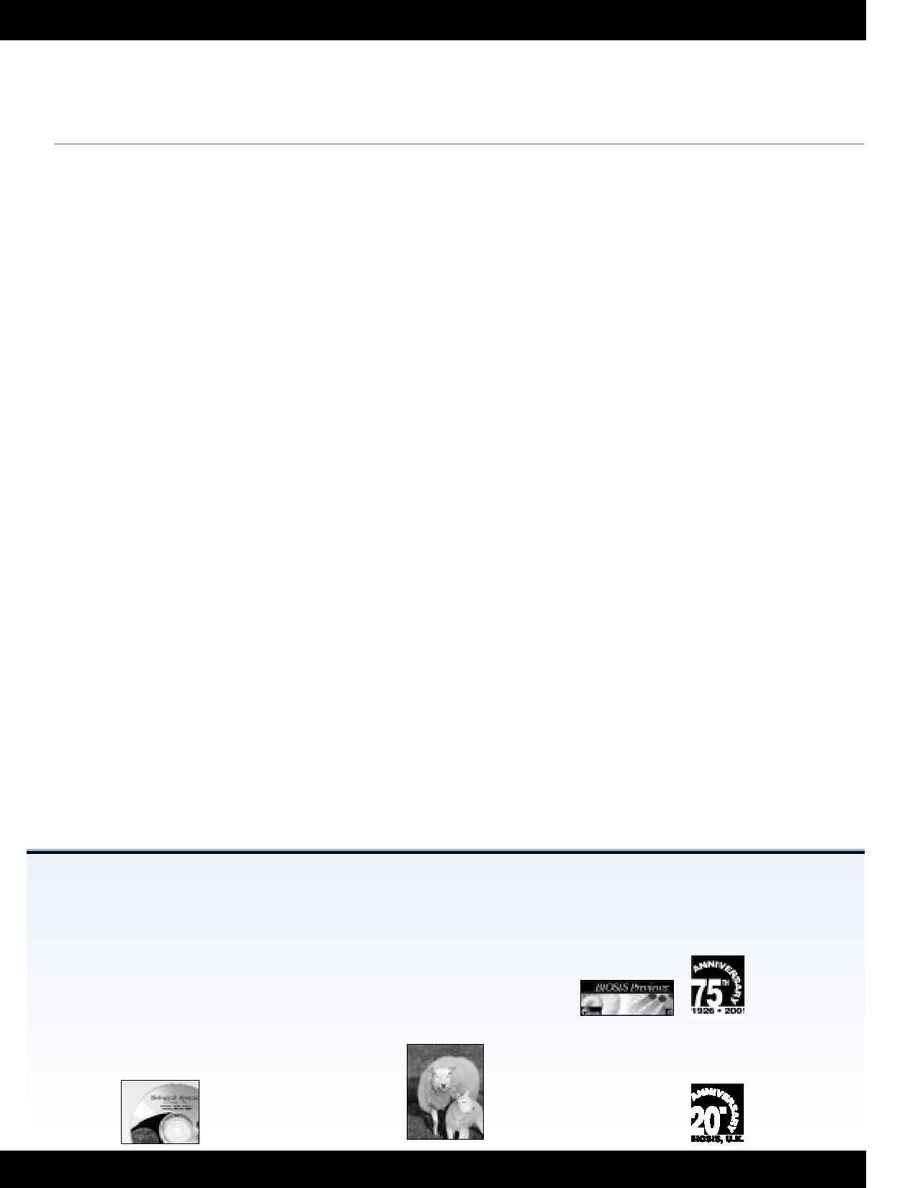 The first
Zoological Record
online database
was produced,
118 years after
Zoological Record
was first published
in print in 1864
Barbara
McClintock was
awarded the
Nobel Prize in
Physiology or
Medicine for her
discovery of
mobile genetic
elements.
BIOSIS publishes
BioBusiness
Biological
Abstracts is
produced on
compact disc.
The World Wide
Web is born!
Biological
Abstracts/RRM
(Reports, Reviews,
Meetings) is
released on
Compact Disc.
Foods Intelligence
is released on
Compact Disc.
Mosaic, the first
graphics-based
Web browser
becomes available.
Zoological
Record on CD
GenRef
Birth announced
of "Dolly," the
successful clone
of adult sheep.
BIOSIS
introduces
Relational
Indexing.
BIOSIS
produces two
Web-based
products:
MethodsFinder
and
BiologyBridge to
Entomology.
HGP and Celera
jointly announce
working draft of
human genome
sequence.
BIOSIS partners
with Web of
Science
and Cambridge
Scientific
Abstracts.
BIOSIS
celebrates
its 75th
Anniversary.
BIOSIS, U.K.,
celebrates its
20th
Anniversary.
In the future,
BIOSIS will
continue to
explore new
technologies
and seek new,
innovative
partnerships
to further our
mission in
serving the
needs of life
sciences
researchers.
4
www.biosis.org
Vol. 8 Issue 1 2001
BIOSIS Evolutions
Education played an even more prominent role
the more information technology changed. In the
beginning of the '90s, CDs and Web services made
research databases much more accessible. Instead
of submitting requests to a librarian or research
specialist, end-users began searching for information
themselves. "When we saw this shift, we changed
our education strategy," Ann said. "We got the
end-users into training. Not just the supervisors and
executives. We worked directly with the end-users
to make sure they could find what they wanted."
To Ann, this exemplified the nature of BIOSIS. "We
listened to our users, we saw what they needed, and
we responded. Every time the technology changed,
we changed, and we provided education for the
users at each step along the way."
Ann was involved with more than just the end-user
side of the company's databases. The increasing
number of vendor partners who provided CD and
Web formats for BIOSIS data needed help in loading
the data onto their systems. Ann, who held the title
of Lead Database Specialist, started coordinating
these data loads and reloads for most of the vendor
partners, something she did for the rest of her
career.
This was vital to the ultimate success of the
vendor platforms. Since each vendor partner had a
different environment from which the end-user
accessed BIOSIS data, Ann had to work closely with
them to ensure that all of the features of BIOSIS
indexing were represented in the final version of the
product. She spearheaded efforts to include features
such as CAS Registry Numbers
Codes, and Super Taxa ­ all key indexing components
and search terms in BIOSIS databases ­ in the
vendor partners' platforms.
One of Ann's last achievements was to oversee the
reloads of BIOSIS data for many of the vendor partners
when BIOSIS's context-sensitive Relational
Indexing started in 1998. The enhanced indexing
system has many features and benefits that required
the vendor partners to redesign their platforms.
Although she was planning to retire, Ann was the
only one who knew both the indexing and the vendor
partners well enough to oversee the transition. Both
BIOSIS and its partners asked her to stay, and she
agreed. It was the last of a series of successful
projects in which she helped BIOSIS develop from a
traditional print publisher into a leading information
provider in today's technology-driven environment.
The information industry has changed remarkably in
the past forty years, at BIOSIS in particular. At the
start of Ann's career, BIOSIS had yet to index its
millionth record; by the end of her tenure, that total
had passed the 12-million mark. Add to this the
advent of online databases, electronic publishing,
and the impact of the Web on the industry, and it's
just as remarkable that one person would be able to
help a company navigate through all these changes.
Ann Farren's career is as noteworthy for its duration
as it is for its foresight, commitment, and perseverance.
continued from page 3
Ann Farren ­ A Look Back
C
AREER
A
CHIEVEMENTS
R
EFLECT
H
ISTORY OF
BIOSIS