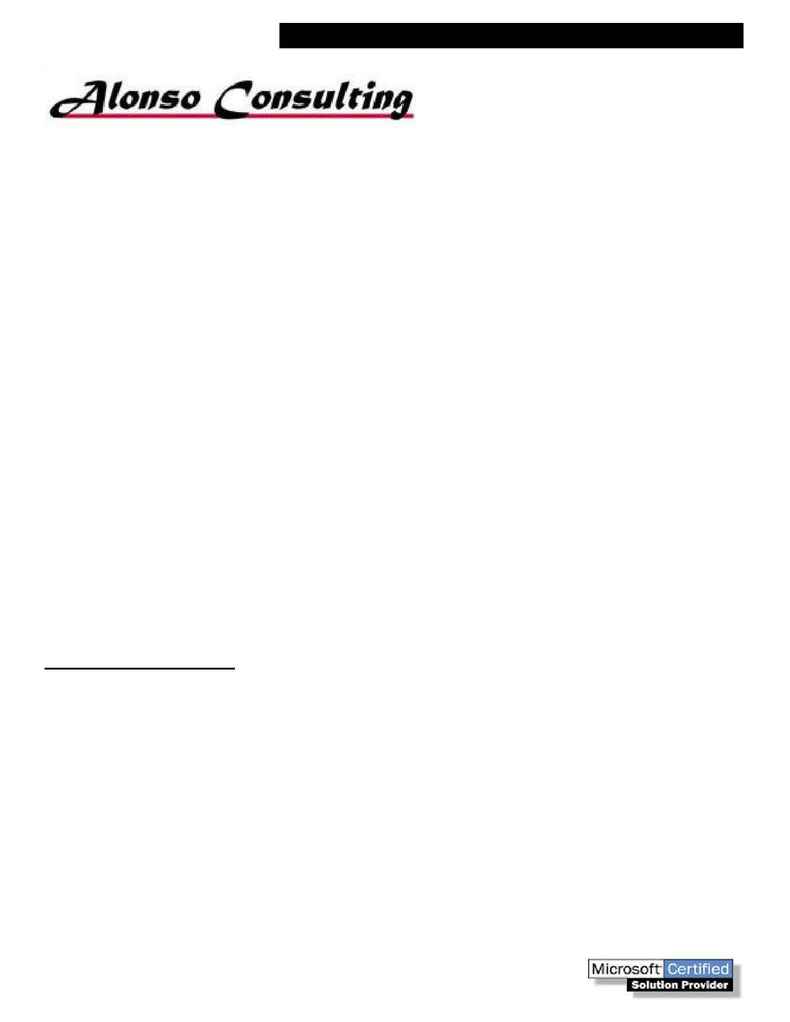 I N T E R N E T S O L U T I O N S
Corporate Solutions
Solution Overview

Industry
All Businesses

Business Solution
Creation of Internet presence for Sales
and Marketing as well as installation and
maintenance of electronic mail accounts
for clients.

Architecture
Leased disk space and communications
bandwidth on a Windows NT Server
system, running Microsoft SQL Server
databases.

Alonso Consulting Services Used
Web Site Consulting Services
HTML Document Creation
Domain Registration
Electronic Mail Installation (Client and
Server)

Benefits
Clients can reach new high income
audiences with their Sales and Marketing
message. Prospects and leads can be
acquired through inexpensive electronic
mail and customer communications can
be expanded to include Internet electronic
mail.










For More Information
About Alonso Consulting Services:
Call the Alonso Consulting Sales
Information Center toll free at
(877) 4ALONSO or (973) 575-1414.
On the Internet:
Visit the Alonso Consulting Home Page at
http://www.alonso.com or e-mail us at
sales@alonso.com
ew technology can be difficult to
understand. Just years ago the Internet
was a powerful tool that only academics
and hard core techies used. Now the so
called information superhighway has
become a powerful new medium for sales
and marketing.
When consumer oriented companies like
Nabisco, Honda and 7-Up create web pages
on the Internet and advertise their addresses
in prominent locations on their television
and print ads, it becomes apparent that the
Internet has become a mainstream medium
that business should not ignore.
Alonso Consulting recognized the
Internet's potential early on and positioned
itself to provide the types of services that
small to medium sized businesses would
need in this new medium. We can provide
your company with a web site with your
company name as an address. For example,
our site is called, "http://www.alonso.com."
Yours could be similarly set up to reflect
your corporate name or your most important
product. We also can help you create the
content that will appear on the site and can
help you administer and update the site on
an ongoing basis.
Pricing for these services varies
according to the level of service that you
require. Typically, the site set up and name
registration is one fixed fee while the
content creation varies according to level of
involvement. Maintaining the web site is a
monthly fee that includes the lease of
"space" as well as our services to maintain
and update your information.
Electronic Commerce
Perhaps the most effective way to use the
Internet today is to use it for electronic
mail. Many corporations now have
electronic mail (or e-mail) accounts for all
their employees. This facilitates commerce
and increases response times to customers.
When a customer wants to see pricing
information or a fact sheet on a product or
service, e-mail gives you the opportunity to
respond immediately without incurring
expensive overnight charges.
You will find that the Internet gives you
an opportunity to reach a new set of
customers that can be geographically
diverse as well as affluent and well
educated. The demographics of most
Internet users is what makes it such an
attractive medium.

Do We Use the Internet?
Alonso Consulting uses the internet for
precisely the same reason that you are
considering using it. We use it to tell a
world-wide audience about our services and
to obtain leads through an on-line form that
visitors can fill out. Our site allows vendors
and clients of ours "surfing the net" to drop
in and see what we're up to. It has offered
us a great opportunity to stay in touch with
contacts that are valuable. We have
generated new business as well as new leads
from our site. Additionally, our E-mail
addresses have enabled us to produce results
for key clients that send data to us through
the Internet and have us process it for them
and send it back ready for loading into their
systems. This type of work which took three
days before--one for expressing it to our
office on diskette, fifteen minutes for us to
process it through our programs on the day
it arrived and another day to express it back
to the client, can now be done in forty-five
minutes. This increase in level of service
boosts our repeat business, customer
satisfaction and overall profitability.
It's Your Turn Now
Now that you know what the Internet can
do for you, call us. We'll show you how
economical it can be to get started, and
discuss the scope of our services with you in
detail.
We would love to have you as a valued
client.
N