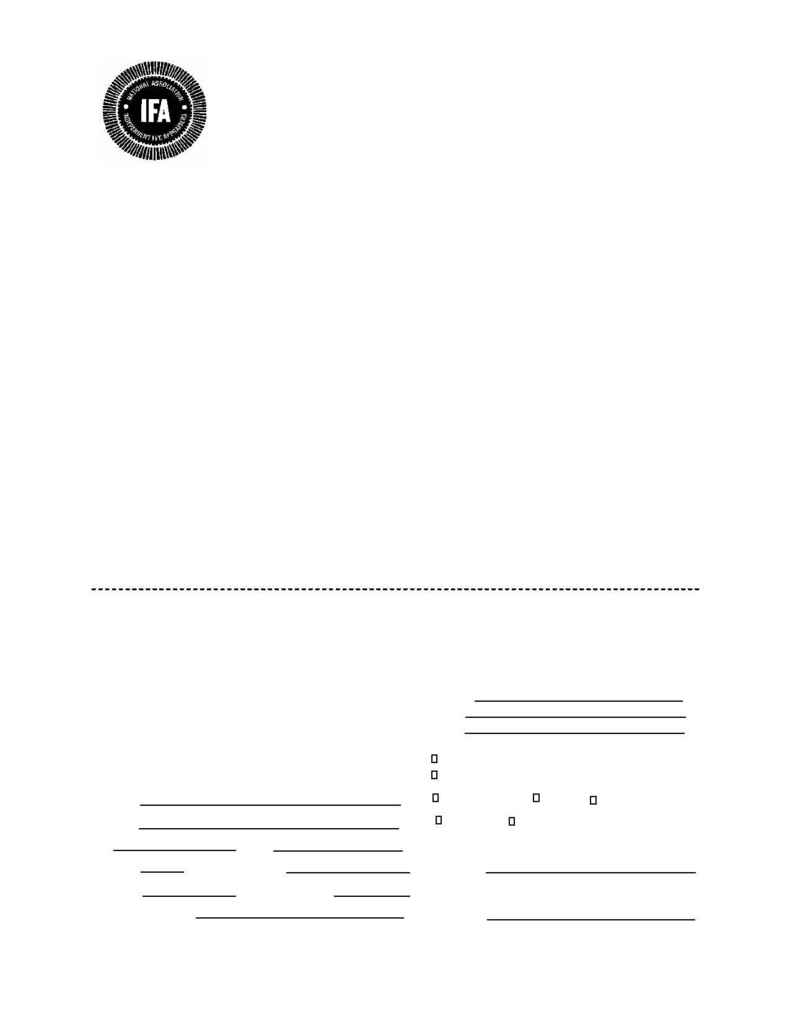 2002 NAIFA
BINGHAMTON, NEW YORK
Location:
Coordinator:
Members are allowed to use their 2001 Free Education;however, there is a $20.00 administration charge
Free education will be treated as cash and will be forfeited under cancellation policy.
When registering for course, please indicate if you need credit in more than one state
National Association of Independent Fee Appraisers
Department of Education
Phone: (314) 781-6688 Fax: (314) 781-2872
Toll-Free Registration FAX: (800) 229-0797
Check enclosed
I am using my free education certificates
charge to my: VISA Mastercard
Discover American Express
License # Type of License
REGISTRATION FORM
Registrations recommended in advanced. Walk-ins are welcome depending on space availability.
Because of limited enrollment, please complete and mail this registration card with your check today to:
EDUCATIONAL COURSE
July 23 - 26, 2002 8 a.m. - 5 p.m. each day
Cost for course: $ 432.00 member $ 512.00 non-member
1.1 Principles of Residential Real Estate Appraising (30 Hours) (R-1)
1.2 Market Data Analysis of Residential Real Estate Appraising (30 Hours) (R-2)
July 29 - August 1, 2002 8 a.m. - 5 p.m. each day
Cost for course: $416.00 member $496.00 non-member
5.0 Uniform Standards of Professional Appraisal Practice (15 Hours) (Ethics)
August 22-23, 2002 8 a.m. - 5 p.m. each day
Cost for for course: $238.00 member $278.00 non-member
Fairfield Inn
864 Front Street
Binghamton, New York 13905
(607) 651-1000
Dave Cortes
(607) 748-1333