Health Grades Smart Choice Page 1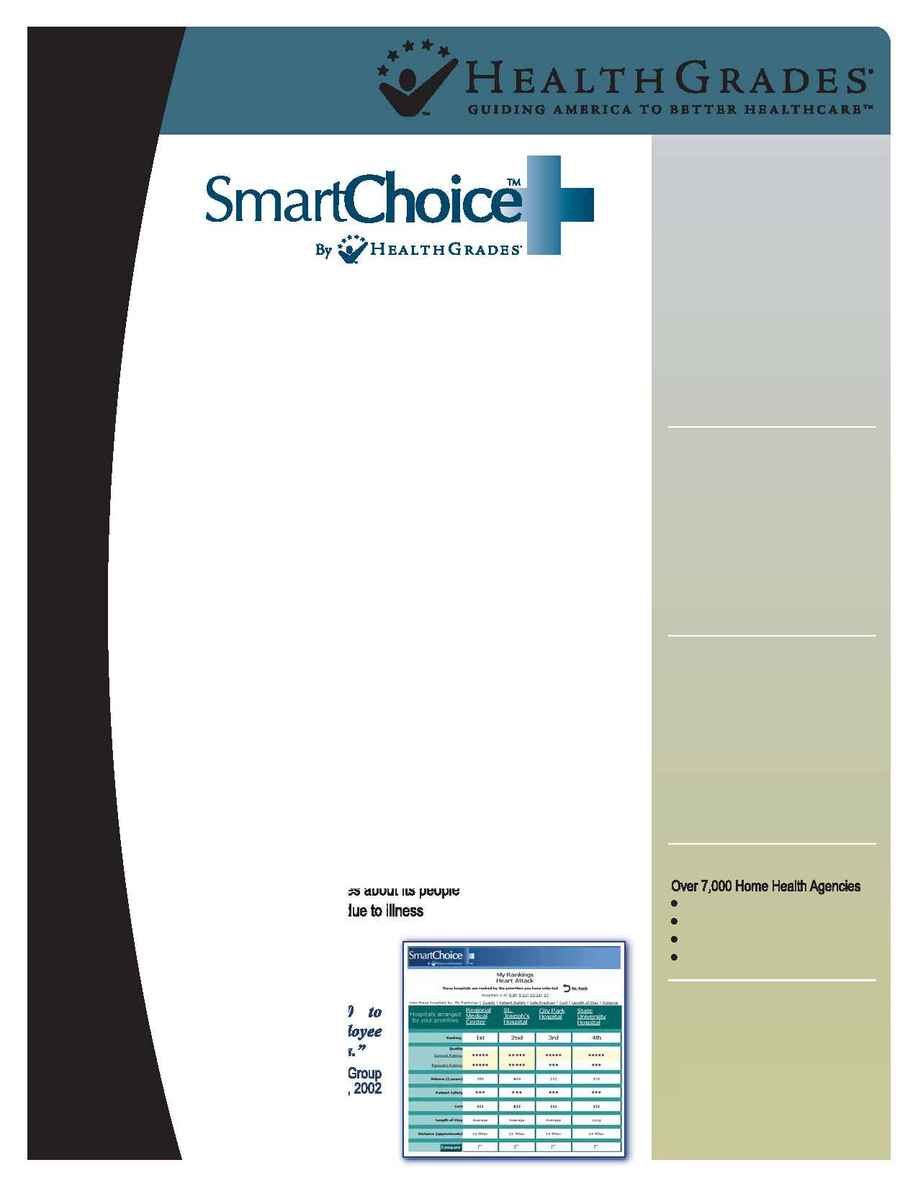 S
MART
C
HOICE
Consumer-directed health plans won't lower your
healthcare costs by themselves--you need
SmartChoice
TM
for that.
is an easy-to-use online healthcare tool that compares the quality
of hospitals, physicians, nursing homes, and home health agencies, so individuals
can make smart choices. When beneficiaries choose higher-quality doctors,
hospitals and other caregivers, the result is healthier people and lower costs.
Steer Beneficiaries to High-Quality Health Care
Give your beneficiaries a resource to consult when they face critical healthcare
decisions--a parent's care, a child's illness, a major surgery, or general health
maintenance. SmartChoice provides easy access to information that is normally
difficult or even impossible to find elsewhere.
Let Your Beneficiaries Lower Your Costs
With information available through SmartChoice, your beneficiaries buy smarter
when they need healthcare services. When beneficiaries avoid complications,
longer hospital stays and higher costs of poor-quality care, you rein in healthcare
Realize Far-Reaching Benefits
When you add SmartChoice to your benefits package, everybody wins.
"Employers pay $1,700
"
$2,000 per year per empl
to cover poor quality costs
Create a healthier workforce
Help your beneficiaries find the best care available
Protect your beneficiaries from poor-quality providers
Show that your company cares about its people
Reduce employee lost days d
Hold providers accountable
Health Grades, Inc.
1-800-938-0148
www.healthgrades.com
Compare and Select
the Best
Hospitals
Over 5,000 Hospitals Rated
Easy-to-understand star ratings
Consumer-friendly navigation and
Patient safety measures from The
AHRQ patient safety indicators
Cost, volume, and length-of-stay
Physicians
Over 620,000 Physicians Profiled
Board certification (ABMS or AOA
State medical board and Medicare
Foreign languages and gender
Ratings of affiliated hospitals
Patient-satisfaction results
Nursing Homes
Over 15,000 Nursing Homes Rated
Details of the four most recent
Overall star ratings compared to
other facilities within the state
State averages for violations and
Home Health Agencies
Licensing survey deficiencies
Complaint investigations
Repeat violations