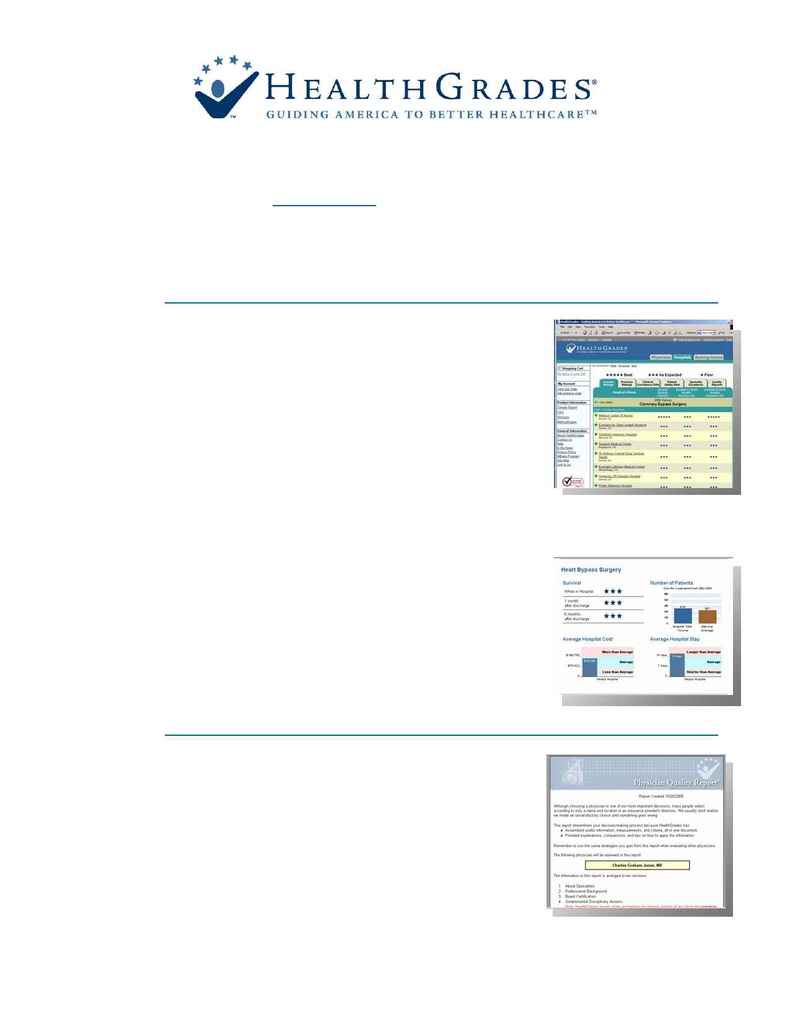 HealthGrades Web Site Features
Overview:
, connects consumers with hospitals, physicians and nursing homes based on
HealthGrades' independent analysis of healthcare provider quality. HealthGrades, the leading independent healthcare ratings
company, also sells customized, enhanced versions of its Web site to corporations, benefits providers and health plans, such as
Honeywell, Best Buy and Independence Blue Cross.
Traffic:
2.5 million unique visitors per month and growing quickly. It is, by far, the leading destination on the Internet for quality ratings and
information for healthcare providers.
Hospital Ratings
For free, visitors can compare the quality of local hospitals in each of 28 categories,
from bypass surgery to hip replacement. Star ratings indicate whether the hospital has
death or complication rates above, at or below the national average. For $9.95, visitors
can purchase a more in-depth hospital report that includes patient-safety, cost, length of
stay and other information. The nation's 5,000 hospitals cannot choose to opt in or out
of the ratings, which are updated annually based on the HealthGrades Hospital Quality
in America Study.
Back and Neck Surgery (except Spinal Fusion)
Back and Neck Surgery (Spinal Fusion)
Chronic Obstructive Pulmonary Disease
Community Acquired Pneumonia
Coronary Interventional Procedures
Gastrointestinal Procedures & Surgeries
Peripheral Vascular Bypass
Physician Profiles
HealthGrades sells profiles of each of the nation's 650,000 practicing physicians in more
than 100 specialties, for the first time letting individuals choose a doctor or specialist
based on solid, objective information. The first report is $9.95; additional reports are
$3.95.
Medical education, residency and fellowships
Sanction information from the 49 states that release it
Star ratings for hospitals at which the doctor has privileges
Comparisons to national averages
Tips on evaluating physician background information
Features: