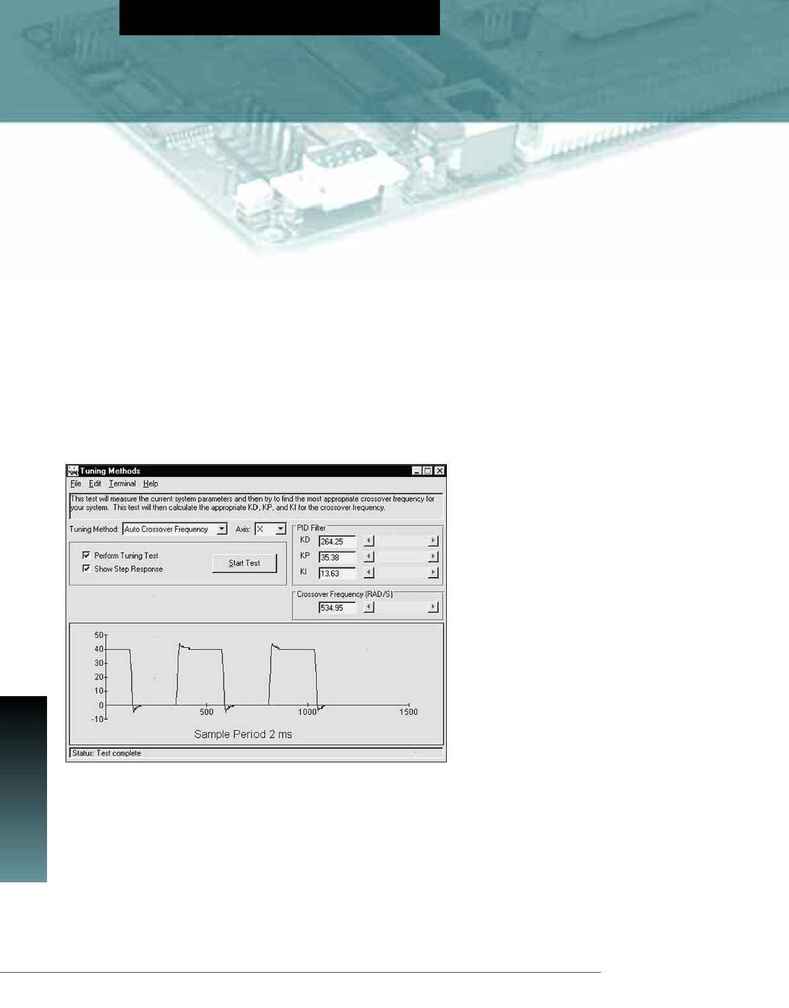 WSDK's automatic tuning routines set the
best PID values and display the step response
of the system.
Features
Allows easy setup, tuning, and analysis of motion systems
Menu-driven, no programming experience required
Four-channel storage scope for displaying real-time position,
velocity, error, and torque
Displays X versus Y position for viewing actual 2-D motion path
Terminal emulator and program editor for easy communication
with the motion controller
Automatic tuning procedures for quick and easy selection of
controller's PID parameters--optimizes performance of actual
system hardware
Provides impulse, step, and frequency response tests on
actual hardware
Displays system parameters and motion status in convenient
matrix format
The WSDK (Windows Servo Design Kit) allows easy sys-
tem setup, tuning, and evaluation.This powerful soft-
ware package is recommended for all first time users of
Galil controllers.WSDK software provides automatic PID
tuning for optimizing performance. Several tuning
methods are provided allowing automatic tuning for a
wide variety of systems and loads.
A four-channel storage scope provides a display of
the actual position, velocity, error, and torque.The WSDK
software also provides several tests for design and
analysis of servo systems.These tests include impulse,
step and frequency response.
16MB RAM, 25MB disk space
Galil controller installed
S
O
F
T
W
A
R
E
90
www.galilmc.com / Galil Motion Control, Inc.