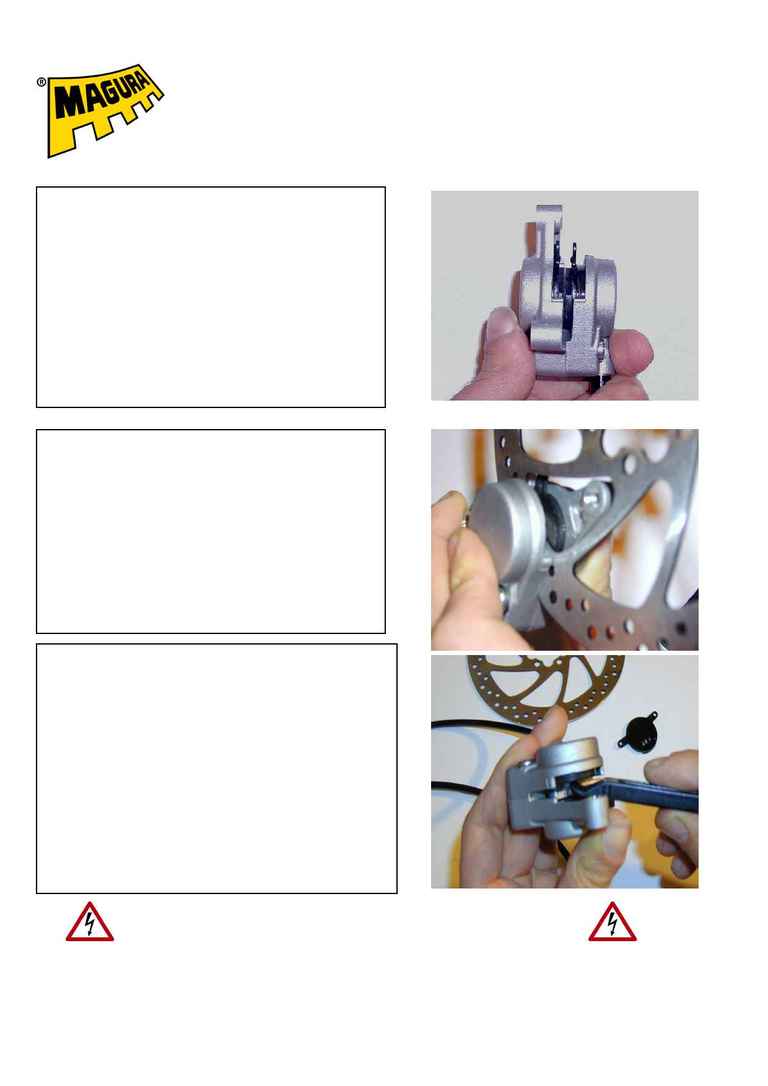 MAGURA Tech-Tip 02/2002
www.magura.com

Bad Urach, 06. Feb. 2002

Tech-Tip 02/2002
Insufficient or sticky piston retraction on 2-piston calipers with automatic pad
adjustment. (Julie, Clara 2001 onwards, Louise 02 onwards, Louise FR,
Marta)
ATTENTION: NEVER grease the seals of the caliper!!
The seals of the caliper can eventually dry out
causing a higher friction, increased retraction of
the piston and an unsatisfactory pad wear
adjustment.
Consequence:
One pad is pushed out farther than the other,
the modulation of the brake gets spongy and
the lever blade moves closer to the handlebar.
This phenomenom is well known from
suspension forks which need sometimes a
"break-in period" for a consistent action.
In such a case proceed as follows:

Remove the cotter pin/fitting screw
holding the brake pads.
Take out the brake pad on the side with
the sticky piston.
Use the rotor in the caliper to hold back
the non-sticky piston. Pump the lever
blade and force the sticky piston to fully
move towards the rotor (full piston
stroke).
CAREFULLY push back the sticky piston with a
a tire lever (as shown). Use the tire lever from
several sides to assure the correct and equal
retraction of the piston. Repeat process 2-3 times
or until the seal on the sticky piston is fully
lubricated and moving freely. At this point both
pistons will be moved equally when the lever
blade is activated.
ATTENTION!
The pistons are VERY FRAGILE!
Never use any other tool than a plastic tyre lever
­ any metal tool risks to damage totally the
piston!