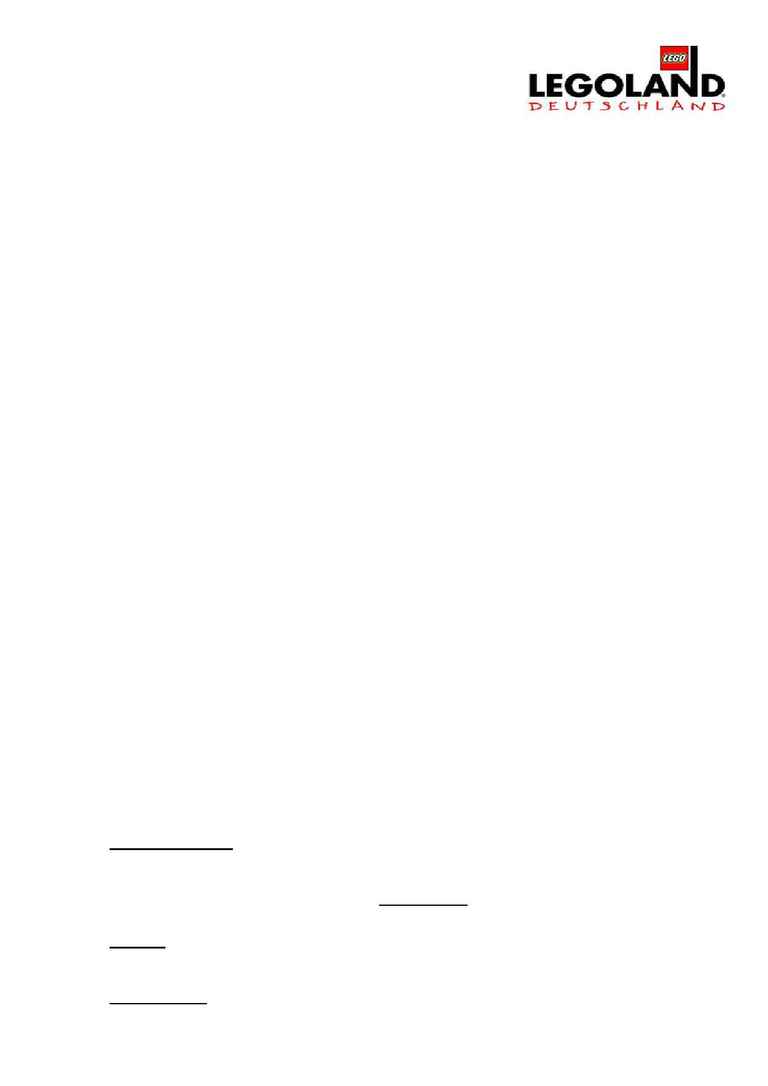 PRESS RELEASE 2
Three Million Euros on Improved Comfort for Our Guests
Günzburg, April 4, 2003 - LEGOLAND
Deutschland is investing three million Euros
in its Park at Günzburg, Bavaria, which will enter its second season on April 12. Next to
new attractions including the LEGO model of Neuschwanstein Castle and another ride
for children (to be opened late in June, 2003), there are 30 more locations in the Park
where we have implemented changes to enhance the comfort of our guests. Thus, for
instance, there is now an electronic guidance system for parking cars, attractions have
been fitted with roofs offering protection from the rain and the sun, and the cultural-
history content of the legends describing the buildings and landscapes in LEGO
MINILAND has been enhanced. Lastly, there is a colorful calendar of events to round
off the attractions offered by the LEGOLAND Park in the season of 2003.
'As we now know, our decision to open LEGOLAND Deutschland at Günzburg was just
the right thing to do', says John Jakobsen, Chief Executive Officer of LEGOLAND
Deutschland. In its relatively short first season after the opening on May 17, the family
park was visited by more than 1.33 million guests. LEGO fans bought around 23,000
one-year passes and 126 lifetime passes. About 60% of the guests came from Bavaria
and Baden-Württemberg, 10% arrived from the German-speaking countries of
Switzerland and Austria, and another 10% from non-German speaking countries.
Visitors stayed in the Park for an average of 6.25 hours.
A note for the editor:
On May 17, 2002, LEGOLAND Deutschland opened its gates in Günzburg, Bavaria. The fourth Theme Park
of the LEGO Company worldwide was visited by more than 1.3 million guests in its first season. On April
12, 2003, the Park will enter its second season with a number of new attractions.
For more information and tickets, contact us under www.legoland.de or by telephone under +49 (0)8221
700 700.
Contacts:
LEGOLAND Deutschland GmbH
Marion Moormann, Press & PR Manager
Kristina Krupp, PR Officer
Annette Uhlmann, PR Officer
Phone: +49 (0)8221 700 221