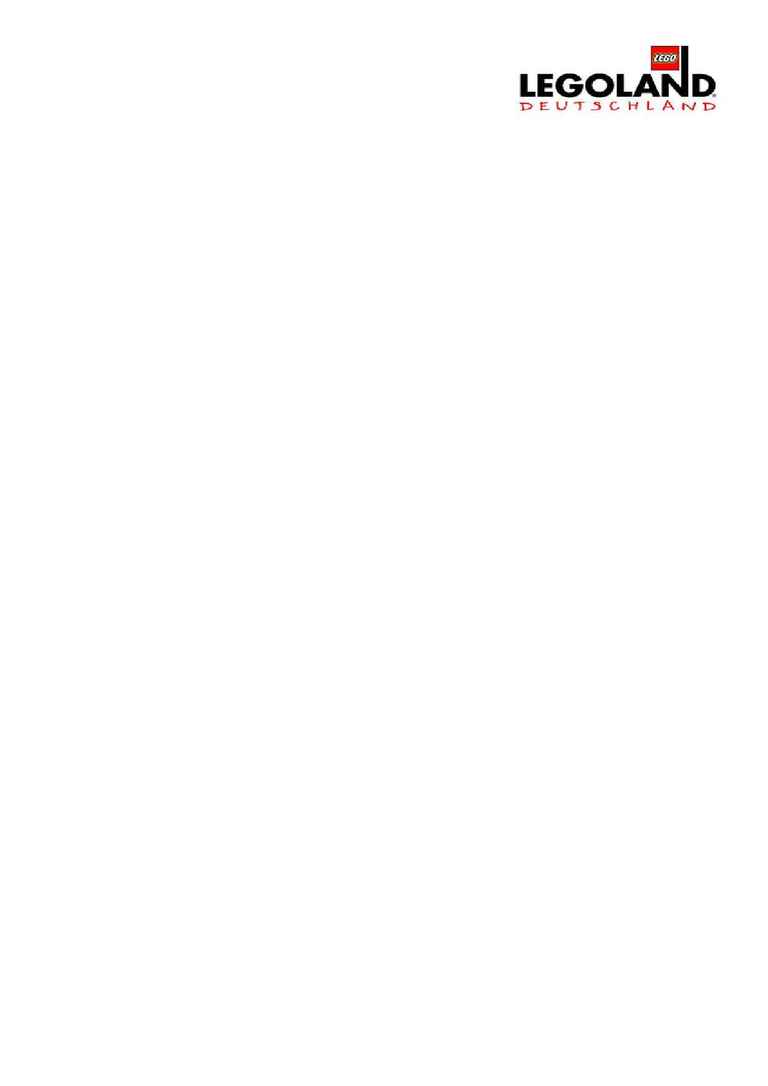 BACKGROUND INFORMATION 7
The History of the LEGOLAND
«
Parks
Today, there are more than 8,000 employees working for the LEGO
«
headquarters in Billund, Denmark. LEGO products are available in more than 130
countries. 71 years ago, in 1932, Ole Kirk Christiansen, a cabinet maker, began
manufacturing wooden toys, thus laying the foundations of the brand which is equally
popular with children and parents today.
The Dream of Owning a Park
'Only the best is good enough!' was the maxim bequeathed by the founder of the
Company to his son Godtfred Kirk Christiansen who took over the management of the
Company in 1958. It was his idea to create a Park for all the family which would be
based on the popular LEGO bricks and their numerous configurations.
The first LEGOLAND Park opened its gates in Billund in 1968. Its director was Arnold
Boutrup, a former decorator and chief designer of a Copenhagen department store.
With his legendary creativity, he evolved the basic concept of the LEGOLAND Parks of
today.
From the very start, the Park was a genuine families' paradise, with its famous
MINILAND, a big LEGO railway, a puppet theater, an Indian camp, a traffic school and
LEGO bricks innumerable for children and adults to build with to their hearts' content.
The idea proved a hit: in its very first summer season, the Park had 625,000 visitors.
LEGOLAND Around the World
25 years after the Billund Park was opened, LEGOLAND successfully ventured out into
the world when LEGOLAND Windsor opened west of London in 1996.
Because gate figures remained constantly high in Billund, and because of the
immediate success at Windsor, a third LEGOLAND Park was opened no more than
three years later (1999) in sunny Carlsbad, California, the only one to be kept open the
year around.