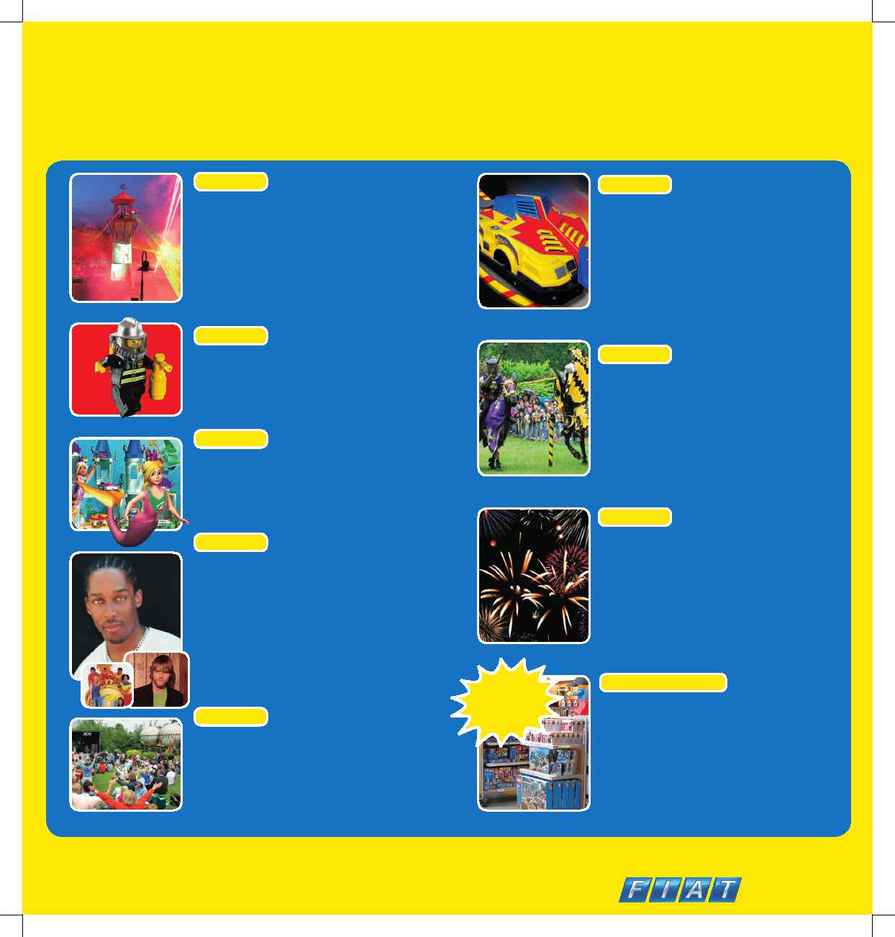 AFTER DARK LASER SHOW
8 & 9
with music and pyrotechnics. You'll also
get the chance to ride some of your
favourite attractions under the cover of
darkness and take part in our LEGO
Star WarsTM activities.
real-life heroes from the Royal Berkshire
Fire Service and Royal National Lifeboat
Institute at this fun and interactive event.
Enjoy Hans Christian Andersen's most
popular fairy tales at special story
telling sessions inside the Circus Tent.

LEGOLAND LIVE CONCERT 9
Join us to see soulful-singing sensation
Lemar and Brian McFadden perform
live in concert on the same day! The
live line-up is completed with a treat for
the little ones who can sing along with
CiTV's Fun Song Factory Crew.
This event is a must for budding pop
idols of the future as they get the
chance to show off their singing and
dancing talents.
ROBOTEERS
30 JULY - 4 SEPTEMBER
(FREE FOR ANNUAL PASS HOLDERS 20
& 21 AUGUST)
for contestants to go head-to-head in a
battle for supremacy inside our special
events area.
KNIGHTS' KINGDOM JOUSTING
- 17 & 18 SEPTEMBER:
See history come to life with thrilling
jousting contests and Birds of Prey
demonstrations.
End the season with a spectactular
bang at our ever-popular fi rework show
which will run over six nights.
advantage of some great savings
and choose from a wide range of
discounted LEGO products.
Brought to you by the Fiat Family Range
SL1395_Anual_pass_mailing_new 1