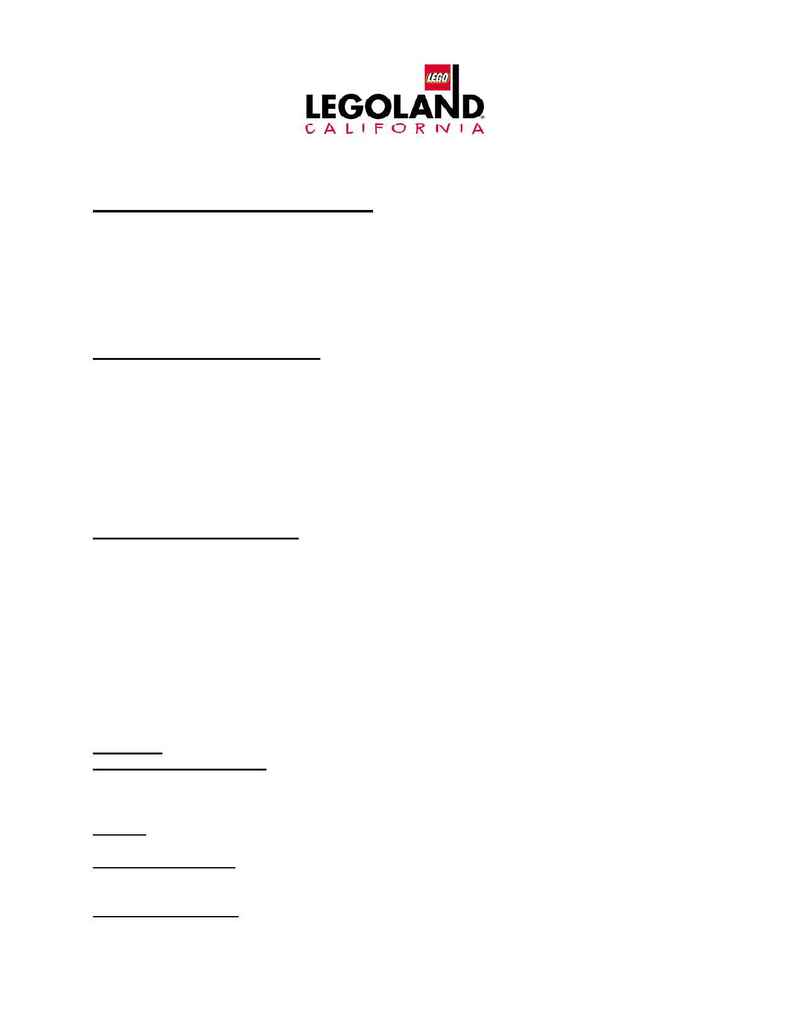 Admission, Memberships and Services
LEGOLAND
California Admission Tickets
1-Day
Adults $41.95
Children (3 through 12) & Seniors (60+): $34.95
2-Day
Adults $49.95
Children (3 through 12) & Seniors (60+): $42.95
LEGOLAND Membership: (annual)
Adult
LEGOLAND Membership Benefits
· Unlimited admission everyday the park is open!
· Parking upgrade available for $20
· Special discounts and invitations to park events
· Free LEGOLAND newsletter subscription
· Child members receive a free LEGO Magazine subscription
LEGOLAND Membership PLUS
Annual Fee:
Monthly (with a 12-month commitment)
LEGOLAND Membership PLUS Benefits
· Includes all of the discounts and benefits of the Membership pass plus:
· Free parking
· One complimentary guest pass annually
· 25% dining discount at all dine-in restaurants
· 10% discount on retail purchases (some restrictions apply)
· $5 guest admission discount
Services:
Stroller/Wheelchair Rentals: Strollers are available for rent at The Market Place in The
Beginning on a first come, first serve basis. A limited number of wheelchairs and powered
scooters also are available to rent. A fully refundable deposit is required on all rentals.
Lockers: Lockers are available for all day rentals, located at the Market Place at The Beginning.
Kennels/Pet Day Care: Pets are not permitted within the park grounds except for trained guide
dogs. Kennels are located east of the front gate area. Check in with Guest Services.
Guests with disabilities: Most attractions at the park are accessible to disabled guests,
depending on the nature of their disability. Details of health restrictions are posted at each ride.