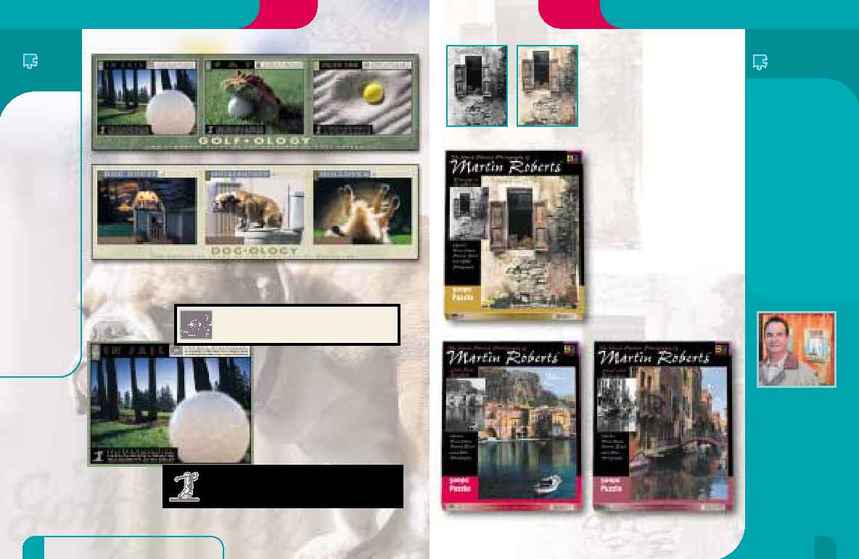 NEW
NEW
M
Ma
arrttiin
n R
Ro
ob
be
errtts
s
Martin Roberts started
experimenting with colors on
his black & white photographs
shortly after his father
introduced him to the art of
photography.
Widely regarded as fine art
paintings, Martin's work
embodies the extraordinary
detail and compositions of his
master quality black & white
photographs.
Martin's work is widely seen in
Fine Art Galleries worldwide.
Photographed in Provence,
France. The weathered
wooden shutters of the
window stand in contrast to
the brightly painted flowers
and red cardinal in the
window.
L
Liittttlle
Photographed near Palermo,
Sicily. The textured walls of
this ancient fishing village
reflect a warm golden pattern
on to crystal blue waters.
Photographed in Venice,
Italy. An intimate view of a
residential canal where the
buildings and flowers create
colorful reflections.
3
39
9
From those crucial
putts that "just
miss" to the
dreaded sand trap,
Golf·ologyTM brings
the triumph and
tragedy of the links
to puzzles with a
combination of
striking photos and
riotous wordplay.
The humorous study
of the language of
dog lovers. Is the
Dog House where
Fido sleeps or where
you wound up when
you forgot a
birthday?
F
Fiissh
Not to be left out,
fishermen will soon
have their secret
language revealed.
I
ID
DE
EA
A·
·O
OL
LO
OG
GY
Y Puzzles
TM
n. to be confined, caged, incarcerated or locked behind bars
for committing a serious offense, such as burglary, murder
or snickering in the middle of your companion's backswing.
n. to have one's ball conf ined within or behind
a stand of trees that blocks an otherwise clear
shot to the target area. *For most golfers the
common def inition is at times more preferable.
the emotional feel of a
fine art painting
combined with the
detail that can only be
achieved in black &
white photography".
I
Id
the humorous study
of the language that
we use.
www.b
bu
uffffa
allo
ogames.com 8
80
00
0 8
83
32
2 2
23
33
311
3
38
8
N
NE
EW
W IItte
em
m 6
66
611
N
NE
EW
W IItte
em
m 6
66
62
2
N
NE
EW
W IItte
em
m 6
66
63
3
M
Ma
arrttiin
n R
Ro
ob
be
errtts
s Puzzles
TM
N
NE
EW
W IItte
em
m 7
79
911
N
NE
EW
W IItte
em
m 7
79
92
2