Buffalo games PP 05 S Page 1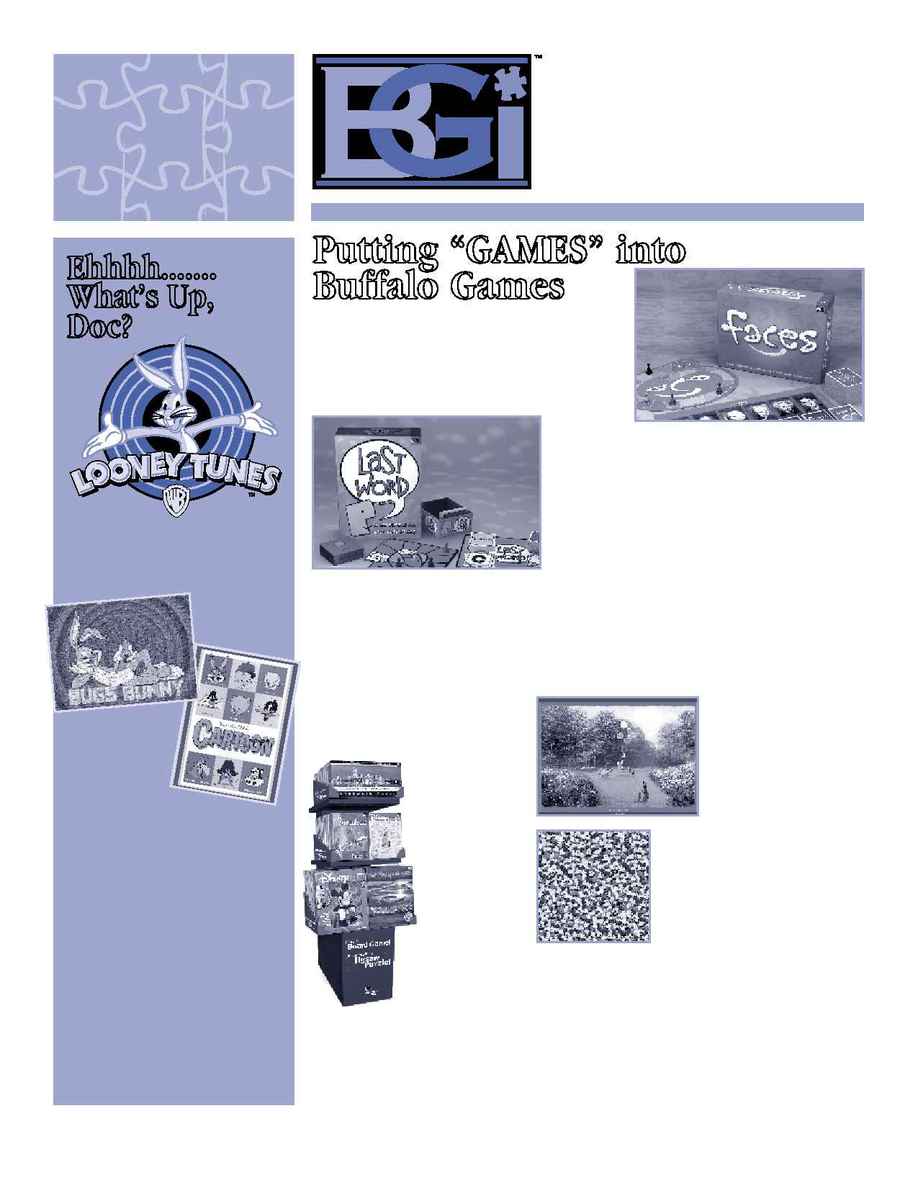 BUFFALO GAMES, INC. 220 JAMES E. CASEY DR. BUFFALO, NY 14206 www.buffalogames.com (800) 832-2331 (716) 827-8163 FAX EMAIL: bgames@buffalogames.com
Buffalo Games
and Disney
Introduce
New Line
concept with beloved Disney
characters. We're expecting this
same high level of success with
our new creation - collages of
Mickey
Disney Villains
World's Most
Difficult Jigsaw Puzzle
«
Who wouldn't want one? Catchy title, challenging
graphics, and iconic Disney characters! See page 14.
For the more traditional puzzler, we've licensed the
Peter Ellenshaw
Disney Fine Art
series. As with our entire
Signature 1000 line, these puzzles are printed on
select linen paper, cut from the most premium board
available, and are fully guaranteed to be free of
defects. See them on page 34!
Spring 2005
Putting "GAMES" into
Buffalo Games
This year has Buffalo jumping into the game arena
in a big way. While iMAgiNiff continues to be
a powerhouse, a new classic game, VisualEyes,
is starting to be recognized by name in the
marketplace. Now, with the introduction of
Faces
Last Word
a leader in the adult board game category.
Please check out the catalog pp. 4-7 to see how
they play. The boxes are stunning and both are
printed with a special metallic "dazzle" process
to shine and glitter in the light. The gameplay is
easy - very easy - and very fun. Faces is simply
hilarious, while the fast paced action of Last
Word is one of the most engaging games invented.
We will be launching PR campaigns for both games with three prongs: media-based
promotion through radio and newspapers, retail store-based promotion through POP
demos and game nights, and consumer promotion through a multitude of channels.
While you may laugh as you play Last Word or Faces with us at a trade show, you'll
simply smile as shoppers pick up our games and bring them to the register.
the Puzzle Press
B U F F A L O
Ehhhh.......
What's Up,
Doc?
Whether your shoppers are
wascally wabbits, elusive road
runners, or no good varmints,
Looney Tunes
puzzles.
Thousands
of hilarious
scenes from Warner
Bros. cartoons make up 3 new
Photomosaic jigsaw puzzles
(pp. 24-25), while classic
Vintage Posters (p. 35)
feature all the best-loved
characters from the Merrie
Melodies gang.
As Porky Pig would say, ba-ba-
ba-ba-ba-buy them now and
watch them di-di-di-disa-disa-
di-di-disapp-disapppppp - move
from your shelves!
Good news about
great puzzles
and gifts
www.buffalogames.com
The "Beemer" of
Floor Displays
Floor
Display
motorcycle, and is more compact
than a Mini Cooper. It's way
cheaper, too! (See inside back
cover of catalog for picture, and
price sheet for ordering info)