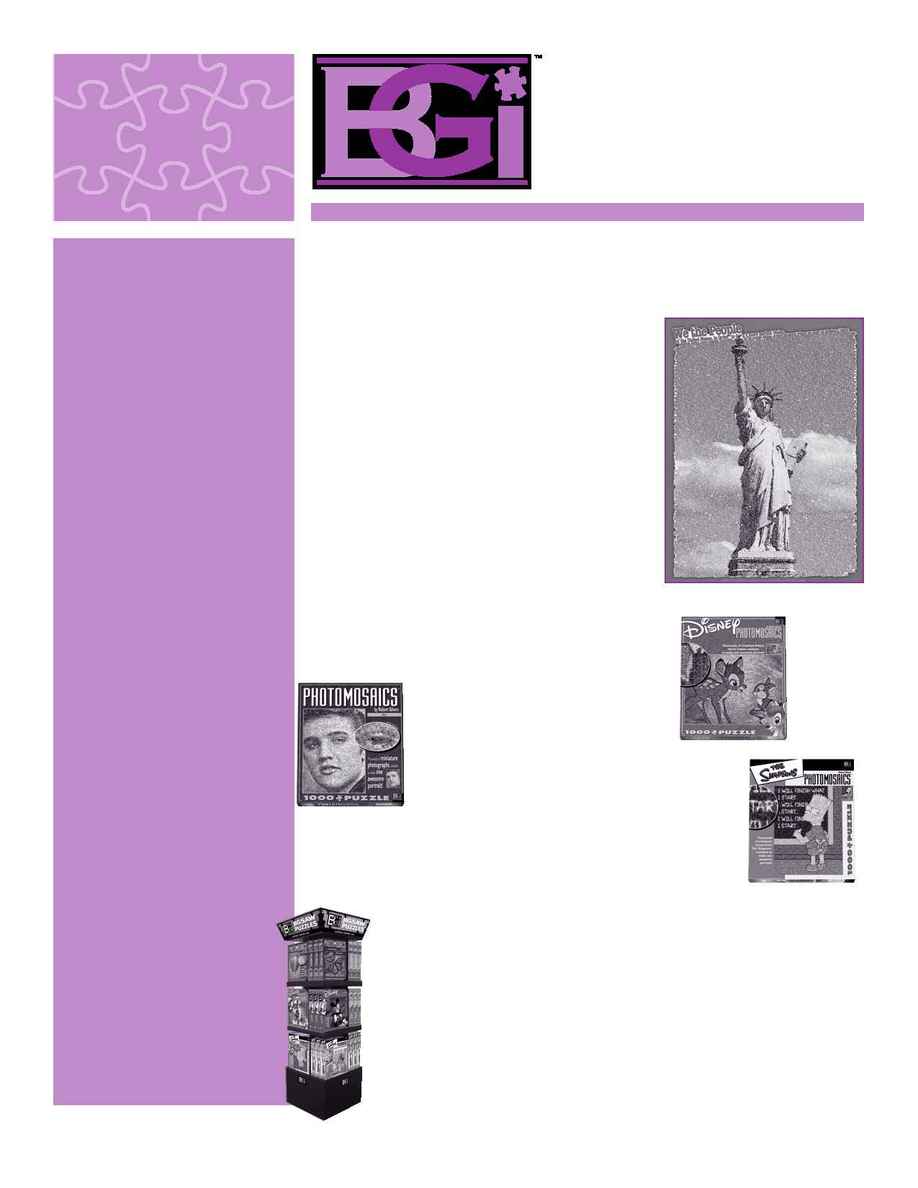 SPRING 2003
Puzzles Worth A Thousand Words
There is much more to the new
Written Images
jigsaw puzzle collection than
meets the eye. From afar, these richly colored images are unmistakably beautiful. Look
more closely and you'll discover their clever twist - the
images are not photographic nor are they painted - they
are composed entirely of words! Never before has the
famous quote, "One Picture is Worth a Thousand
Words" been more true than with these new puzzles.
Statue of Liberty
words of the entire US Constitution. A
Creation
is formed by the Book of Genesis. And a stunning
Timberwolf
is comprised of a poignant essay by
famous naturalist Henry David Thoreau.
This unique art form was created by father and
son team Don Scott Sr. & Jr., and is a mix of creative
artistry and digital mastering. As with all puzzles in the
Signature 1000
select linen paper and cut from the thickest premium
green board. All are shipping now!
the Puzzle Press
B
B U
U F
F F
F A
A L
L O
O G
G A
A M
M E
E S
S ,
, I
I N
N C
C .
.
Recession
busting
Puzzles and
Games
A refrain we heard hundreds of
times at the January Gift shows
was "Last year was very tough, but
we did very well with Buffalo
Games." It's no surprise, as we've
seen record breaking sales for an
incredible 15 months in a row.
Are consumers today travelling
more? Are they recklessly
spending entertainment dollars?
Quite the contrary - people are
spending more time at home with
family and friends, and looking for
recreational value in uncertain
economic times.
The perfect fit? Puzzles and
Games. How else can you spend
$15 and get more than 20 hours
of family fun?
"Not Just for 4th
Quarter Anymore"
We've added countless retailers to
our fold in the last 2 years who
had never before carried puzzles
or games. They're finding out
very quickly that there is no wrong
time to capitalize on the trend.
So why not start with a small
assortment today? If sales are
slow, try some products that are
actually moving!
G
Go
oo
od
d n
ne
ew
ws
s a
ab
bo
ou
utt
g
grre
ea
att p
pu
uz
zz
zlle
es
s
a
an
nd
d g
giifftts
s
A Beautiful Marriage -
Photomosaics and Great Licenses
A runaway success and our #1 selling line
from the moment they were introduced,
Disney Photomosaics
with puzzle enthusiasts and jigsaw rookies
alike. Our licensing team has worked overtime to get
you more of these high flying licensed Photomosaics.
The King of Rock and Roll lives on in the new
Elvis
Photomosaic
puzzle - which features a stunning collection of images
taken from Elvis' personal photographer - Alfred Wertheimer.
"D'oh!" We also have the entire gang from Springfield in the new
Simpsons
Photomosaic
collection. Homer, Bart and The Family
all feature screen shots from the longest running animated series of all time.
Make it Easy - Use a Floor Display
By now, you're no doubt convinced that you must have Buffalo Games
products. However, until that loan gets approved for the "BGI Annex", you're
going to have to put them somewhere else. How about our
500 POP Floor
Display?
It holds 36-48 of any size BGI puzzle, all in an ultra compact 18"
square footprint. Made from durable black corrugated, it has a surprisingly sleek
look, features California emissions, rack and pinion steering, and costs only $25!
(Don't worry...you get to choose 2 free puzzles to offset the cost)
B
BU
UFFFFA
ALLO
O G
GA
AM
ME
ES
S,, IIN
NC
C..
222200 JJAAM
ME
ES
S E
E.. C
CA
AS
SE
EY
Y D
DR
R..
BBUUFFFFAALLO
O,, N
NY
Y 114
42
20
06
6
w
ww
ww
w..b
bu
uffffa
allo
og
ga
am
me
es
s..cco
om
m
((880000)) 883322--22333311 ((771166)) 882277--88116633 FFAAXX EEM
MA
AIILL:: b
bg
ga
am
me
es
s@
@b
bu
uffffa
allo
og
ga
am
me
es
s..cco
om
m