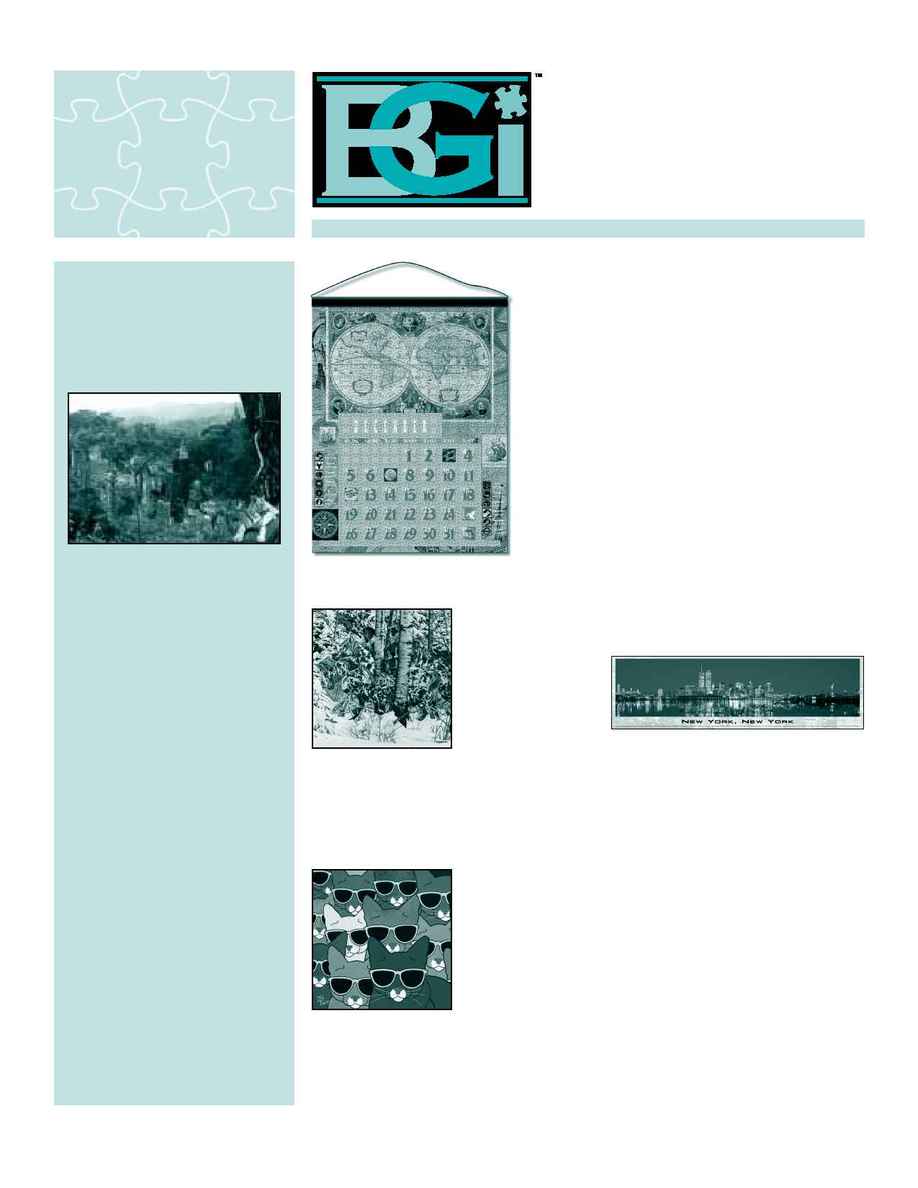 SPRING 2000
Mark Your
Calendar
Jigsaw Puzzle
TM
It's the Puzzle of the Year...for any year! With
our new
Calendar Jigsaw Puzzle
TM
of the year can be assembled with the same
puzzle. Put together March, attach the enclosed
bracket, and hang it on the wall! At the end of the
month, take it down, rearrange the pieces to form
April, and back it goes on the wall!
Each month can be completely personalized with
over 24 colorful icons to denote Birthdays,
Holidays, or Appointments. With 6 different art
subjects to choose from, there's a Calendar Jigsaw for everyone. pp 3-5
Two New
Licenses on
Two Sides
Too!
Our flagship line,
the double-sided
World's Most
In
the Company of Wolves
Larson's masterfully painted scene of
camouflaged horses, wolves, and Native
American riders in a wintry forest.
And say hi to the
coolest of cats,
Charlie the Red
Cat
creation of artist
Jim Tweedy,
"Everyone Wants
to Get into the
Act" features Charlie and some of his
best feline friends, and makes for a most
challenging puzzle. pp 12-15
Cities as You've Never
Seen Them Before
NEW for 2000, Panoramic Cityscape
PuzzlesTM are stunning 750 piece,
3 foot wide panoramas of America's
greatest cities! Photographer James
Blakeway searches out the best
vantage points, and waits for the
perfect day or the most stunning
dusk to produce these fantastic shots.
Half-cut displays can be ordered.
Check catalog for available cities.
pp 42-45
Congratulations!
To Mary Scholz of Chicago, IL,
who won our Mystery of the
Pyramid
for more promotions coming soon!
BUFFALO GAMES, INC. s 220 JAMES E. CASEY DR. s BUFFALO, NY 14206 s www.buffalogames.com s (800) 832-2331 s (716) 827-8163 FAX s EMAIL: bgames@buffalogames.com
the Puzzle Press
B U F F A L O G A M E S , I N C .
C
Cyybbeerreeaalliissmm
TM
Jigsaw Puzzles
Chayan Khoï, and experience the
magic that is Cyberealism
Currently one of the most sought
after licenses, Cyberealism has
been signed for posters, calendars,
notebooks, and greeting cards.
Buffalo Games is proud to
introduce both 500 pc and 1,000
pc puzzles featuring 6 of Chayan's
most fascinating images.
Chayan personally takes hundreds
of photographs from around the
world and combines them into
breathtaking, surreal images.
Imagine Manhattan at the mercy of
the turbulent waters of Niagara
Falls in NYC Waterfall. Or find
a lost Amazon city jungle as a rare
white tiger stands guard in
Return to the Jungle. Surrealism
gone digital, Cyberealism
See pages 23-25 in catalog
Good news about
great puzzles
and gifts
www.buffalogames.com