Suzuki bro aeriosedan Page 3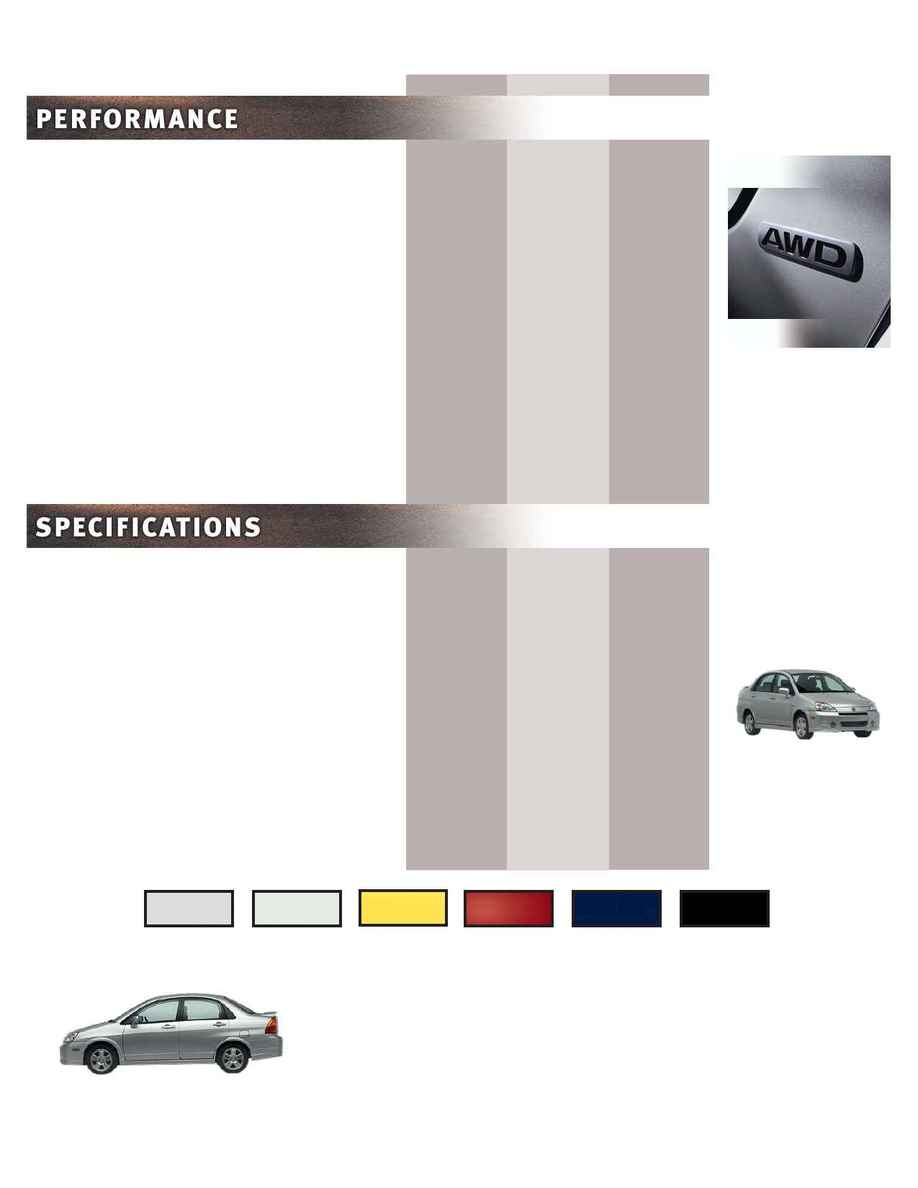 2.0-liter, 4-cylinder, 16-valve DOHC engine
Four-speed Automatic Transmission
Five-speed Manual Transmission
Liquid-filled Engine Mounts
Power Rack-and-pinion Steering
MacPherson Strut Front and Rear Suspension
Stainless Steel Exhaust System
Curb Weight - Manual (lb)
Curb Weight - Automatic (lb)
E.P.A. Estimated Fuel Economy
· Manual, city/highway (mpg)
· Automatic, city/highway (mpg)
Drive responsibly: Buckle up for safety-Don't drink and drive. Always wear your seatbelt. For specific details, please
read your owner's manual for on- and off-road driving tips. To avoid injury from an airbag, always place children
twelve years old and under in the rear seat; always move both driver and passenger seats as far back from airbag
as practical; never transport a child in a rear-facing child seat in the front seat; and, always use the seatbelts and
buckle up properly. Specifications and equipment based on information available at time of printing and subject to
change without notice, and may differ in each sales area. Some vehicles shown with optional equipment. For more
details on 2003 options, accessories and specifications, contact your local Suzuki dealer. Tread Lightly! On Public
and Private Land. Along with concerned conservationists everywhere, Suzuki urges you to preserve your future off-
road driving opportunities by showing respect for the environment, local laws and the rights of others.
*Note: Manufacturer's Suggested Retail Price. Taxes, title, freight, options and license extra. See dealer for details.
starting from
M
MS
SR
RP
P*
*
$
$
1
13
3,,5
5774
4
0
0 0
0
Silky Silver
Metallic
White
Pearl
Electric
Yellow
Racy
Red
Catseye Blue
Metallic
Black
Onyx