Suzuki ATV LINEUP AD ENG Page 1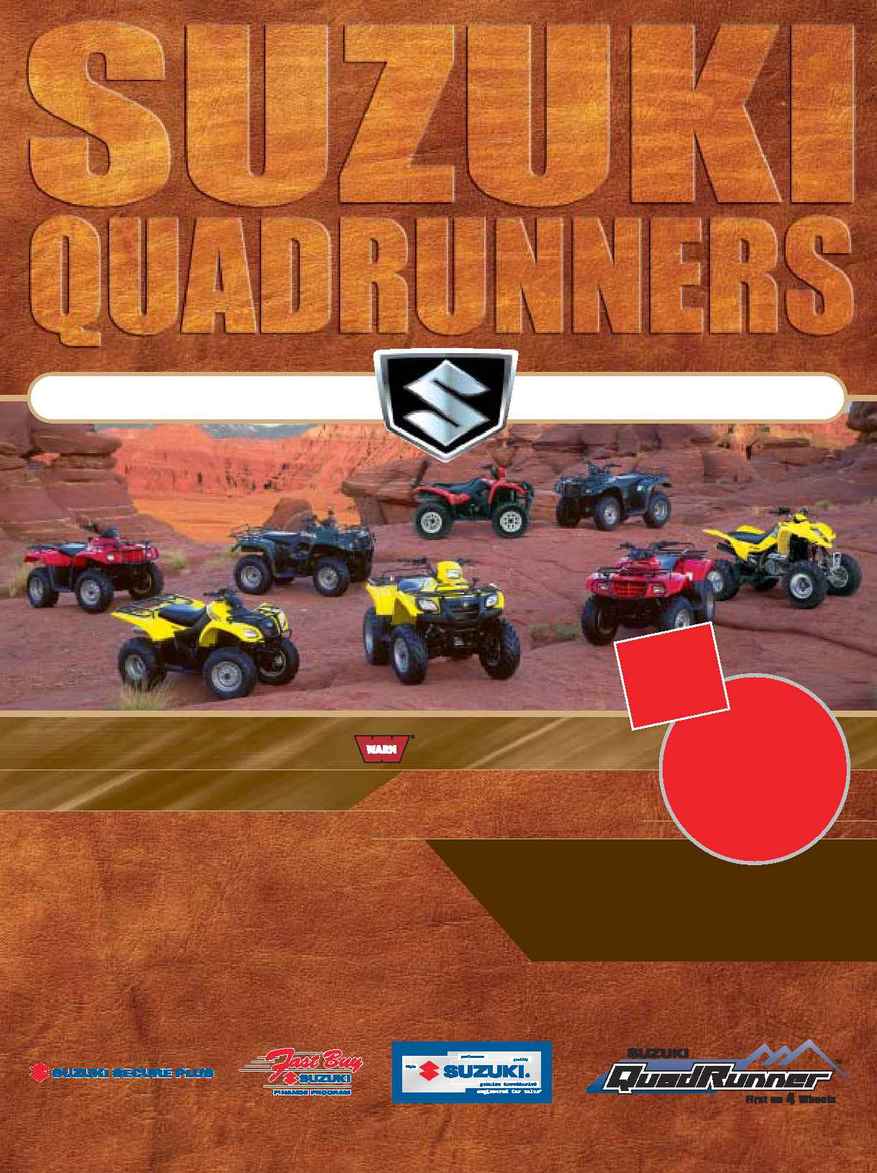 For 24 months on selected
Suzuki QuadRunner models with Fast Buy
Suzuki Financing. Limited time offer.
Offers apply to retail deliveries on new & in stock models only.
Offers cannot be combined. See your participating dealer for details.
Suzuki is pleased to offer 4.8% retail financing for 24 months using "Fast Buy Suzuki" through Creditwave. The loan is renewable at prevailing rates on the 25th month for the remainder of the amortization period on all new 2004 (K4) and 2003 (K3) models of Suzuki QuadRunners with finance amounts over $5,000.00 (OAC)
between June 3rd and November 30th 2003. The amortization period is set at a minimum of 36 months to a maximum of 84 months. Monthly payments and cost of borrowing will vary with amount borrowed. Freight, P.D.I., license and insurance not included. Free Warn 2.5ci winch comes complete with safety solenoid,
50 ft cable, roller fairlead and Genuine Suzuki Mounting Bracket. Approximate retail value of Warn 2.5ci with kit is $677.90. Installation cost is extra. Offer available from June 3rd 2003 to 6pm local time November 30, 2003. Offers cannot be combined. Offers apply to retail deliveries of new and in stock models only.
Specifications, product features and colours are subject to change without notice. Read your owners manual carefully and always wear a helmet and protective gear when operating your Suzuki QuadRunner and remember to observe all safety regulations. Be responsible, take a rider training course and always respect
the environment. See your participating Authorized Suzuki dealer for complete details. Suzuki. First on 4 Wheels
4.8%
RETAIL
FINANCING
FREE
* Offer available from June 3 to
Suzuki's line up of full size ATVs.
Built tough.
Built strong.
Built to last long.
www.suzuki.ca
NEW,
more power
ful
2500lb
Warn
winch!