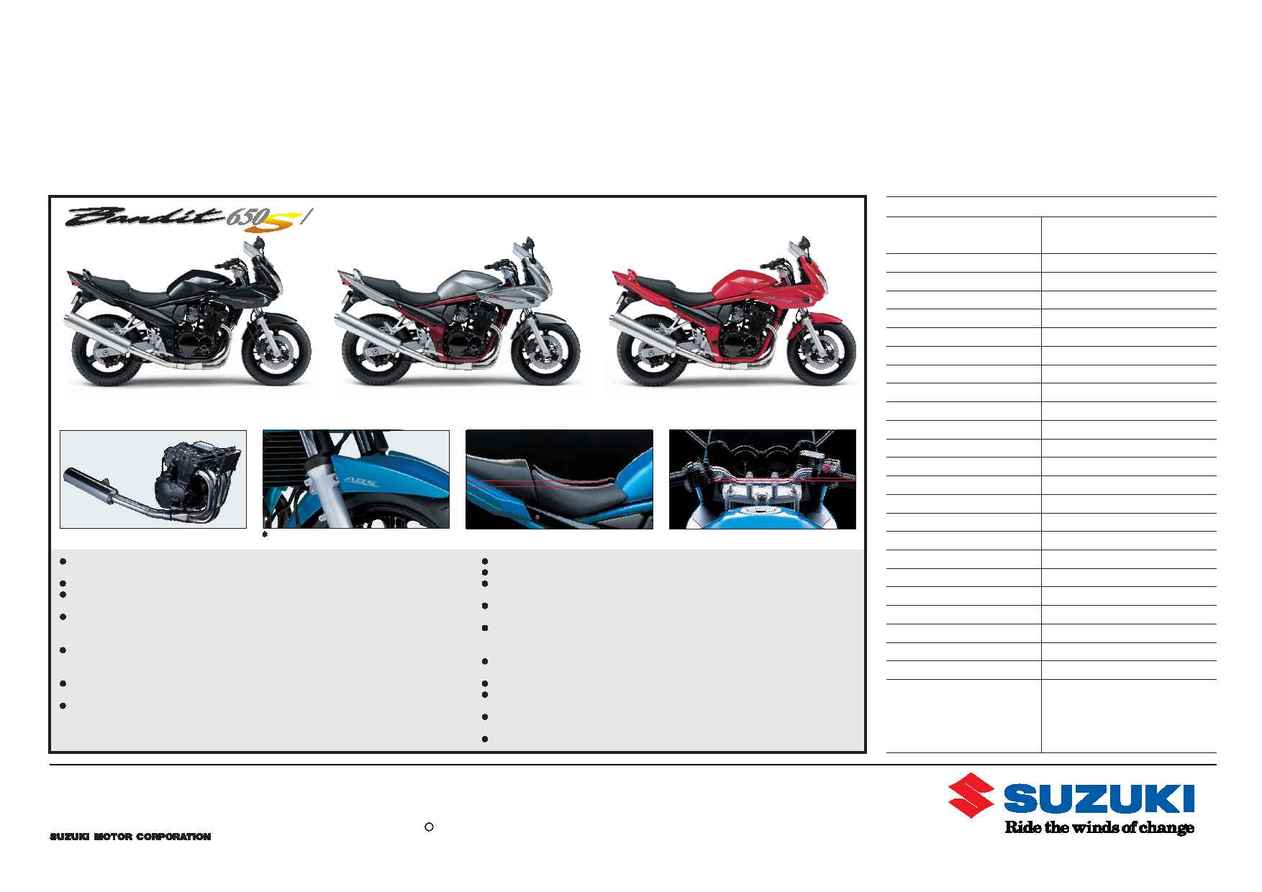 650cc Middleweight Awaiting Your Command
Expect more from a middleweight streetbike. More performance. More versatility. More style. More freedom. The Bandit 650S and Bandit 650SA powered by a responsive in-line 4-cylinder engine - with a full 656cc
tuned to deliver a broad torque output across a wide rpm range - and offering comfortable ergonomics and smooth handling, are always ready for whatever it is you want to do - a commute, a day trip into the countryside,
or a week-long holiday tour, alone, or with a friend. The Bandit 650S/SA's lightweight and fun overall package comes with convenient features like adjustable seat and handlebar height and
ABS (Bandit 650SA only) for added freedom and versatility. It's all wrapped in sporty styling, attractive bodywork, and an effective half-fairing housing stacked headlights behind V-shaped lens and a thoroughly "naked"
design leaving basic components like engine and frame covers well exposed for admiration. The Bandit 650S/SA. Delivering so much from a middleweight streetbike package, that would-be competitors think it's criminal.
656cc, in-line 4-cylinder, DOHC engine delivering broad powerband characterized by abundant
low-to-mid rpm range output and torque, quick throttle response and strong roll-on acceleration.
Digital engine management system matches ignition timing to throttle opening for excellent response.
Advanced engine details including upper compression and oil control rings electro-plated with a
chrome-nitride coating. Its coating is hard and smooth to improve cylinder sealing and reduce friction.
Supporting the engine performance are proven Suzuki Composite Electrochemical Material (SCEM)
cylinder plating and the Suzuki Advanced Cooling System (SACS) oil-cooling design, both help keep
the engine lightweight and efficient.
Suzuki's Pulsed-secondary AIR-injection (PAIR) system injects fresh air from the airbox into the
exhaust ports, igniting unburned hydrocarbons. Lightweight 4-into-1 stainless steel exhaust system
incorporates catalyzer. Both systems keep emissions low.
Sporty half fairing, shaped through wind tunnel testing for an efficient, low-turbulence design. A taller
windscreen is optionally available.
For maximum versatility and convenience, the seat height can be adjusted by 20mm (from 770mm to
790mm) and the handlebar height is adjustable by 10mm, by which the handlebars also reach back
closer to the rider. These adjustment systems allow a variety of riders to tailor the machine to
themselves.
Double-cradle, high-rigidity steel-tube frame with a rectangular-cross-section swingarm.
Front forks with 41mm (1.6in.) stanchion tubes with adjustable spring preload.
Progressive-linkage monoshock absorber rear suspension with adjustable rebound damping
and spring preload.
Dual full-floating 290mm (11.4in.) front disc brakes with 2-piston calipers, and single 240mm
(9.4in.) rear disc brake with 2-piston caliper both provide reliable stopping power.
Digitally controlled ABS (Antilock Brake System) monitors brake lever input and wheel speed,
and helps to regulate stopping power to match the amount of traction available.
(Bandit 650SA only)
120/70ZR-17 front and 160/60ZR-17 rear radial tires mounted on lightweight, hollow-spoke,
cast-aluminum-alloy wheels. Centerstand and sidestand as standard equipments.
Large 20-liter fuel tank.
Vertically stacked halogen headlights behind V-shaped lens; 55W line-beam low-beam above
a 55W multi-reflector high beam, and a small position lamp in each upper outside corner.
Easy-to-read instrument cluster with an analog tachometer, LCD digital display for
speedometer/ odometer/ tripmeter/ fuel gauge/ clock functions, and LED indicator lights.
Distinctive taillight, and sporty and unique hexagonal turn signals with new clear lenses.
4-stroke, in-line 4-cylinder,
air-cooled with SACS, DOHC
770 / 790 mm (30.3 / 31.1 in.)
Telescopic, coil spring, oil damped
Link type, coil spring, oil damped
120/70ZR17 M/C (58W), tubeless
160/60ZR17 M/C (69W), tubeless
Electronic ignition (Transistorized)
YHJ : Candy Napoleon Blue
YAY : Pearl Nebular Black
Bandit 650S/SA(GSF650S/SA) SPECIFICATIONS
photo : Bandit 650S
20mm (0.8in.) adjustable seat height
10mm (0.4in.) adjustable handlebar height
Antilock Brake System (ABS) on the Bandit 650SA
656cc, in-line 4-cylinder engine
SA
YHG : Metallic Oort Gray
YU7 : Pearl Crystal Red
YAY : Pearl Nebular Black
4 Q F D J G J D B U J P O T
B Q Q F B S B O D F T
F R V J Q N F O U
D P M P S T
N B U F S J B M T B O E P
U I F S J U F N T P G
S P E V D U T T I P X O P O U I J T D B U B M P H V F
N B O V G B D U V S F S T
4 P N F N P E F M T B S F O P U B W B J M B C M F J O T P N F U F S S J U P S J F T
& B D I N P E F M N J H I U C F E J T D P O U J O V F E X J U I P V U O P U J D F
J O R V J S F B U Z P V S M P D B M E F B M F S G P S E F U B J M T P G B O Z T V D I D I B O H F T
D U V B M C P E Z D P M P S N J H I U E J G G F S G S P N U I F D P M P S T J O U I J T D B U B M P H V F
` Always wear helmet, eye protection, and protective clothing Ô Read your owner's manual carefully
Ô Enjoy riding safely Ô Never ride under the influence of alcohol or other drugs
Î 1 M F B T F O P U F U I B U " # 4 J T B T V Q Q M F N F O U B M E F W J D F G P S C S B L F P Q F S B
U J P O
O P U B E F W J D F G P S T I P S U F O J O H T U P Q Q J O H E J T U B O D F
" M X B Z T S F N F N C F
S
U
P S F E V D F T Q F F E T V G G J D J F O U M Z C F G P S F B Q Q S P B D I J O H D V S W F T B O E D P S
O F S T
1 3 * / 5 & % * / + " 1 " / # B O E J U
4 4 "
¢
( 4 '
4 4 " £ - F B G M F U
"
% " 5 & 0 ' * 4 4 6 &
+ 6 -
4
300 Takatsuka, Hamamatsu, Japan