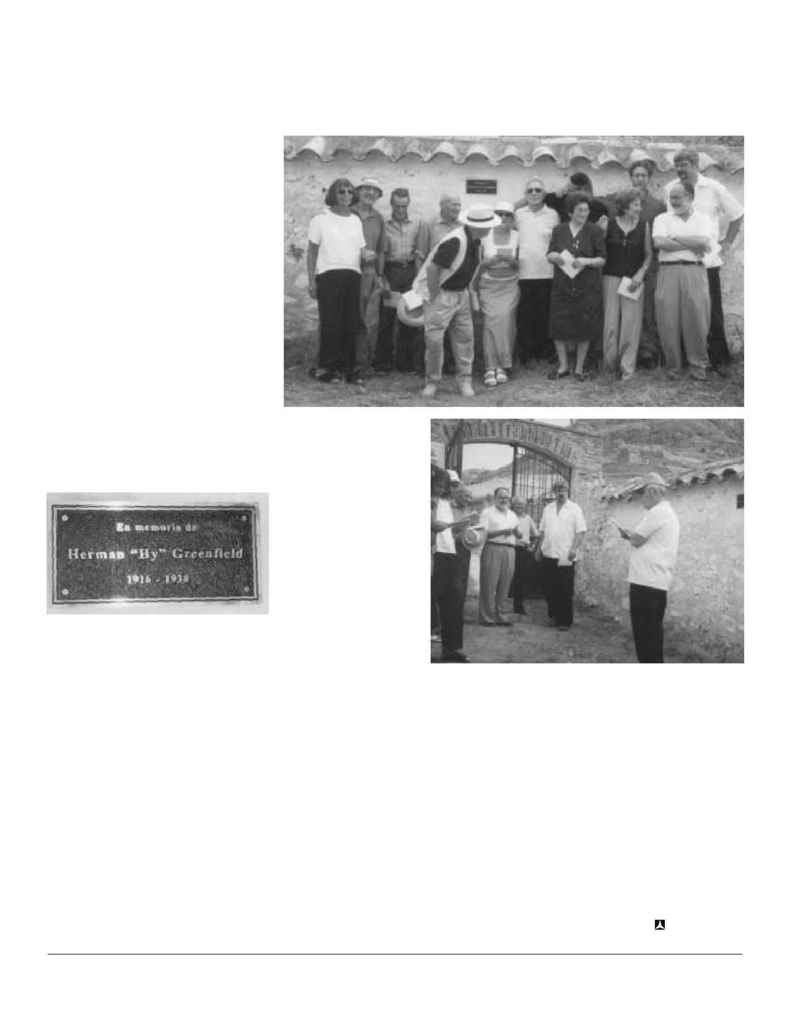 6 THE VOLUNTEER, December 2001
By Tony Geist
or perhaps the first time in 500
years the Kaddish rang out in the
barren hills of Aragón. Under a
blazing midday sun, some 15 people
gathered on August 3, 2001, in the
cemetery of Segura de Baños to dedi-
cate a plaque to Lincoln Brigade
volunteer Hy Greenfield, buried there
in an unmarked grave 63 years earlier.
While there are a number of mon-
uments to fallen International
Brigadiers in Spain--John Cookson's
headstone, the recently restored mon-
ument in the Sierra de Pandols, the
monument in the Fuencarral
Cemetery in Madrid, as well as those
in Barcelona and Albacete--to the
best of my knowledge this is the first
time family members have located
the gravesite of a U.S. volunteer
killed in Spain.
How this came about is a remark-
able story. ALBA board member Jay
Greenfield was five and one-half years
old when his brother Hy died in
Segura de Baños. After years of gath-
ering clues, in the summer of 2000
Greenfield finally located Hy's burial
site in a small town crouched in the
rugged hills of the province of Teruel
(see The Volunteer, Winter 2001). This
past summer he returned there to
place a plaque to commemorate his
brother's life and death.
The ceremony was intimate and
moving. It was attended by Jay and
Judy Greefield, their sons Mark and
Ben, and two family friends. Also in
attendance were Roberto Mayoral
(who acted as intermediary and trans-
lator), his twin brother Pepe Mayoral,
and myself. We read poems, prayers
or other passages from
the memorial service
prepared by Jay.
Several residents of
Segura de Baños paid
their respects as well:
Tomás, who was 16
when one of his family
members saw Hy
buried in 1938,
shrouded in the colors
of the Republic;
Francisco Ros, a
painter from Valencia;
Eladio Marsó, mayor
of Segura (who bears
an uncanny resemblance to the late
Steve Nelson, VALB's national com-
mander); his sister-in-law, María Pilar;
and several others.
I found the ceremony significant
for a number of reasons. For the
Greenfield family, of course, it repre-
sented the closing of a long-open
wound. Locating the gravesite of one
of the 1000 U.S. volunteers who lie
under Spanish earth is a small but
important contribution to the history
of the war.
Equally significant was the atti-
tude of the people of Segura de Baños.
Segura has experienced a double
tragedy. Nestled against jagged out-
crops of brown stone, the village looks
more extruded from the rocks than
built. Ravaged by the war 60 years
ago, today its population is reduced
from 350 families to 13. Young people
have emigrated to Zaragoza, Valencia
and Barcelona in search of work.
Segura is a virtual ghost town.
Eladio Marsó, the mayor, is a
member of the governing, conserva-
tive Popular Party. Yet he and his
family welcomed with proverbial
Spanish graciousness the family of a
fallen soldier whose language, religion
and politics were alien to theirs. This
is the proof that the Spain Hy
Greenfield fought and died for has
ultimately triumphed.
MONUMENT TO HY GREENFIELD
DEDICATED IN SEGURA DE BAÑOS