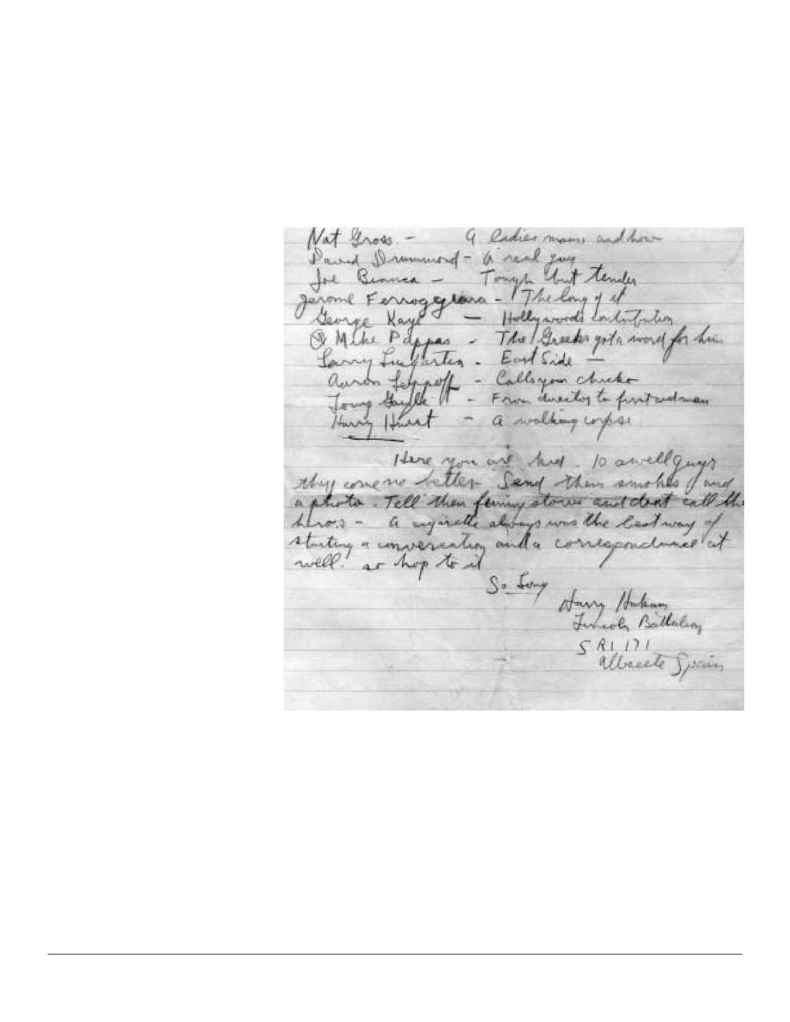 12 THE VOLUNTEER, December 2001
But to my mind, the most intrigu-
ing character to emerge from this
correspondence is Marjorie herself.
We never see her handwriting or hear
her voice, but the letters addressed to
her provide a collectively authored--
albeit ghostly--sketch of the young
girl. We get a glimpse of Marjorie in
the kinds of questions that she asked
the American volunteers. We know
that she asks Syd Levine "how the
morale of the Spanish people is holding
up" and Mike Bailey about relations
between soldiers and peasants.
Remarkably, with the exception of
Bailey, her correspondents almost
never give her a straight answer. She
asks some of the volunteers to give
her more information about their com-
rades, always without much luck:
"You wanted to know something
about Harry Hakam. Well, I'm not
good at descriptions. All I'll say for
him is that he's a good guy. You try to
read the rest between the lines of his
letters." She asks Syd Levine--and
presumably her other correspon-
dents--how old he is, what schools he
attended, and why he went to Spain.
Levine's response is characteristically
oblique on almost all counts:
To answer some of your ques-
tions; the first, how old I am,
reminds me of a speech I heard
some time ago. The speaker
claimed that every day one spent
in Spain was equal to a year in our
former life. If that is so than I am
now over 400 years old. In the
same light, I can answer another
of your questions. What schools
did I attend? In America - Junior
High (East New York) and a
Diesel Engineering school for a
short time. Over here -I attended
the greatest university in the
world. To answer your question
on why I came to Spain, I would
need more space and time than I
can fine for this letter. I'd rather
leave that to be answered if I ever
get to see you personally. I believe
you can, however, begin to find an
answer in literature which can be
found in any worker's bookstore,
back home.
Throughout the letters we indi-
rectly learn tantalizing bits and pieces
about Marg. She offers home-cooked
meals to virtually all of her correspon-
dents. She must have been remarkably
flirtatious: "I must look this girl up if
and when I get back, even if she is kid-
ding me a bit," drools Bill van Felix;
Hakam writes: "from the way you write,
I'm tempted to call you my cute little
provocative sweetie." (Did she tell her
pen pals she was only 14? I doubt it.) She
has a girlfriend who dabbles in graphol-
ogy and an anti-Hitler German cook
who makes fabulous chocolate cakes;
she saw Tobacco Road--and didn't like
it; and in school she cuts assembly to
make time to write to the volunteers.
She must have written a great deal;
we know that Syd Levine alone got at
least six letters -three pairs. We also
know she harbored romantic notions
about Spain, because of the way Levine
wrote to disabuse her of them. His is the
only letter that offers what apparently is
a direct quote from Marjorie:
From your letter I gather you
had a romantic idea of Spain. The
Spain you ask about. `the land of
romance and mystery, with castles
and dark- eyed señoritas and
dashing caballeros' existed only in
story books and travel advertise-
ments. Spain, before the Popular
Front was elected to power was a
land of misery and suffering,
workers and peasants had to labor
long hours for what would
amount in American money to
about 25 cents a day. The castles of
Spain were owned by a corrupt
and cruel class of landowners,
who kept their workers in igno-
rance while they indulged in
debauchery. As for the dark-eyed
señoritas, well they're not all dark-
eyed and contrary to the false
propaganda of the travel agencies,
they have a very high moral stan-
dard. As for the dashing
caballeros, they're all dashing up
to the front line trenches to drive