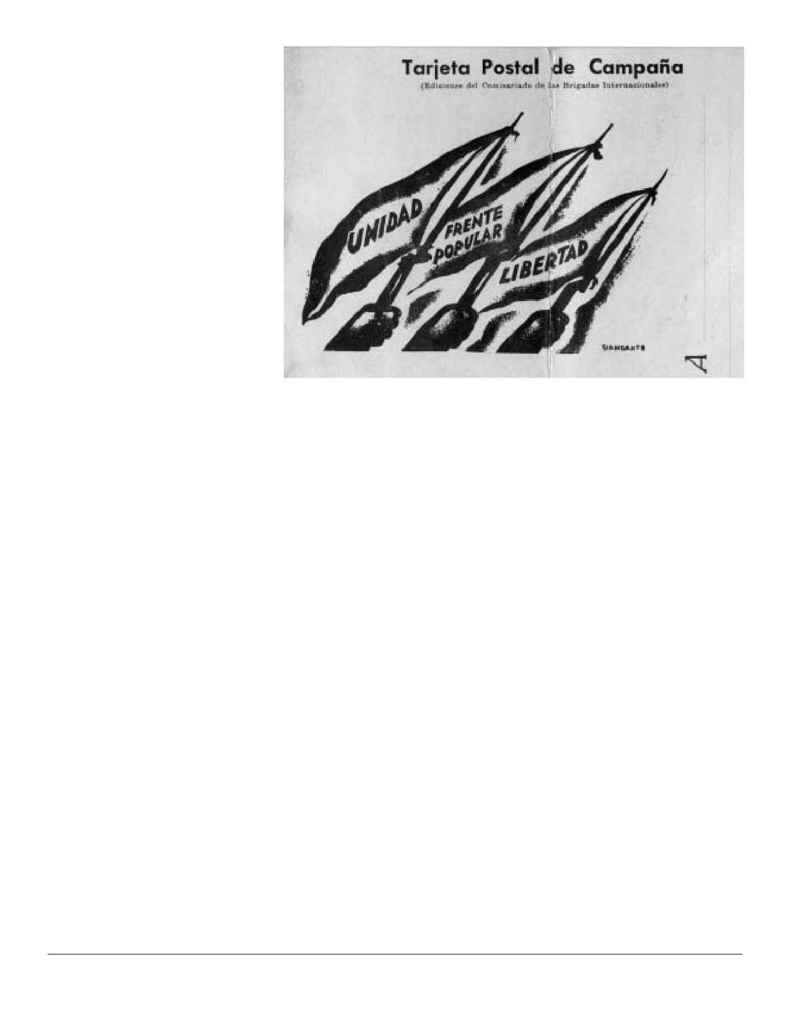 THE VOLUNTEER, December 2001 11
Please don't be too surprised to
receive this letter, as its coming
from a stranger whom you never
had the pleasure of meeting.
However I ran across an old side
kick of mind by the way, who
knew you, his name is Harry. I
believe he had the pleasure of cor-
responding with you. However I
also would like to share some of
this pleasure, therefore I hope you
find the interest and time to answer
this letter. I have been in Spain now
for almost a year. If you remember
reading about the battle of Quinto,
Belchite, Teruel, etc. I took some part
in these battles.
This remarkable letter of introduc-
tion goes on to describe Bailey's
experiences, such as his role in the
training of "a gang of raw, young cat-
alonian troops," a battle in which the
Republican forces took 700 fascist
prisoners and shot down 18 enemy
planes, the fascist bombing of a small
town he had witnessed some months
before ("Franco's planes rained bombs
down on this town for 5 straight hours
killing of course many women and
children. It was horrible watching lit-
tle children running around town after
the bombing crying out for their par-
ents."), a fascist air-raid over Barcelona
(some 300 dead), and Bailey's daily rou-
tine in bivouac. He also finds time to
remind Marjorie about the importance
of "struggle in the States to lift the
Embargo against Spain: . Arms, Arms,
this is what's needed."
The second, only somewhat short-
er, letter from Bailey vividly portrays
the battalion's advance over the River
Ebro, during which he received a
shrapnel wound in his leg. He writes
while convalescing in Barcelona.
Bailey also offers in this letter a
detailed account of the relations
between the American soldiers and
the Spanish peasants, apparently in
response to a question from his young
correspondent.
In the fourth letter, Mike tells
Marjorie that "the Government said
all Internationals would be clear of
Spain in 6 weeks time" and advises
her not to write to him anymore: "by
the time you received this letter I
should be well on my way." He closes
with a note of optimism: "It's written
in the books, that victory shall be ours,
regardless of what extreams the
enemy might go to."
Six weeks later, Bailey would
write from Barcelona, describing in
euphoric terms the now famous
farewell parade organized by the
Republican government to honor the
International Volunteers. Some days
later, on November 16, 1938, Bailey
would write Marge again, still stuck in
Barcelona: "I'm sorry I told you to
stop writing when I thought I was
leaving the country, but now as we
are here for a while it's been quite lon-
seome. All our passports were
destroyed in a air raid." In this final
letter, Bailey's mind is already state-
side, though he's not exactly lingering
over imminent hugs and kisses and
home-cooked meals.
From today's point of view, it's
mind-boggling to think that Bailey is
writing to a 14-year old girl: "Reading
about the recent elections makes me
feel good. Especially when I know
that Tom Mooney will at last be free
now that Olson is elected Gov of
California. It was too bad about the set
back we had in Michigan and
Minnesota. But considering the
results, I think the mass of people
have showned to the reactionaries
where they stand on the new deal and
other progressive measures."
The war in Spain is far from over,
but Bailey's thoughts are already
fixed on memorializing the deeds of
his fellow American volunteers: "I'm
having a flag made, a Republican flag
with all the names of the seamen on it
that was killed in Spain and present it
to the Maritime Federation on the
Pacific Coast. Don't you think it's a
swell idea? Well I better close now,
otherwise I might be home before this
letter arrives."
Of all the volunteers that make
appearances in this correspondence,
Bailey is the richest character. The
reader can actually see development
across the letters he sent to Marjorie;
even the young man's handwriting
changes from one letter to the next, as
he obviously got a great deal of prac-
tice, and also had to cope with a "bum
wrist." More importantly, as Bailey's
correspondence with Marjorie goes
on, he becomes much more comfort-
able, his diction much less stilted, and
his letters infused with a remarkable
sense of intimacy--the last ones
almost have the tone of love letters.
The other letter writers seem to partic-
ipate in the correspondence for the
fun of it, and for the tobacco, and for
the tittilation and rivalry; something
else drives Bailey. There is a need to
talk and an earnestness and an intima-
cy not found in the other
correspondents.