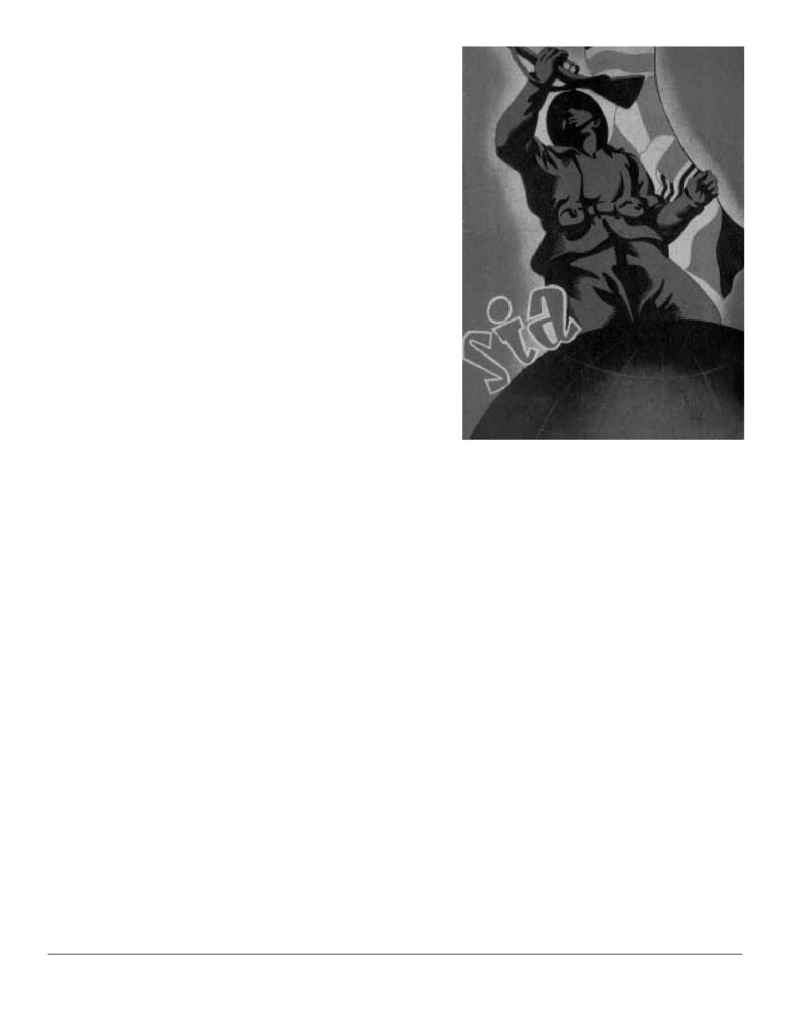 10 THE VOLUNTEER, December 2001
world," writes Bill van Felix in his
missive of May 30, 1938, "letters have
an unmeasurably great value so that
when one of us receives a letter we
pass it around to give the `have nots' a
break. Therefore, I have your name
and address." Margie must have
answered van Felix, because on
August 26, the rakish volunteer would
write again: "I pulled out the clip-
pings with amazement: surely no one
who knew me would send baseball
scores, etc, for I don't give a damn so I
just passed them over to `Sully' an old
Bklyn booze hound who is stuck on
the Bklyn Dodgers. Next out came the
ciggs which made life interesting once
more. I dished out smokes to Hakam
and the Spanish boys."
A certain "Ernesto" may have
been one of the lucky Spanish boys, as
a Spaniard by that name would soon
after write Marjorie a hilariously stilt-
ed letter, in which he eventually gets
around to asking for a photo and
cigarettes for himself. I translate:
My dearest and most esteemed
friend Marjorie,
It is my wish that this brief
note convey to you my most
respectful greetings; at the same
time, it is the earnest hope of this
sad soldier that you find yourself
well, in good spirits, and in good
health. I say "sad soldier" because
ever since I first saw you (even
though it was just a photograph)
my heart was so inflamed and sad
that I do nothing but think of you.
You can't imagine, dearest
Marjorie, how those of us who
fight for the freedom of our home-
land, go for months without
seeing a woman as beautiful as
you; a woman that will strengthen
our resolve to win this war so that
we can take a little trip to see her;
that is to say, to see those little
eyes that radiate more light than
the entire sun; that round and
fleshy mouth that looks like a car-
nation; and those cheeks, which
are like rosebuds in May.
After these passionate effusions,
our don Juan gets down to business:
"I also write because I would like to
receive some of that excellent
American tobacco, which will taste
even better if I know that it
has been sent by you. Please
don't be upset at this request;
it has been dictated by my
heart; I would also like to
receive a photograph of you, if
it is not too much trouble."
becomes a character in this
epistolary drama. The sole let-
ter from Nat Gross, dated
August 23, 1938, tells of the
miraculous powers of
Marjorie's American
cigarettes: "I want to give my
deepest thanks for the
cigarettes you sent. All the
boys that I could get around to
wish to add theirs. They sure
were appreciated. You see we
received and smoked them
during one of the very severe
moments of the fight. The
strain of battle was greatly
lightened. In fact after the
worst artillery barrage we had
taken that day, one of the boys told
that his life was saved by your
cigarettes." That boy may have been
George Kaye who, in a letter written
to Marjorie just two days later,
expressed his gratitude for the
armored shield that was apparently
provided by the smoke of American
cigarettes: "It took me very few hours
to consume all [the cigarettes you
sent] during one of the worst artillery
bombardments it has ever been my
experience to undergo. However, I
came out of that allright, so all's well
that ends well. We held the line and
were specially cited for this by our
army leadership." (Philip Morris, are
you listening?)
Although the Petrarchan-inspired
"Ernesto" might not agree, Marjorie's
most literary correspondent is Syd
Levine, whose two letters are beauti-
ful pieces of writing.
Your letters always remind me
of fruit -they always come in pairs.
I've received three pairs of your
letters to date. But one of the last
two certainly started some confu-
sion among my comrades here.
When I opened the envelope, a
small, dried, brownish leaf fell out
and was immediately pounced on
by six of the boys, who thought it
was tobacco. There was an argu-
ment as to the type of tobacco it
was supposed to be. They smelled
it. They tasted it. They held it up
to the light. Each one claimed to
be an expert on tobacco. But one
thing they all agreed upon. We
were all comrades and the tobacco
should therefore be shared
amongst us all.
The argument was finally settled
when I read the part of your letter to
them which said that you had
enclosed a leaf from a gardenia.
The most prolific of Marjorie's
correspondents is William "Mike"
Bailey--Hakam's "favorite." There are
five wartime letters from Bailey in the
manila envelope. This West Coast sea-
man and labor organizer bursts into
Marjorie's life with a rambling 16-
page letter, scrawled over a three-day
period on postcard-size paper--
indeed, two pages are written on
special wartime post cards. In an
opening full of "howevers" and
"therefores," Bailey tries to don his
Sunday-best diction to introduce him-
self to the young, and presumably
sophisticated, upper west sider: