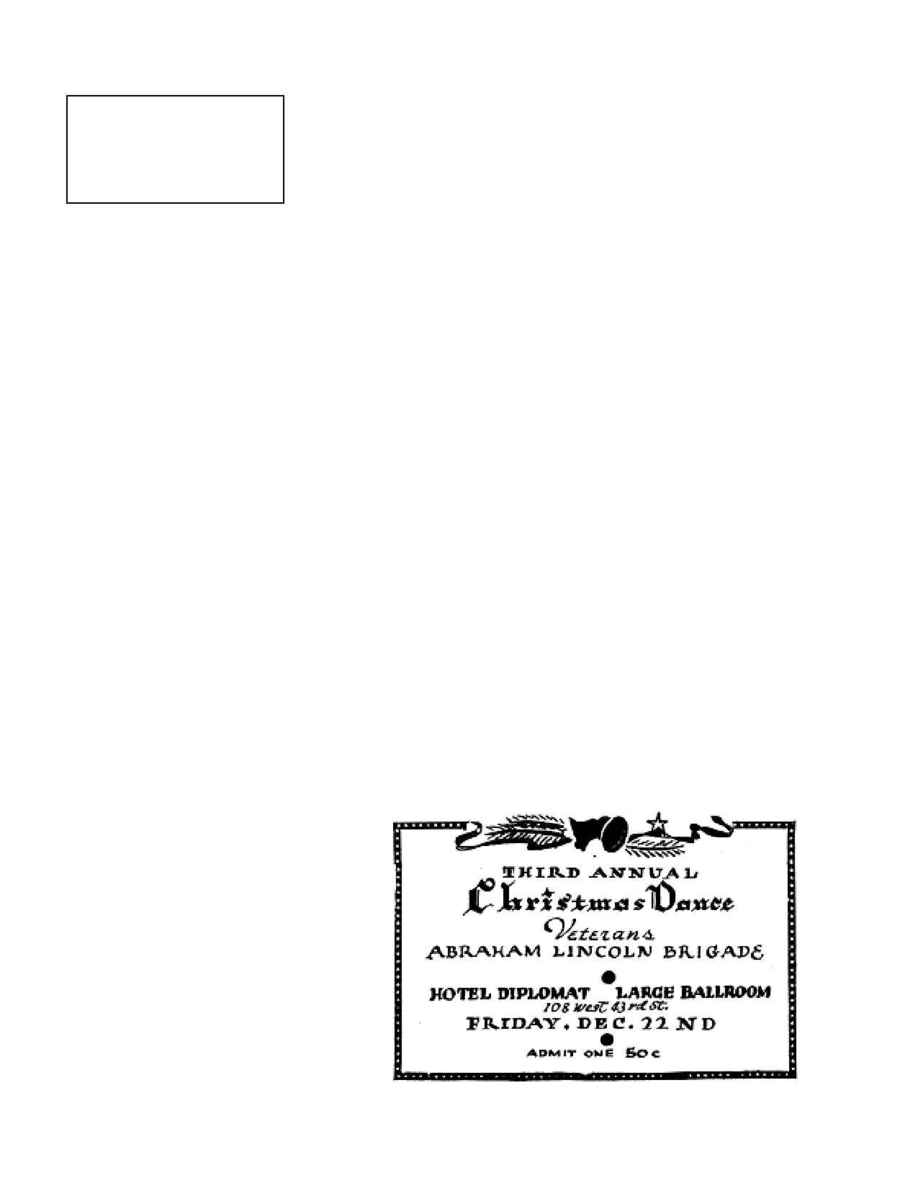 Dear Veteran:
Do
immediately before you left for Spain?
The month in which you reached the
important decision to go to war and
the sacrifices that decision entailed.
Those serious days are not unlike the
last few weeks in which the
"locomotive of history" is again taking
some sharp turns and we are all faced
with new decisions.
Now all of America's progressive
organizations are engaged in a fight
for their very survival. The Veterans'
organization will not be spared by this
offensive led by Dies and the rest of
the gang. The ideals we fought for in
Spain, for which 1200 of our comrades
died, are challenged as never before.
The National Committee of the
Veterans has called a national
convention on December 22, 23, 24 to-
answer these attacks. we are meeting
to consolidate our organization, to
strengthen ourselves in order to be
equipped to defend our organization
and our members. We veterans also
have the responsibility for our disabled
comrades and we cannot forget the
suffering of our comrades in Franco
prisons nor all the thousands of
Spaniards and internationals who are
being beaten and herded about in the
armed camps of France and Franco.
Our New York Post will be host to
veterans from coast to coast. The big
job of putting over this convention,
including our annual dance and big
mass meeting, is the responsibility of
all our members. It now becomes a
condition of membership in our
organization that every member--
without exemption--participate in all
activities of our Post, particularly the
preparations for our National
Convention.
Salud!

Fred Keller, Jr.
N.Y. Post Commander.
3
The first contingent of American volunteer's, 96 in all, sailed aboard the Normandie for
Le Havre; then on to Per pignan. The end of the month found them on the Pyrenees border,
ready to make the last hop of their journey into Spain.

2
The Fifteenth Brigade was barracked in Alcorisa, Agua Viva and Mas de-las Matas,
training and waiting. We heard the news of the capture of Teruel at 10 P.M., Dec. 25, 1937.
Los Americanos were preparing for the New Year's Eve dance at Alcorisa, where Doc
Barsky and his nurses were stationed. But, it never came off. Marching orders arrived on
December 31, and we entered the Teruel campaign.

1
The great majority of the men in the Brigade left Ripoll, traveled by train to Puigcerda,
and crossed the border into La Tour de Carol and Bourg-Madame, on their first lap of the
long repatriation trip. The railroad tracks at Puigcerda were bombed by Franco planes
shortly after they crossed the border. Then, at Le Havre again, the French government
demonstrated its "most civilized hospitality in the world" by clapping them into the seaport
concentration camp.

LOW DOWN
...Any one who wants to write to the Spanish child we adopted may address his letter as
follows: Dolores de la Cruz, c/o Foster Parents, 55 West 42nd Street, N.Y.

Jerry Cook, Joe Rehill and Jim Cady are Indian nuts these days about a pantomimic shell-
shocked joke about Indian nuts. Ask 'em to tell you about it... Leroy Walkoff commutes
regularly between Philadelphia and New York, for sentimental reasons... Bill Krafser is a
father... And Gertrude Neilson, formerly in charge of the rehabilitation committee, is a
momma now... Two different kids, it should be added. Aside from their joint interest in
Spain, there's no connection...


Have you written your letter to your congressman asking him to vote against
appropriations for the Dies Committee? When you do, don't forget to send the letter to five
different friends, urging them to (a) write to their congressmen and (b) send copies of their
letters to five of their friends. It's the old chain-letter idea, but this time in an urgent cause...
Aaron Harris is still our one-man delegation who constantly visits the vets held on Ellis
Island...
If you vets have, pictures,
stories or letters that we can use
for the Volunteer, send them in.
It's your paper, and it'll be as
good as you make it.