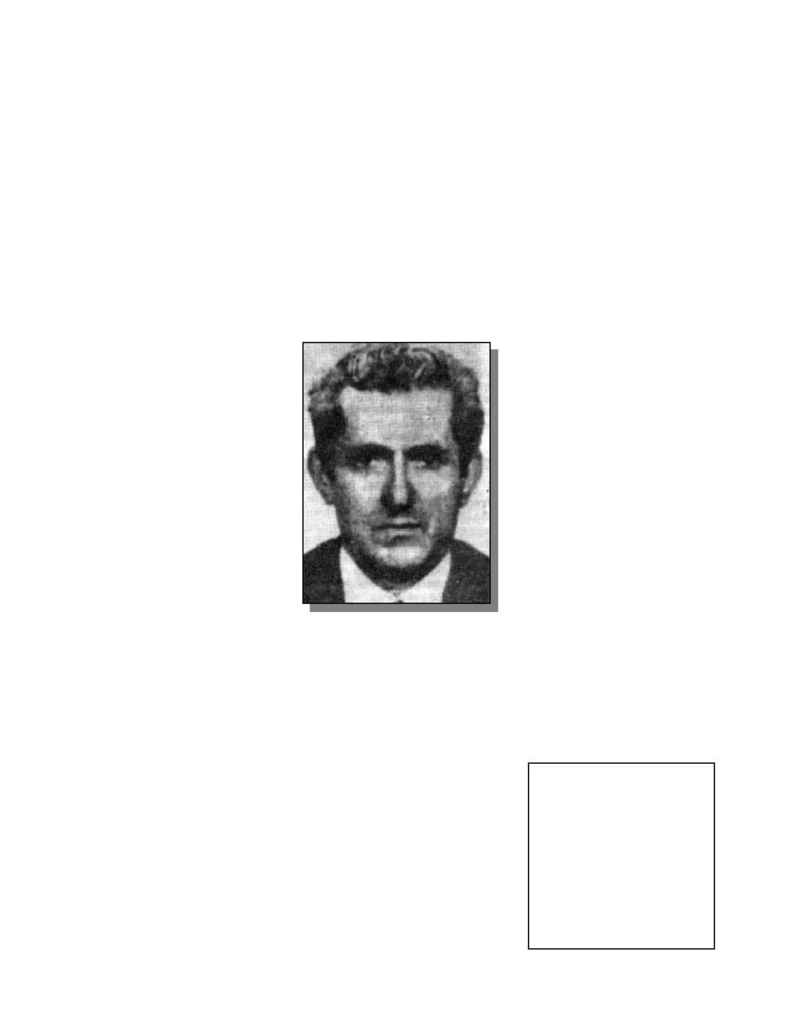 Camacho and 2 freed
Continued from page 1

elements in other countries that
inspired a world-wide campaign for
their release.
"We were," Steve said "among the
first to help and to cooperate fully
with The Committee For The
Carabanchel Ten, along with other
friends of democracy.
The record shows that at the
opening of the trial of the Ten, in De-
cember 1973, the following
American observers were present:
Eric Schmidt, then Secretary of The
Committee For The Carabanchel
Ten, now Secretary of the U.S.
Committee For a Democratic Spain,
Ramsey Clark, former United States
Attorney General, Henry Foner,
President of the New York Joint
Board of the Fur and Leather Work-
ers Union, and Henry Giler, West
Coast lawyer representing the
VALB.
The trial of the Ten opened on
December 20, 1973, the day when
Franco's Premier, Luis Carrero
Blanco, died in an explosion. The
defendants were accused of holding
an illegal meeting on June 24, 1972,
in a convent outside Madrid. For this
"crime" they were sentenced to a
total of 167 years of imprisonment.
Camacho was given a 20-year
sentence. Sartorius was given 19
years and Muniz 18 years.
In the wake of tremendous pr~ tests
from virtually every country in the
world, the Spanish Supreme Court,
last February, reduced Camacho's
sentence to six years. Sentences
against Sartorius and Muniz, were
reduced to five years and four years
and two months, respectively.
American observers were present
in Madrid at the time of the Supreme
Court proceedings. They included:
Paul O'Dwyer, President of the City
Council of the City of New York,
William Colovito, Secretary-
Treasurer of the Iron Workers Local
455, and Eric Schmidt, Secretary of
the U.S. Committee For A
Democratic Spain. The delegation
presented a petition bearing the
signatures of almost 100 prominent
Americans, including trade union
leaders representing over four
million American workers.
A
Camacho's release was made by
Henry Giniger of the New York
Times. His report noted that "the
timing of the release, in the middle of
a bitterly cold night, was apparently
designed to avoid crowds. Even so,
about 150 persons, most of them
family members were waiting
outside the gates."
"Later in the morning," the Times
man added, "500 of Camacho's
neighbors staged a demonstration
outside his house to celebrate his re-
turn and demand amnesty for others
still behind bars."

Fred Shofs
Continued from page 9

SS who came searching out the anti-
fascist German Nationals.
Somehow he became part of the
underground resistance in France and
later on in Germany. After the fall of
Hitler and the Allied occupation of a
divided Germany, Fred elected to
remain in West Germany where he
was active in the Trade Union
movement and in the Communist
Party.
He could have, had he wished,
gone to live in East Germany where
as an IB'er he would have been
honored, received a pension, an
important post and so forth. But Fred
always opted for the job in which he
could make the greatest contribution
to the fight against fascism and the
work of building a better world. He
is missed.

TERROR REIGNS
Continued from page 3

ition. Despite repeated protests the
police have failed to undertake any
counter-measures.
Other vigilante groups include:
Centro Espanol de Amigos de
Europa (works with the Belgian
Rexists and Italian neo-fascists),
Cruz Iberica and Defensa
Universitaria. In addition to these
self-appointed vigilante groups, so
called "respectable" right-wing
groups, like the Council of Civil War
Veterans, headed by Jose Antonio
Giron de Velasco, perpetrate similar
outrages.
NOTE WELL!
emerging in the current
discussion of Spain on TV
and in the press.
A number of TV commenta-
tors and newspapermen have
flatly declared that the Franco
regime was on the verge of
falling in 19~5 until the U.S.
came to its rescue.
MARCELINO CAMACHO