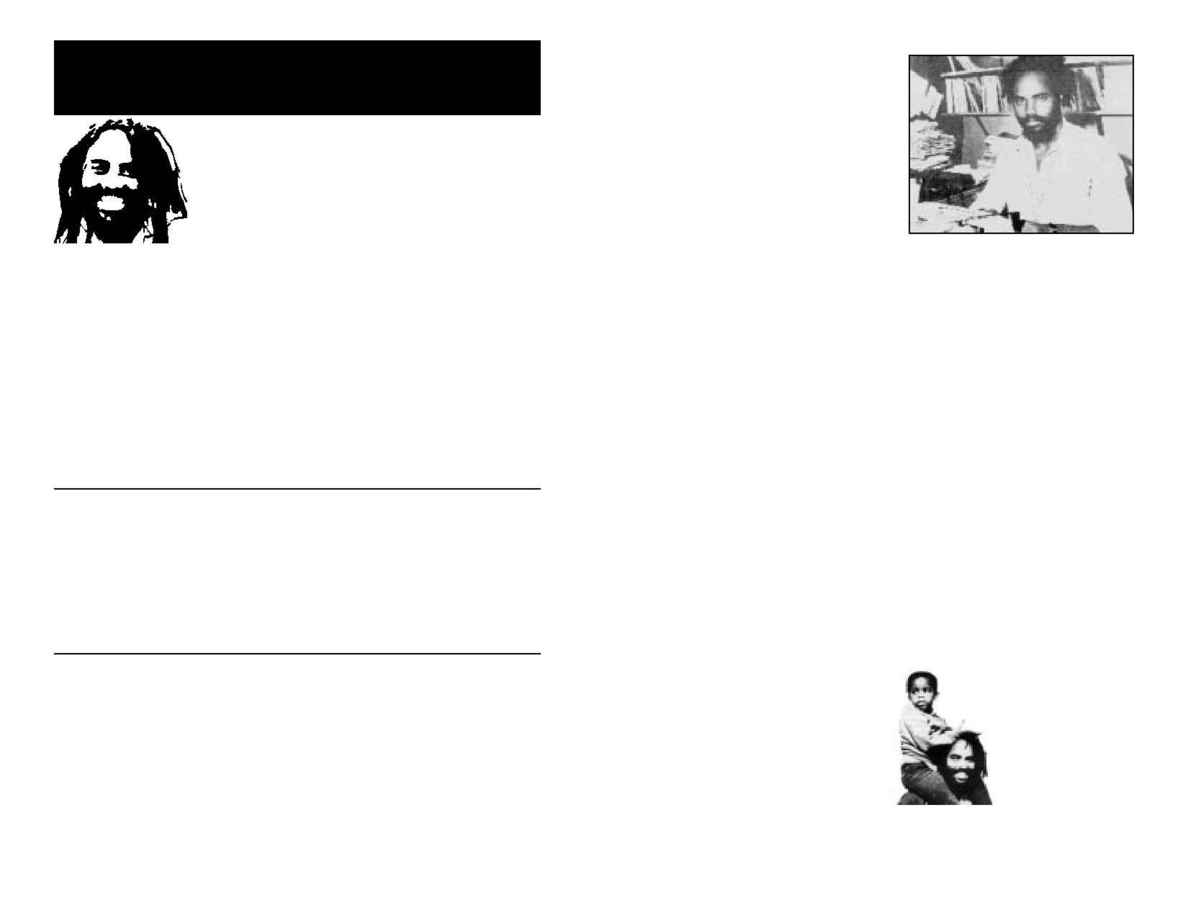 MUMIA ABU-JAMAL is a prominent and award-win-
ning journalist, past president of the Philadelphia Association of
Black Journalists, and a former Black Panther. His fearless
reporting of police brutality and eloquent exposure of injustice in
the United States are why he has come to be known as the "voice
of the voiceless." In 1981, Mumia was falsely accused of killing a
Philadelphia police officer. He never received a fair trial. He has
been on death row for over 17 years. A growing world wide movement of supporters
believes he was sentenced to death for his political beliefs and must be freed.
MUMIA'S CURRENT LEGAL SITUATION: If we act now, Mumia may
finally have his day in court. Very soon, Federal District Court Judge William H. Yohn will
decide whether Mumia Abu-Jamal should be granted an evidentiary hearing, or whether the
federal courts will review Mumia's case based solely on the court record developed by Judge
Albert Sabo, the judge who put Mumia on death row and refused to allow new evidence in
appeal. This is Mumia Abu-Jamal's last chance to put new evidence, witnesses and expert
testimony on the record. The prosecutorial and judicial misconduct of his original trial
demands that the suppressed evidence be heard. Justice demands a new fair trial for Mumia.
SEND LETTERS demanding a new trial and that the evidence be heard to:
Judge William H. Yohn, Jr., c/o Leonard Weinglass, 6 W. 20th St., Suite 10A, NY, NY 10011.
STAND WITH MUMIA: MAKE PLANS TO GO
TO THE NATIONAL DEMONSTRATION IN
PHILADELPHIA ON HIS FIRST DAY IN COURT
(We don't know the exact date yet, but it will be announced soon) The CCFMAJ is organizing
transportation now from Chicago to Philadelphia. Reserve your seat on the buses and/or
Donate a ticket to send someone (Tickets are $75). We may have only one weeks notice of
the court date, and it will be on a weekday -- so, save up sick days or plan to miss school.
ON HIS FIRST DAY IN FEDERAL COURT!
We meet the 2nd & 4th Wed. of every month, 7pm, at 1455 S. Wabash.
Hand out flyers about Mumia. Ask friends to write Judge Yohn. Make phone
calls. Plan teach-ins and screenings of the HBO video "A Case for Reasonable Doubt: Mumia Abu-
Jamal." Organize your student group/union/church/community organization to stand with Mumia.
Listen for the announcement of the date for
Mumia's first day in court and keep in touch with us...
Chicago Committee to Free Mumia Abu-Jamal
773/381-6507 · 2421 W. Pratt, Box 112, Chicago, IL 60645
email: CCFMAJ@unstoppable.com
web: http://www.unstoppable.com/CCFMAJ
On the night of December 9th 1981:
· Mumia Abu-Jamal was shot by a Philadelphia
police officer. That officer was also shot and
killed­at or around the same time.
· Witnesses saw two men flee from the scene.
· As more police arrived on the scene
Mumia was denied medical attention
for 45 minutes and severely beaten.
· Routine tests that would have shown
Mumia to be or NOT to be the shooter
were either not done by police or the
results were never disclosed.
· No attempt was made to identify the
men seen fleeing the scene.
· The dead officer was holding the drivers
During Mumia's original trial:
· Mumia's original trial and all his subsequent
appeals have been heard by judge Sabo­a
judge who has sentenced more people to
death then any other judge in the country.
· Mumia was not allowed the council of his
choice and was barred from the courtroom
during much of the trial.
· Eleven preemptory challenges were used to
keep black people off the jury. This practice
has been ruled unconstitutional.
· Police testified during the trial that Mumia
"confessed" in the hospital the night of the
shooting. The emergency room doctor said
this never happened. The officer who was
with Mumia at all times that night wrote in
his report that Mumia "made no state-
ment." This officer was not allowed to testify
due to actions by Judge Sabo.
· No physical evidence exists that would link
Mumia to the shooting or the bullet that
killed the officer. The evidence that could
help exonerate Mumia has disappeared.
· During the sentencing phase of the trial
the prosecution used Mumia's writings
and past political affiliations to argue
for the death penalty ­ this practice is
unconstitutional.
At Mumia's hearing for a new trial:
· Veronica Jones testified that police came to
her in jail as she awaited trial. They threat-
ened her with a long prison sentence and the
loss of her children if she did not change her
original story. The night of the shooting
Jones told the police she saw two men run
from the scene of the shooting, but at
Mumia's trial, she changed her story.
· Pamela Jenkins testified that she was
offered money and a promise of police pro-
tection as she worked as a prostitute if she
would lie about Mumia, and that Cynthia
White was offered the same deal. Jenkins
refused the offer, but White did testify at
Mumia's original trial and has since disap-
peared. Jenkins was a chief witness for the
U.S. Justice Department's case against the
Philly police department. Amongst the charges
against the police was paying prostitutes to
give false testimony in murder cases
· Mumia's court appointed attorney at his origi-
nal trial, who has since been disbarred, testi-
fied that he was incapable of handling a death
penalty case.
The Pennsylvania
State Supreme
Court ignored all
of this and more
when they ruled
to deny Mumia a
new trial.
Abu-Jamal as a young writer in Philadelphia.
Chicago Committee to Free Mumia Abu-Jamal