Free Speech TV Cable Project Summer 2006 Newsletter Page 1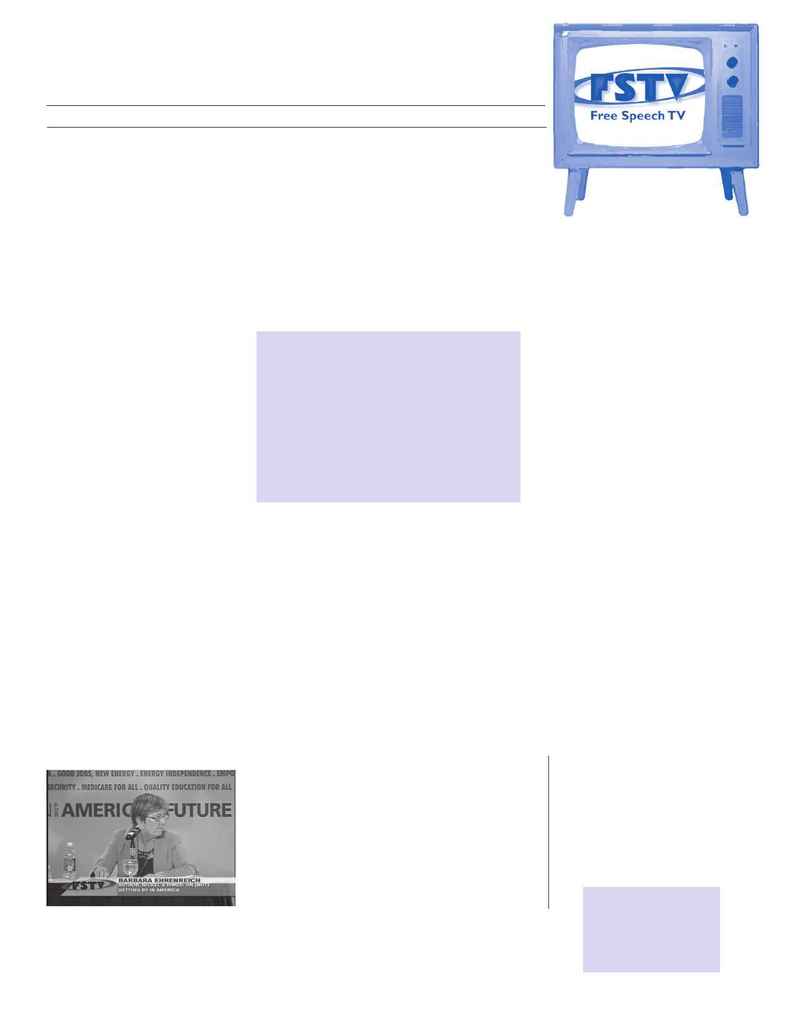 Many thanks to the 2,500 new and renewing members
who helped us break fundraising records during our
spring pledge drive. This generous financial support is
humbling, but it is your hands-on contributions that are
truly revolutionary. One by one--in big cities and small
communities alike--viewers are rolling up their sleeves
to build a people-powered
Here are just a few of the
folks who have taken personal
initiative to spread the word
Dr. Frances Mendenhall and
Marguerite Paterson want their
Omaha, Nebraska
to wake up to Free Speech TV. Tired of the evangelical
programs that dominate their current public access cable
channel, they have been working tirelessly to start their
own community cable station to provide a local outlet
for Free Speech TV's programs.
Be sure to tune in and check out these new programs. Check the online schedule at
www.freespeech.org/schedule to see when they will be airing.
Free Speech TV presents coverage of the Take
Back America Conference, the nation's larg-
est, annual progressive gathering organized by
the Campaign for America's Future. This spe-
cial takes viewers to the front line of political
struggle where luminary organizers are build-
ing the infrastructure necessary to ensure that
the nation's progressive majority is heard. This
program features prominent progressives Sena-
tor Russ Feingold, Congressman Bernie Sanders,
actor Robert Redford, and author Barbara Ehrenreich.
They formed a non-profit organization called
Independent Television Omaha (http://
standupforomaha.org) to meet the requirements of the
local Cox Communications cable franchise agreement.
When Cox refused to meet its obligations to provide
such a channel, Frances and Marguerite organized their
community to heat things up. They
circulated petitions and enlisted the
support of a local radio personality.
In May, Omaha's Cable Television
Advisory Committee passed
a resolution supporting these
efforts. This fight now moves to
city council, and if the dedication
shown by Frances and Marguerite
are any indication, victory must be
Whidbey Island, Washington, a local revolution
is taking place, thanks to
Linda Maté. When she
discovered Free Speech TV through channel surfing on
DISH Network four months ago, she became determined
to share the network's eye-opening programs with
Behind the Screen
A Newsletter for Friends of Free Speech TV
inside this issue ...
Television Like You've Never Seen Before
Mid-Term Elections and More!
find out what you can do
visit friends.freespeech.org and click
on get involved to learn more
tell us about what you did
email info@freespeech.org
share our
newsletter
with a
friend!
Viewers Building a Free Speech TV Movement