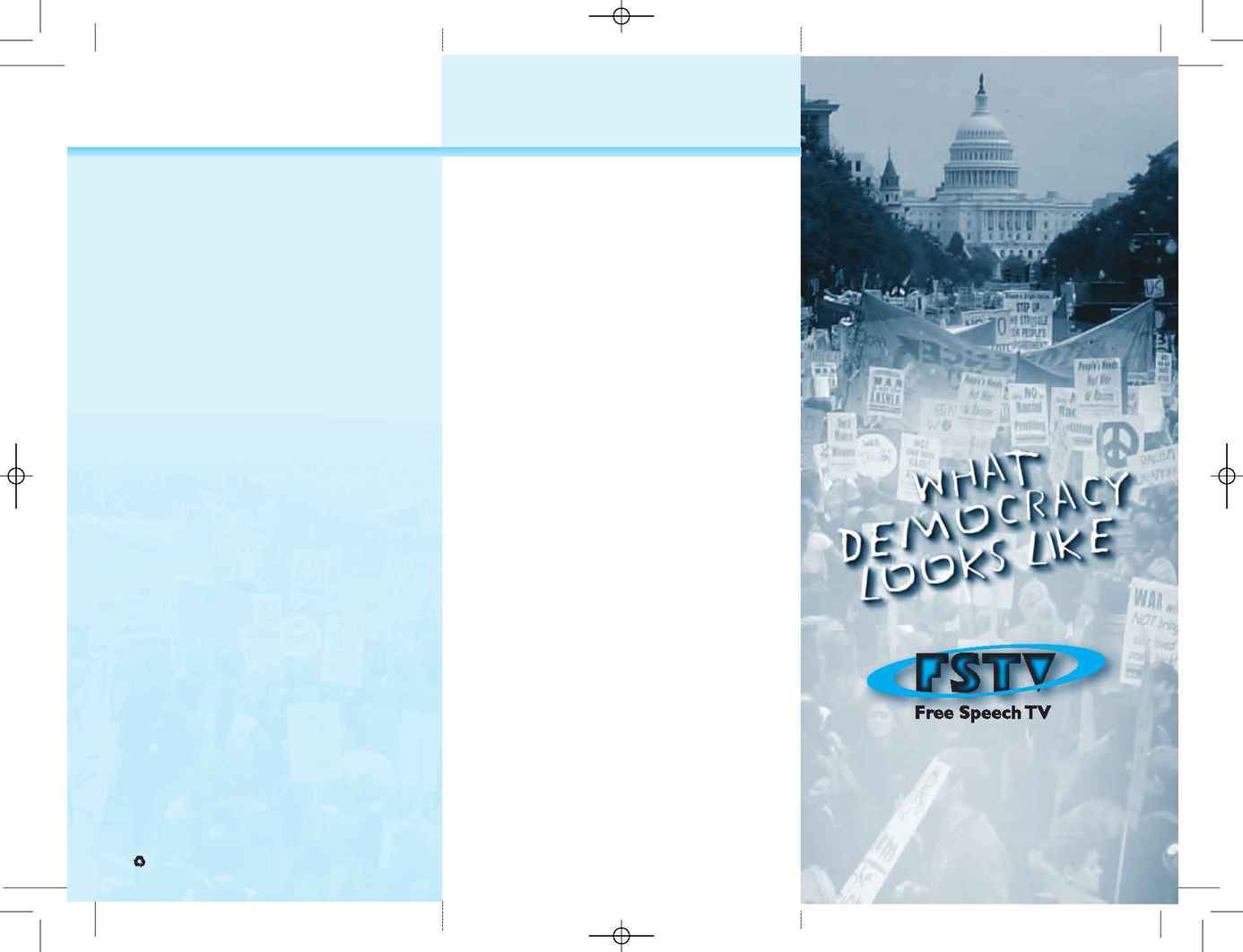 elevision is arguably the most potent
cultural force in America today.
Corporate media uses television for
private gain, by selling audiences to
advertisers. FSTV encourages people
to become more involved in their
communities and society as a whole,
not just as consumers, but as citizens.
orking with activists and artists,
Free Speech TV fuels the movement
for progressive social, economic, and
political transformation. By exposing
the public to perspectives excluded
from corporate media, FSTV mobilizes
citizens to fight injustices, to revitalize
democracy, and to build a more
compassionate world.
Free Speech TV is a project of Public Communicators, Inc., a 501(c)(3)
non-profit organization. Since its inception in 1995, FSTV has been
suppor ted by member contributions and by grants and gifts from the
Alphawood Foundation, Bioneers Fund, Donner Foundation, Chicago
Instructional Technology Foundation, Denver Area Educational
Telecommunications Consor tium, Ford Foundation, Funding Exchange,
Gill Foundation, Glaser Progress Foundation, Instructional
Telecommunications Foundation, Just Media Foundation, Kieschnick
Family Foundation, Kurz Family Foundation, Lannan Foundation, John D.
& Catherine T. MacAr thur Foundation, National Alliance for Media Ar ts
and Culture, Needmor Fund, Open Society Institute, Otto Haas
Charitable Trust #2, Park Foundation, Paul Robeson Fund for Indepen-
dent Media, Phoebe Haas Charitable Trust, Por tland Regional Educa-
tional Telecommunications Corporation
Rockefeller Foundation, Schreier
Family Foundation, Unitarian Universalist Funding Program, The
Waterman Fund of the Philadelphia Foundation, Willard L. Eccles
Foundation, and the Working Assets Grantmaking Fund.
"Every day and night, hard-working people come home
from their jobs and turn on their TV sets. Never before
have they had so many channels to choose from, yet
never before have their choices been so limited....
Americans want a channel that is dedicated to asking
the hard questions about the issues affecting their
kids' future. They want a channel that's not afraid to
confront abuses of power that rob them of jobs, health
care, a meaningful education, a clean environment,
civil rights for all, and a government by, for and of the
people.... Free Speech TV stands alone in the industry
in its dedication to creating such a channel."
-- Michael Moore, Director
Bowling for Columbine, Fahrenheit 9/11
"FSTV is one of the most effective ways to reach out to
diverse communities, giving citizens and communities
the opportunity to gain a deeper understanding of the
issues, as well as giving them the tools to effectively
change their own lives and community for the better."
-- Hye Jung Park, Director,
"Free Speech TV is providing a national venue to those
of us who are working in our own small circles to use
media as a tool for social change. FSTV has demon-
strated that its programmers have a national perspect-
ive and commitment to humanitarian goals."
-- George C. Stoney, Professor of Film/TV,
"If your goal as a network is to push me to the far left,
then I am afraid you have failed. If your goal is to
provide an alternate outlet and make me a more
informed viewer, then consider yourselves an
*af filiations are for identification purposes only
Public Communicators, Inc.
P.O. Box 6060
Boulder, CO 80306
888.378.8855
www.freespeech.org
viewercomments@freespeech.org