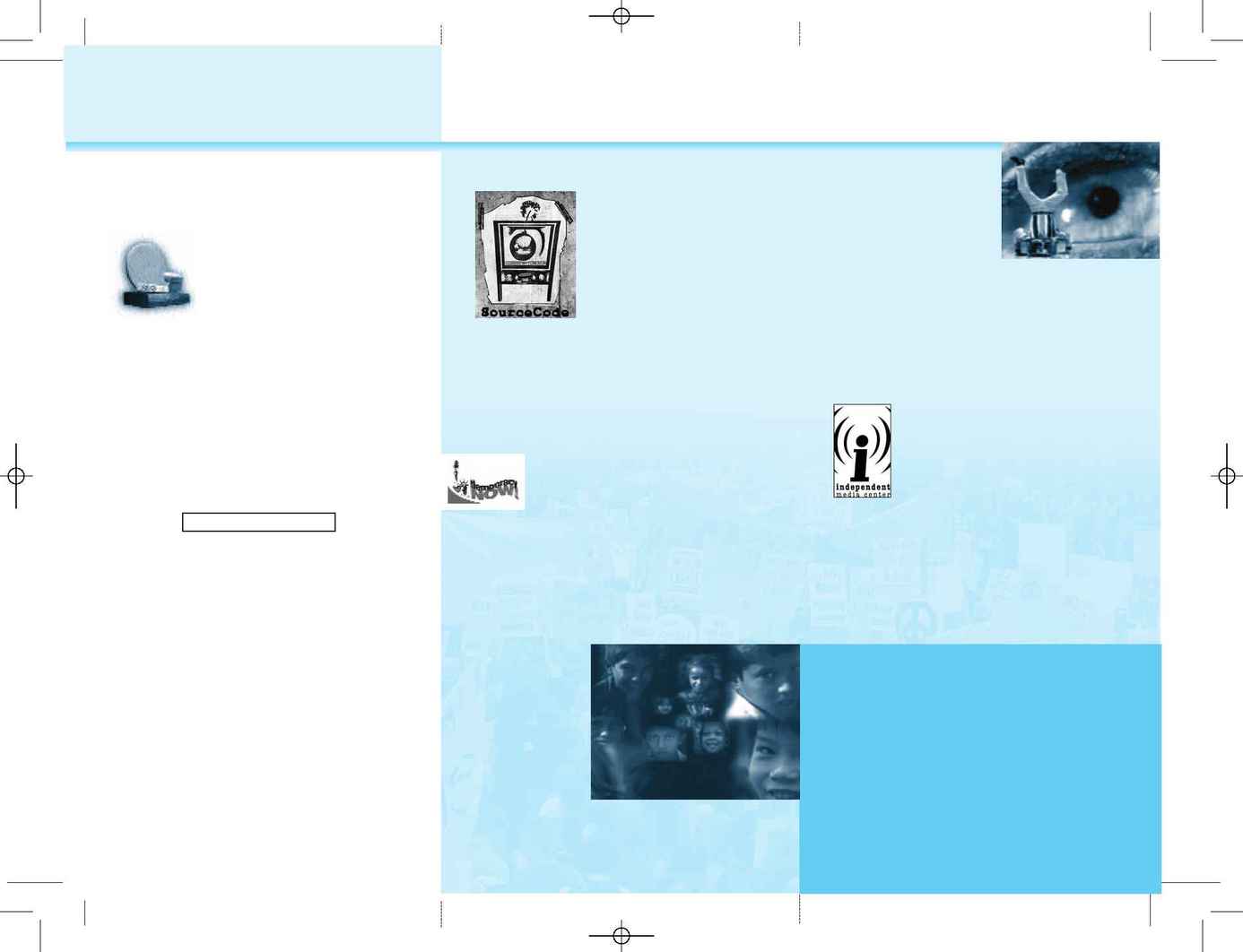 SourceCode
Pushing the edges of both television
and political activism, SourceCode
fuses hard-hitting journalism with
the DIY spirit. This lively current
affairs program offers a bold critique
of American empire-building and its
impact upon people around the
globe, as well as here at home.
Each weekly episode shines a
national spotlight on the individuals and organizations
working for peace and justice. This positive, proactive
approach has pegged SourceCode as a viewer's trusted
"search engine for solutions."
Democracy Now!
Offering daily news and analysis, Democracy Now!
is committed to bringing the voices of the
marginalized to the air waves. Amy Goodman and
Juan Gonzalez's engaging--sometimes enraging--
repor ting features inter views with activists, muckrakers,
visionaries, ar tists, academics, and "ordinar y folks" who
share a commitment to truth, justice, diversity, and peace.
Democracy Now! airs daily at 8 am, noon, and 7 pm ET.
Alternative Voices
documentaries, short subjects,
and experimental films and
videos. Enriching and inspiring,
these programs feature the voices and perspectives you
won't find anywhere else on television. Subjects range
from the criminal injustice system to women's shelters,
from community organizing to economic globalization, and
from genetic engineering to international peacemaking.
Community Works
African Eye, Café
Nuba, Deep Dish TV,
Enviro Close-up, Gay
USA, Paper Tiger TV,
Termite TV, and the
Youth Channel's Open Transmission.
Special Programs from the
Independent Media Centers
At the 1999 WTO protests in Seattle,
WA, media activists from around the
world created an Independent Media
Center to insure that the issues and
street protests were fairly covered.
Since then, over 140 IMCs have sprung
up across the globe, in places like Prague,
Argentina, Mexico City, Nigeria, Palestine, India, and
Jakar ta with hundreds of journalists working together
to break through the corporate media blockade. FSTV
is proud to air their monthly Indymedia Newsreal series
and other IMC productions.
Photo Credits Front Cover: Brian Klocke's March Star t. Inside (clockwise):
Comm. Works and Altern. Voices photos from Harold Boihem & Chris
Emmanoulides' The Ad and the Ego.
w w w . f r e e s p e e c h . o r g
With FSTV, television is being revolutionized,
so the revolution will be televised. We need your
help. Please become a member by making a tax-
Go to our website www.freespeech.org to
make a secure credit card donation.
Send your check or money order (payable to
Free Speech TV), or credit card info to FSTV,
PO Box 6060, Boulder, CO 80306.
Together, we can make a difference!
currently reaches over 25 million US homes with
our television programming.
On DISH Network Channel 9415
You can watch FSTV 24/7 anywhere in
the US with a DISH Network satellite
system. A basic monthly DISH Network
subscription costs about the same as
cable. Sign up for a satellite dish and
installation at our on-line store at
We're also available part-time on over 110 local
community access cable stations across the country.
Cable affiliates include: Albuquerque, Denver, Madison,
Philadelphia, Portland, St. Louis, Seattle and Tucson.
For a complete list visit our website. If you don't see
your local cable station listed, call them and tell them
your community wants FSTV.
An essential complement to our broadcasts,
www.freespeech.org offers daily television schedules,
videostreaming of many FSTV programs, information on
our special programs, and membership to our online
community. Our online store offers a vibrant collection
of progressive videos, DVDs, books and CDs.
Check out the Internet's largest library of progressive video
and audio content, including hundreds of documentaries,
speeches, rallies, and direct actions from around the world.
The Free Speech Network Online Community is a
gathering place to share information, organize activities
and collaborate on projects. Members have access to an
array of tools including weblogs, calendars, forums, and
mailing lists. We hope to provide a comprehensive and
dynamic space for social activists, artists, teachers, and
various community organizers to work together for peace