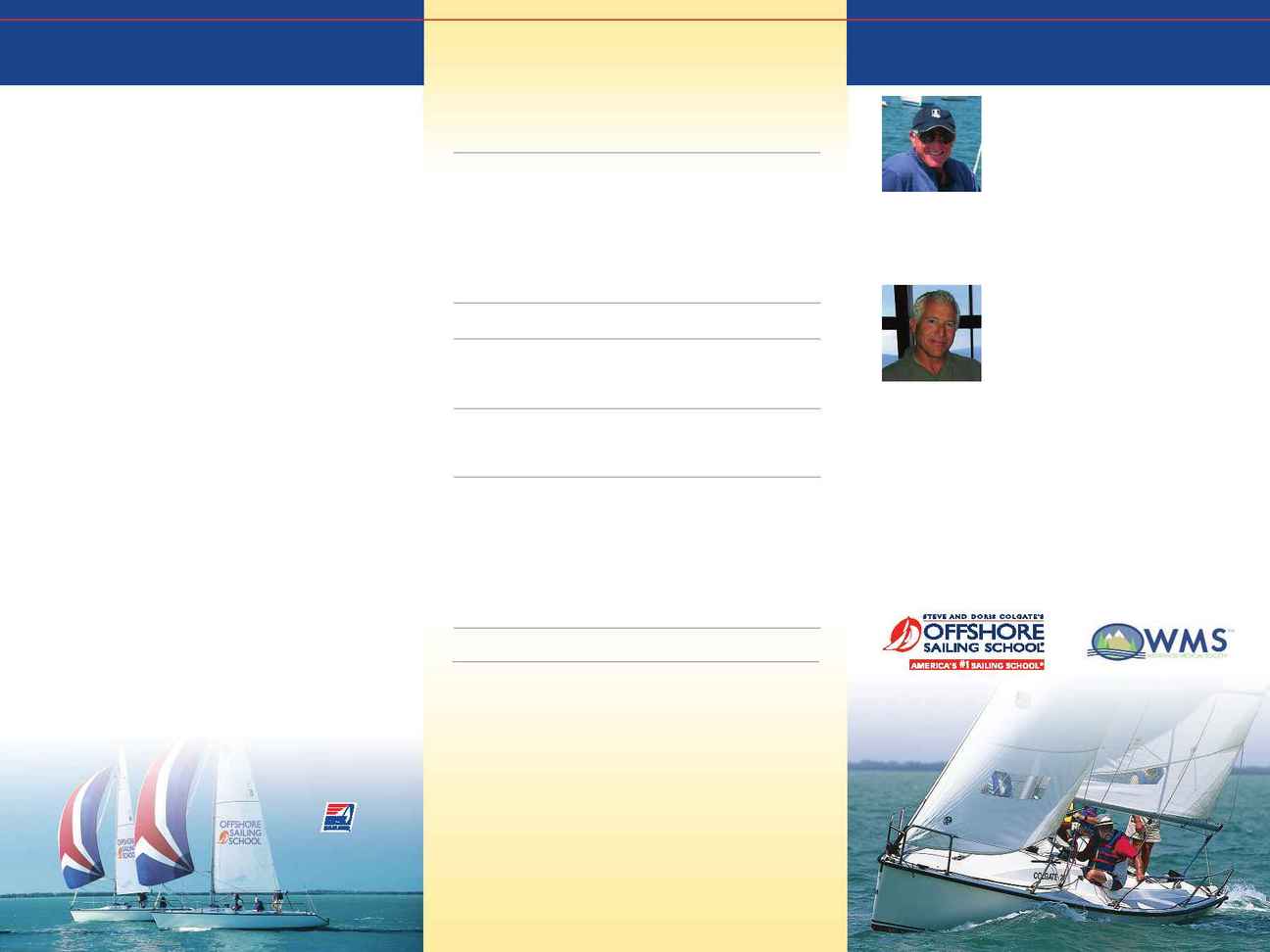 Medicine for Mariners
SYNOPSIS
O
Certification
Included
Sunday
· Arrival and evening Welcome Cocktail Party
Monday/ Tuesday/ Wednesday/ Thursday
Classroom for Learn to Sail,
Performance Sailing, Bareboat Cruising
Group A sailing (3 hours)
Box lunch Groups A & B
then Medical seminar (1.5 hours)
Group B sailing (2.5 hours)
Medical seminar (1 hour) Groups A & B
Wednesday
· Barbecue buffet on lawn
Thursday
· Sailing certification testing
Thursday Evening
· Cash Bar Cocktail Presentation: Steve Colgate speaks about
the 1979 Fastnet disaster (50 minutes including questions)
Friday
Medical seminar (1.5 hours)
Group A sailing practice (3 hours)
Medical seminar ­ Safety at Sea
Demonstration with Winslow life rafts
Group B sailing practice (3 hours)
Cocktails (cash bar) and
Certificate Banquet
Saturday
Cost: From $1620 per person double occupancy. Includes tuition,
US SAILING certification, textbooks, room taxes, service charges
and social functions. Limited rooms at this price. Add $200 for
Bareboat Cruising Preparation. Medical seminar cost is $495
additional. Non-sailing spouses are $725 each.
This activity has been planned and implemented in accordance with the
Essentials and Standards of the Accreditation Council for Continuing
Medical Education through the joint sponsorship of the Wilderness Medical
Society and Offshore Sailing School. The Wilderness Medical Society
is accredited by the ACCME to provide continuing medical education for
physicians and takes responsibility for the content, quality
and scientific integrity of this CME activity.
800-221-4326
www.offshore-sailing.com
Combine your Pursuit of Excellence
with your Passion for Sailing
ffshore Sailing School and the Wilderness
Medical Society are offering an exciting and
unique way for doctors and health professionals to
earn continuing medical education credits while
learning to sail or improving existing sailing skills.
A choice of three US SAILING certification courses
is being offered in conjunction with a Medicine for
Mariners seminar.
Never been sailing and want to learn?
This course gives you the confidence to take the
helm and achieve a firm grounding in the principles
of sailing.
experience concentrates on the nuances of
maximizing a boat's performance. Learn advanced
sail trim, spinnaker techniques, and become skilled
at getting every ounce of speed from your boat.
Bareboat Cruising Preparation:
charter but need some bigger-boat experience,
this course is a terrific way to get ready for the
best charter vacations you'll ever have.
The Wilderness Medical Society (WMS) is the
world's leading organization of medical professionals
dedicated to advancing clinical practice, research
and education in wilderness medicine. Its principal
purpose is to present educational programs and pub-
lications that inform its members about recognizing,
preventing and treating medical problems
typically encountered in wilderness situations.
Offshore Sailing School has graduated more than
100,000 men and women who have discovered the
adventure of sailing. The school offers instruction
at all levels and includes specialized programs for
women, families, racing sailors and corporate or
incentive programs for positive team building.
The school has ten locations in the United States,
Bahamas, and Caribbean.
The Faculty
the field of wilderness medicine in
the marine environment. He is a U.S.
Coast Guard licensed captain and
practicing internist and has lectured
at Safety at Sea seminars and Marine Medicine
programs around the world. He is author of articles
and chapters on Medicine for Mariners and Survival
at Sea.
whose unique career has taken
him to the farthest reaches of
the globe. Specializing in high
altitude/expedition medicine,
Dr. Donner has been teaching and advising
mountaineers, astronauts and athletes throughout
his career.
Getting here is easy...
Leaving might be a bit harder
Arrive via Southwest Florida International Airport in
Fort Myers, only 30 minutes from Pink Shell Resort
and serviced by all major domestic carriers and
some international airlines.
800-221-4326