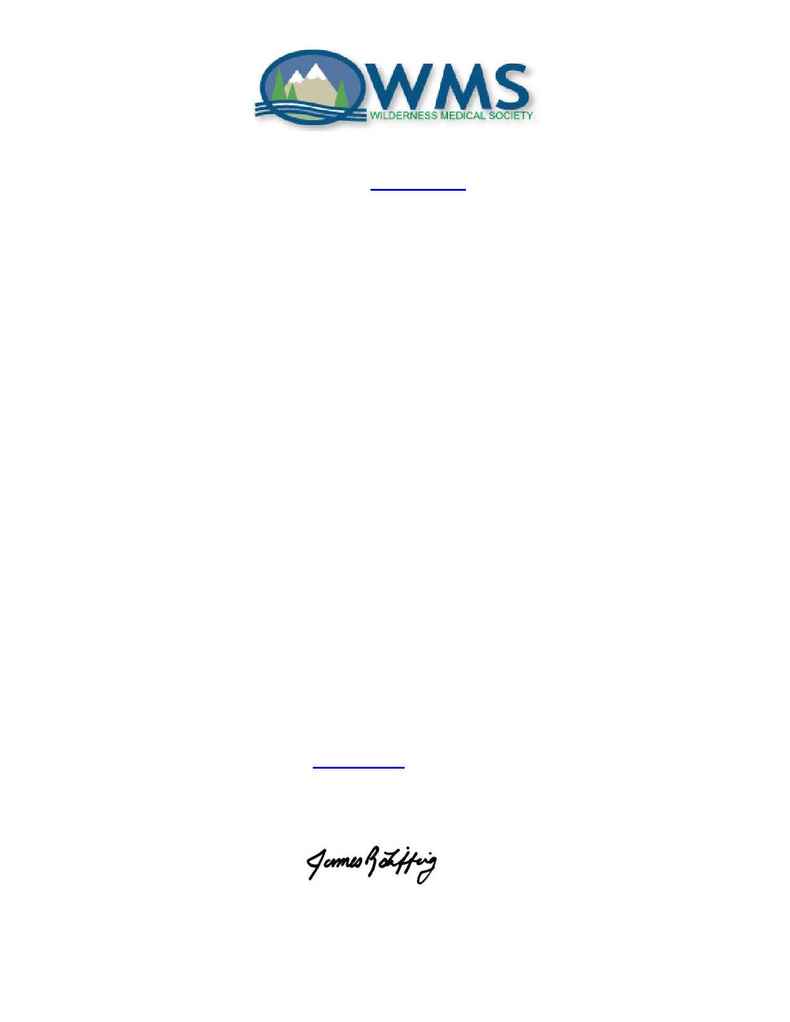 810 E. 10th Street, PO Box 1897
Phone: 800-627-0629 Fax: 785-843-1853
E-mail:
wms@wms.org
To: Medical School Dean, Residency Director, Course Director or Administrator

Re: Wilderness Medical Society Elective in Wilderness Medicine, Academic year, 2006

The Wilderness Medical Society (WMS), in consultation with the Uniformed Services University of
the Health Sciences (USUHS), offers to third and fourth year medical students, residents, and allied
health professionals from accredited schools, an opportunity for premier instruction in wilderness and
environmental medicine. You are receiving this letter because a student at your institution is interested
in taking and/or receiving academic credit for this elective.

The elective, offered in February 2006, consists of a curriculum instructed by experts in wilderness
medicine. The academically rigorous curriculum has been critically evaluated and approved for credit
by the WMS and USUHS. While USUHS offers 4 weeks of academic elective credit for its students
who successfully complete the course, each medical school must assess whether or not it will award its
own students credit. The following information is provided to help you make that assessment.

The 142-hour, 4-week course includes 54 hours of didactic instruction, 48 hours of hands-on, pre-
hospital Wilderness First Responder (WFR) training, 24 hours of field training, as well as case
discussions, and a field practicum. Students successfully completing the course will be able to:
Act as a medical group leader in backcountry or other remote settings
Plan for the medical support of a wide range of wilderness and/or adventure travel experiences
Identify and plan for special hazards in a variety of extreme environments
Manage common illnesses and injuries in an austere environment with limited resources
Advise a wilderness travel group concerning care for and evacuation of injured or ill members
Demonstrate basic competence in exotic travel and individual wilderness survival skills
Understand the wilderness care provider's role in search and rescue
Sit for the Wilderness First Responder National Registry Examination
We encourage you to consider approving requests for participation and credit for your
interested resident(s) or student(s). Further information may be obtained by contacting me
directly or by accessing the web site at
. Thank you for your time and
WMS Board of Directors
Elective Course director