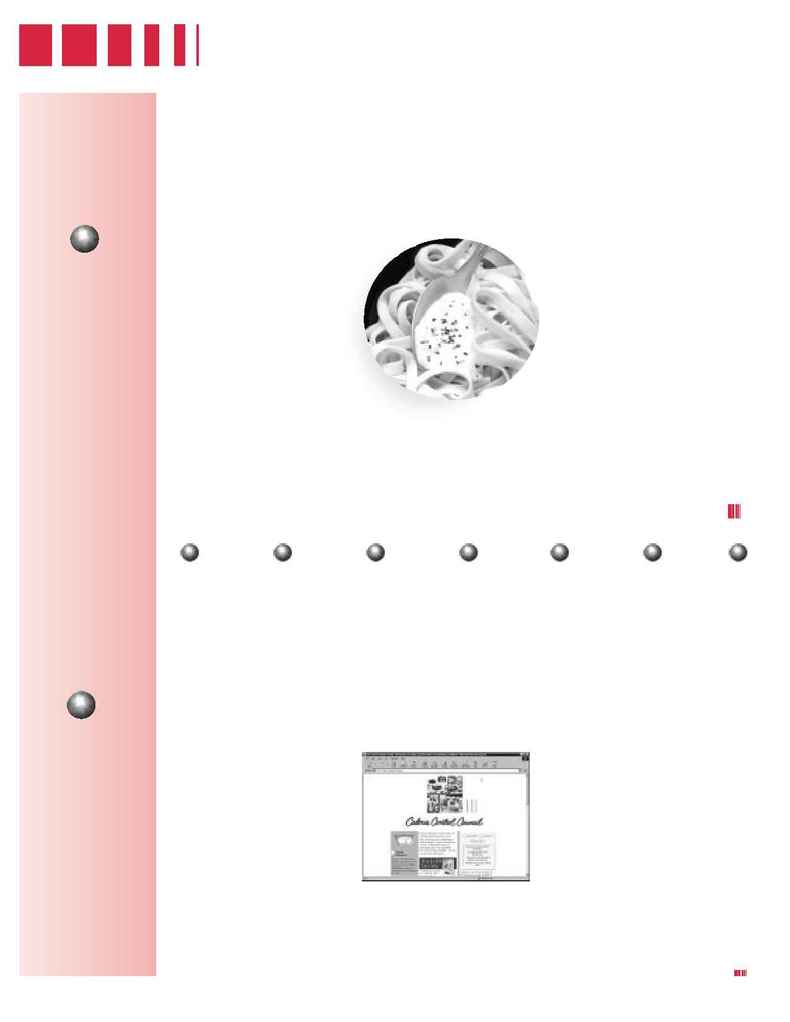 O
While fad diets may
take the weight off,
they don't teach
how to keep it off.
Losing weight
requires eating
less, being more
active, or
preferably
doing both.
5
has now surpassed 30 million hits and 1.3 million
visitors. Why do people log on? The "Calorie
Control" Web site offers consumer-friendly informa-
tion on calorie counting, light foods and beverages,
weight control and exercise.
In recent weeks, the site has
averaged over 600,000 hits and
20,000 visitors per week. Updated
information on a healthy lifestyle
keeps visitors coming back. The
"Calorie Calculator" tells consumers
the number of calories and fat
grams found in their favorite foods,
or they can track overall daily con-
sumption of calories and fat grams, using the
"Enhanced Calorie Calculator." Weekly news on the
latest calorie and weight-control research is found
on the Calorie Control NewsNet and the site offers
tips on cutting calories while maintaining a healthy
weight. Light recipes and an exercise calculator are other popular
features. It also features useful information on low-calorie ingre-
dients and other topics of interest.
Recently, the site has been updated with several new sections
and a newsier, more consumer-friendly Home Page and addi-
tional links. Also, due to its popularity, the online calorie calcu-
lator has been moved to its own domain:
www.caloriescount.com.
The site has received more than two dozen
awards for excellence in content and design.
A
Los Angeles Times Award, USA Today Hot
Site Award, the Lycos Top 5% Award, the
LookSmart Editor's Choice, Chartmakers
Internet Top 10, MSN Pick of the Week,
PC
Magazine Pick of the Day, Fitness On-Line
Award, MedExplorer Top Rated Site and Best Association
Website are just a few of the many awards and recognition
given to the site.
Commentary also is posted on the site and has a feature
that allows readers to send an issue to a friend.
CALORIE CONTROL WEB SITE LOGS OVER 0 MILLION HEALTHY HITS
Health Conscious Consumers Depend on the Site's Nutrition and Diet Information
SUGAR BUSTERS
How it works: Co-authors Mr. H. Leighton Steward,
Dr. Samuel S. Andres, Dr. Luis A. Balart and Dr.
Morrison C. Bethea have found their book topping the
best sellers list, as well as recommended by several
restaurants in the New Orleans area. The basis of this
diet is that certain foods, namely carbohydrates, cause
insulin levels to rise. Authors of this book write
that insulin makes you fat by promoting
the storage of fat in the body. Foods
such as pasta, rice, white potatoes,
carrots, corn and watermelon are
prohibited.
The facts:
Environmental
Nutrition Newsletter reviewed this
book and found some problems.
First, insulin does not promote the stor-
age of fat, unless excess calories are ingested.
Insulin is important for good health as it brings ener-
gy to the cells in our body. Although you may lose
weight, it is most likely due to water loss, not loss of
fat. People also tend to ingest fewer calories while
practicing Sugar Busters. Vital nutrients such as
calcium, vitamin A, and fiber are all found in low
amounts in this diet. However, there are some redeeming quali-
ties. Sugar Busters encourages you to eat whole grains, to trim
the fats from meats, and to decrease overall sugar intake.
The bottom line: Be wary of diets that go against what credible
health care organizations and professionals recommend. While
many of these fad diets encourage limiting certain foods, many
studies have shown that incorporating a variety of foods in
the diet is important. The Mayo Clinic Web site
reminds consumers that research has shown
that grains, fruits and vegetables help to pre-
vent certain diseases such as cancer.
Remember, if it sounds too good to be true, it
probably is. Health care professionals agree
that you can't eat unlimited calories and still
Many of these diets offer quick fixes. They
sound glamorous and easy but the reality is, losing
weight is never easy. For permanent weight loss, it is
important to learn sound eating habits. While fad diets may take
the weight off, they don't teach how to keep it off. Losing weight
requires eating less, being more active, or ­ preferably­ doing
both. Exercise is also key. Most importantly, any change you
make should be something you can stick with for life.
Todays Fad Diets: Too Good to be True
(continued from page 2)
The site offers tips
on cutting calories
while maintaining
a healthy weight.