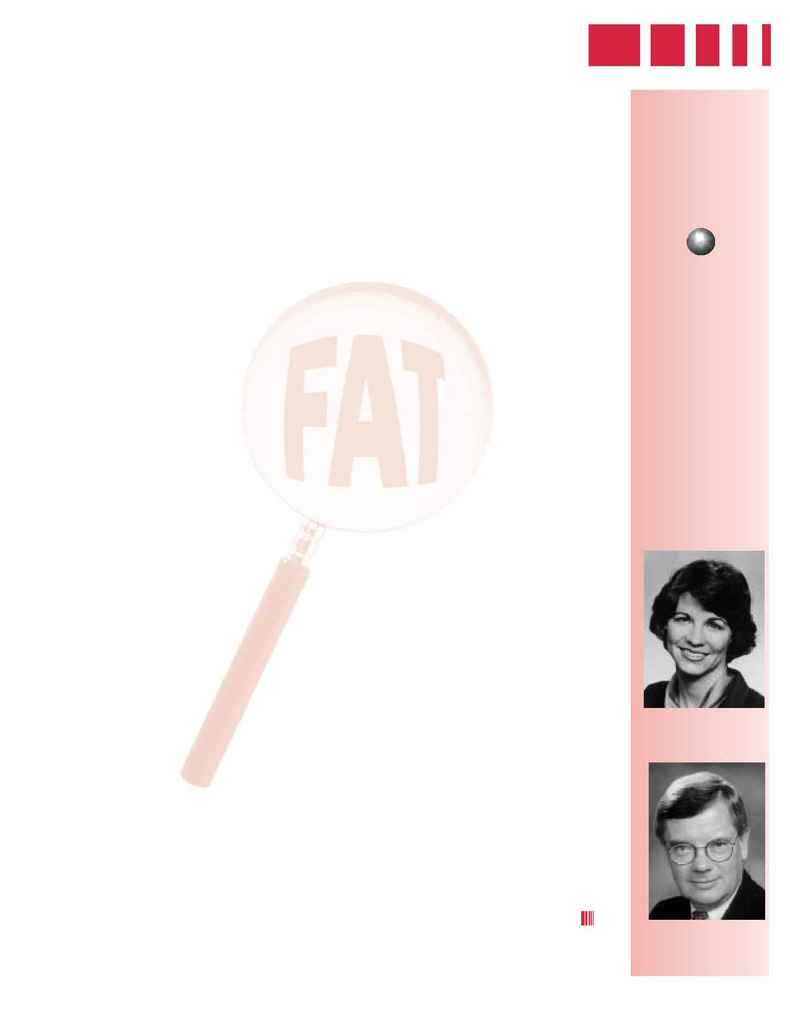 R
Diets that claim
you can eat as
much as you want
and still lose
weight have been
around for years
and have had little
success in the long
run, according
to Chris
Rosenbloom,
Ph.D., R.D.
4
(continued from page 1)
Experts Sort Out Fact from Fiction about Fat
included as part of a healthy diet and aid in weight control. And,
they advise that cutting fat isn't the only key to maintaining a
healthy weight. The motto today is calories still count.
Commentary asked leading health authorities their opinions
on what's causing America's obesity problem, and to sort out fact
from fiction on fat. Here is what they said:
FICTION: Americans have decreased the fat in their diet, so it
must be something else that is causing people to gain weight.
FACT: Although Americans have cut their fat intake to 34 per-
cent, they still do not meet the U.S. Dietary Guidelines recom-
mendation of 30 percent or less of calories daily from fat.
According to Karen Collins, R.D., of the American Institute for
Cancer Research, several factors contribute to weight gain.
"Today people lead fast, high-stress lives," she says. "Many peo-
ple turn to food as a stress relief or as an emotional comfort.
People are no longer in touch with their hunger cues and have
not been well educated about portion control."
FICTION: Fat is not the problem, therefore, there's no need for
fat-free and reduced-fat foods in the diet. Many diets say that you
can eat as much fat as you want, and you won't gain weight.
FACT: Diets that claim you can eat as much as you want and
still lose weight have been around for years and have had little
success in the long run, according to Chris Rosenbloom, Ph.D.,
R.D., associate professor of nutrition at Georgia State University
in Atlanta and an American Dietetic Association spokesperson.
"In truth, these diets really don't allow you to eat all you want,"
she says. "Instead, they have some very restrictive guidelines."
John Foreyt, Ph.D., director of the Nutrition Research Clinic and
professor, Department of Medicine at Baylor College of
Medicine in Houston, notes that these diets are unproven and
have not been peer reviewed. What's more, their safety and effi-
cacy have yet to be shown. "Reduced-fat and fat-free foods have
had a tremendous impact on the American population. They
have helped to keep the taste in foods, while allowing people to
control fat," says Dr. Foreyt, a leading obesity expert.
FICTION: Low-fat and reduced-fat foods have only made
people fatter.
FACT: Ms. Collins notes that reduced-fat and fat-free products
can be incorporated into a balanced diet, when used appropri-
ately. Two recent studies reported in the
American Journal of
Clinical Nutrition demonstrated that even "casual" use of
reduced-fat foods can significantly reduce overall fat intake.
However, she says, some people believe that because these prod-
ucts are low in fat, they can eat twice the amount. They are sur-
prised to find that they have not lost weight, and in some cases,
have gained. "Reduced-fat products should be used
as substitutes for higher fat items, not as additions,"
she notes. Dr. Foreyt comments that in addition to
reducing fat in the diet, many low-fat foods and bev-
erages allow people to enjoy their favorite foods
without extra calories.
Another problem contributing to increased weight
gain is lack of physical activity. A study in the October
13
Journal of the American Medical Association
found that even those who are exercising and reduc-
ing calories often aren't exercising enough. Only 42
percent of the men and 37 percent of the women
who said they were trying to lose weight are meeting
federal recommendations of at least 150 minutes of
exercise weekly, the study found.
FICTION: Calories from fat are much worse than
calories from carbohydrates or protein.
FACT: Although the calories from fat, protein and
carbohydrates are metabolized differently, a calorie,
despite its source, is still a calorie. However, fat is
more calorically dense (9 calories per gram) than
carbohydrates or protein (4 calories per gram). Still,
researchers say that while increased fat intake can
contribute to an increase in calories, over-consump-
tion of any food can cause weight gain. "More calo-
ries consumed than expended equals weight gain, no
matter where those calories come from," Dr. Foreyt
notes. The bottom line is: calories still count.
FICTION: The only fat people should worry about
is total fat intake.
FACT: Dr. Foreyt advises that total fat intake is
important because fat is associated with obesity.
However, consumers should pay attention to satu-
rated fat as well, as it has the potential to raise cho-
lesterol levels. He advises (as do many other
experts) to watch overall fat intake and consume a
balanced diet. The U.S. Dietary Guidelines Advisory
Committee has recommended a shift in focus from
total fat to saturated fat. The recommendation, if
approved by the USDA and the Department of
Health and Human Services, will read as follows:
"Choose a diet low in saturated fat and cholesterol,
and moderate in total fat."