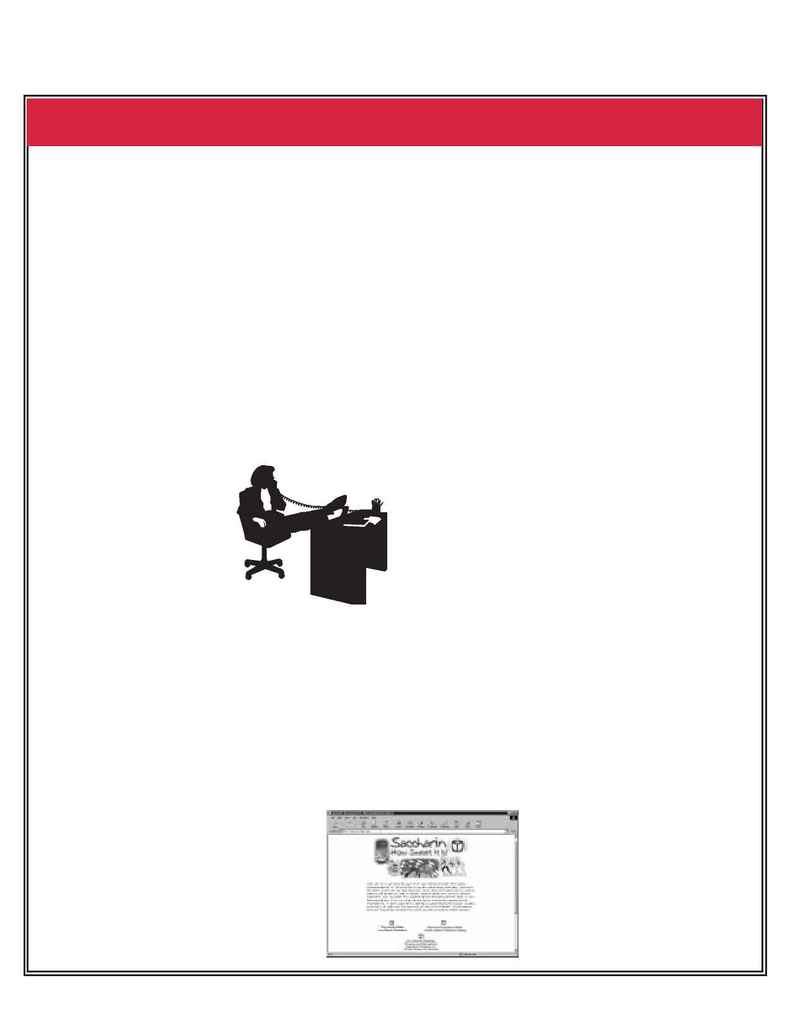 Low-Calorie/Low-Fat Bulletin
THREE KEYS TO LOSING WEIGHT
Eating a low fat diet, watching total calorie intake and exercising vigor-
ously are the three keys to losing weight and keeping it off, according to
an ongoing study by the National Weight Control Registry, as reported in
a recent
New York Times article. The study began approximately five
years ago and involves over 2,500 participants who have all met the
requirements of having lost at least 30 pounds and kept it off for at least
one year. According to Dr. James O. Hill of the University of Colorado,
"What we've learned so far is that these people have not found any
secret to maintaining weight loss." It appears to be the three common
factors the dieters share which keeps their weight in check. Dr. Rena
Wing, a colleague of Dr. Hill's, said, "It's not like these people are so
different from other people. It seems to me that they had a whole
different approach: 'This time I'm going to do it.'"
RATES OF OBESITY, PHYSICAL INACTIVITY ON THE RISE
The incidence of obesity in adults and
children, physical inactivity, diabetes
and asthma are increasing, according
to the U.S. Department of Health and
Human Services' Healthy People 2000
Review, released in June. Surgeon
General Dr. David Satcher noted that
more than 20 percent of U.S. children
were overweight, and defined childhood
obesity as an epidemic. He also commented
that families should become more active. Physical activity
has declined due to more time spent in front of the computer and
TV, as well as a decrease in the physical education programs in
schools, he said.
SPLENDA APPROVED AS GENERAL PURPOSE SWEETENER
FDA has approved the use of SPLENDA
(also known as sucralose) as
a general-purpose sweetener in foods. McNeil Specialty Products Co.
petitioned FDA for the broadened use of sucralose. The FDA approval
now allows sucralose to be used in products where standards of identity
do not preclude its use, including all foods and beverages, nutritional
supplements, medical foods and vitamin/mineral supple-
ments. In related news, the Institute of Food
Technologists (IFT) has chosen McNeil Specialty Products
as the recipient of the 1999 Industrial Achievement Award
for the discovery and commercialization of sucralose. IFT
presents the award yearly to innovators of an outstanding
food process or product that exemplifies significant
advances in food technology, production and product
commercialization.
DATA SHOW OLESTRA'S SAFE
As part of the FDA approval of olestra for use in savory snacks, Procter
& Gamble is monitoring olestra intake and its effect on nutrient status in
the U.S. A full year of data is now available. Among the findings: intake
of fruits and vegetables did not decrease with consumption of olestra-
containing snacks; total snack consumption did not increase with olestra
consumption; and a significant trend toward reduced percentage of
energy from fat and reduced serum cholesterol was observed with
increased olestra intake. No statistically significant associations between
olestra intake and reduced serum carotenoid concentrations were found.
JECFA AND EU RULE AGAINST STEVIOSIDE
Stevioside is not "acceptable" as a sweetener, according to two interna-
tional agencies. The sweetener was recently reviewed by the Joint Food
and Agriculture Organization/World Health Organization Expert
Committee on Food Additives (JECFA) and the Scientific Committee for
Food of the European Union (EU) and determined not to be acceptable
as a sweetener on the basis of available data. Stevioside may be used as
a dietary supplement in the U.S., but no reference to sweetness can be
made. It is not approved for use as a sweetener in the U.S.
LANCET'S LETTER TO THE EDITOR DENOUNCES ASPARTAME RUMORS
In response to misinformation about aspartame circulating on the
Internet, a letter to the editor, published in the July issue of
The
Lancet, said, "Virtually all of the information offered is anecdotal, from
anonymous sources and is scientifically implausible." The letter, writ-
ten by Anthony Zehetner and Mark McLean of the Department of
Endocrinology, Westmead Hospital, Sydney, Australia, stated, "The anti-
aspartame campaign purports to offer an explanation for illnesses that
are prominent in the public eye. By targeting a manufactured chemi-
cal agent, and combining this with pseudoscience and selective report-
ing, the campaign makes complex issues deceptively simple."
Aspartame is one of the most thoroughly tested food additives and its
safety has been affirmed 26 times over a period of 23 years by the FDA.
For more information on the safety of aspartame and health scares
perpetuated by the Internet, check out the spring 1999 issue of
Commentary at www.caloriecontrol.org.
WEB SITE IS SWEET ON SACCHARIN
The Calorie Control Council has developed a
saccharin Web site ­
www.saccharin.org ­ to
educate consumers on the history, benefits
and safety of saccharin. Included on the site
are position statements from scientists and
related links.