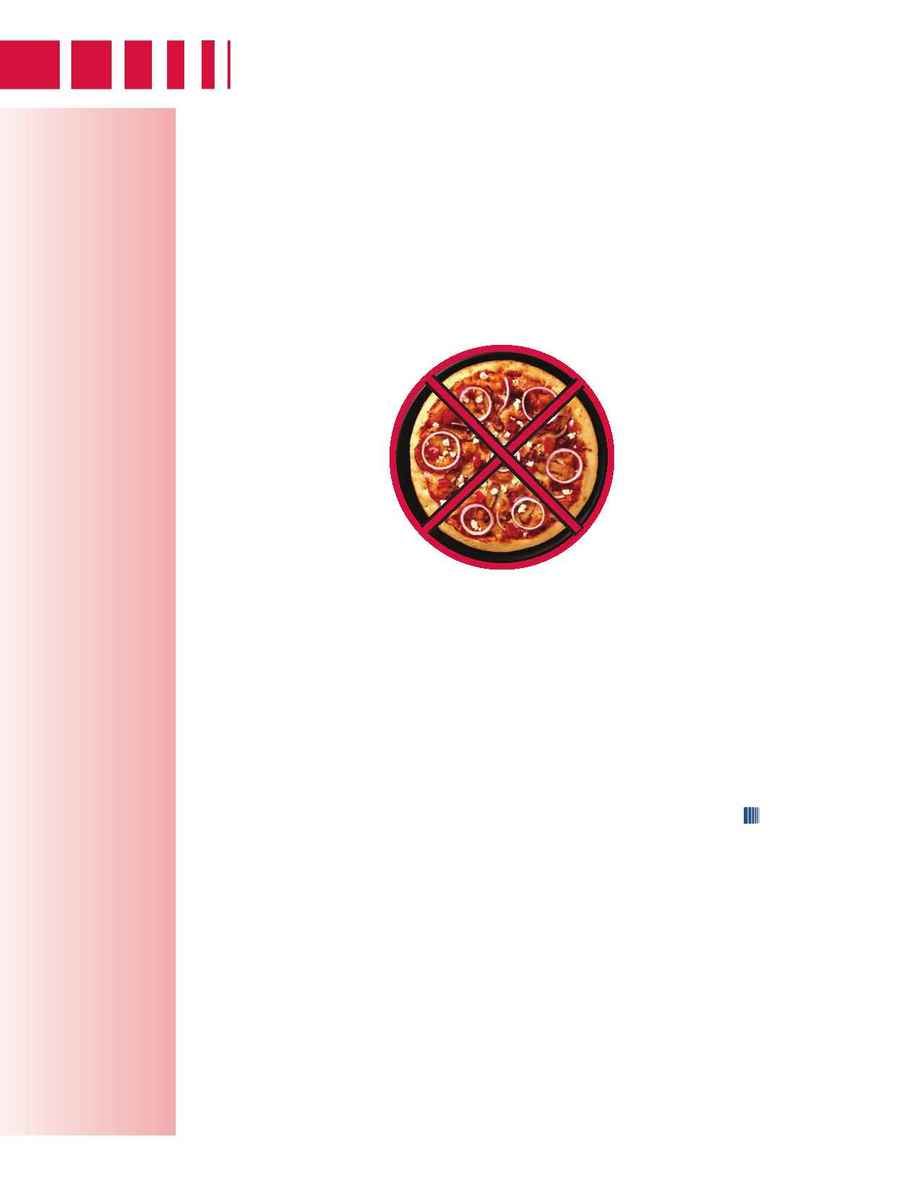 Providing timely information on
low-calorie and reduced-fat
foods and beverages, weight
management, physical activity
and healthy eating.
Calorie Control Commentary
(ISSN 1049-1791) is published
by the Calorie Control Council,
an international non-profit asso-
ciation of manufacturers of low-
calorie and reduced-fat foods
and beverages. Commentary is
written by Council staff, which
includes specialists in nutrition,
food science and food safety.
5775 Peachtree-Dunwoody Road
Building G, Suite 500
Atlanta, Georgia 30342
Phone:(404) 252-3663.
E-mail: ccc@kellencompany.com.
Internet: www.caloriecontrol.org.
Permission to reprint from Calorie
Control Commentary in whole or in
part is granted provided customary
credit is given.
According to the survey, dieters listed the following as the top
· Cutting down on foods high in sugar or fat (96%)
· Exercising (84%)
· Using low-calorie and reduced-fat foods and beverages (81%)
· Eating smaller portions of favorite foods (80%)
· Cutting down on foods high in carbohydrates (73%)
· Combining calorie reduction with exercise (72%)
Does Cutting Carbohydrates
Equal Success?
Almost 20 percent of dieters (or
14 million) are using weight
loss diets such as Atkins, The
Zone, South Beach and Sugar
Busters, as opposed to just 11
percent in 2000. However, the
survey found that cutting carbs
may not be the best way to lose
weight. Those dieters who are controlling
carbohydrate content are much more likely to
have made more than five dieting attempts over the past year,
according to the survey. And when it comes to weight maintenance
over the long-term (greater than six months), carbs do not seem
to be the magic bullet. In fact, there was little difference between
people who were cutting carbs and those who were not in terms of
the length of time they were able to maintain their weight loss.
Recent studies confirm the findings of the survey. When com-
pared with low-fat diets, low-carbohydrate diets may produce
greater amounts of weight loss over the short-term (six months).
Researchers also see decreases in cholesterol and triglycerides.
Another advantage of lower-carbohydrate diets is that people tend to
be encouraged by their quick success and continue with the diets
over the next several weeks and months. However, researchers have
found that the amount of weight loss was similar between those on
a low-carbohydrate diet and those on a low-fat diet after a year.
Such findings may suggest that those on the low-carbohydrate diet
regained some of the weight they had lost initially.
Whether people are using low-carbohydrate diets or low-fat
diets, many adults are still considering carbohydrate content as a
factor when making purchases. Sixty-four percent of dieters con-
sider carbohydrate content when making food and beverage pur-
chases, as opposed to just 38 percent of the total population.
Specifically, carbohydrate content is mentioned as a factor in the
purchase of bread (76%), cakes/pies/baked goods (59%), pasta
(57%), cereal (53%) and ice cream/frozen yogurt (54%).
Although the latest low-carb diets may influence what adults
are eating, the vast majority of dieters who are cutting back on car-
bohydrates agree or strongly agree that it is also
important to reduce calories. And almost as
many are combining calorie reduction with
exercise as a means of weight control.
While dieters seem to be aware of the factors
that contribute to weight loss, they are also
aware of the factors that inhibit their weight
loss. The following were listed as the top rea-
sons for being unsuccessful at losing weight:
· Metabolism slowing down (63%)
· Not exercising enough (59%)
· Not having enough self-discipline (50%)
· Splurging on favorite foods (49%)
· Snacking too much (42%)
Although this survey indicates that some
people may be getting the message when it
comes to losing weight and dieting, weight
loss is only half the battle. The war is really only
won if the weight loss can be maintained over
the long term. Although most dieters report
being successful at weight loss, with 71 percent
having lost 10 pounds or more, the real test is
whether or not they can keep the weight off.
And no matter what method these dieters use,
cutting calories, reducing carbohydrate, increas-
ing protein, etc., most health professionals agree
that the changes they make to lose the weight
should be lifestyle changes. If the changes lead-
ing to weight loss are only temporary, previous
"bad habits" are bound to creep back, often
resulting in weight regain.
Bravata, et. al. Efficacy and Safety of Low-Carbohydrate Diets.
Journal of the American Medical Association. April 9, 2003.
Vol. 289. No. 14. 1837-1850.
Collins, Karen. Defining the Success of Low-Carb Diets.
www.msnbc.com. August 20, 2004.
Foster, et. al. A Randomized Trial of a Low-Carbohydrate Diet
for Obesity. New England Journal of Medicine. May 22, 2003.
Vol. 348. No. 21. 2082-2090.
Light Products Usage and Weight Control Habits Survey.
Conducted by Booth Research Services, Inc. for the Calorie
Control Council, May 2004.
Trends in Intake of Energy and Macronutrients-United States,
1971-2000. Journal of the American Medical Association.
March 10, 2004. Vol. 291. No. 10. 1193.
Samaha, et. al. A Low-Carbohydrate as Compared with a Low-
Fat Diet in Severe Obesity. New England Journal of Medicine.
May 22, 2003. Vol. 348. No. 21. 2074-2081.
Number of Dieters on the Rise
(continued from page 1)