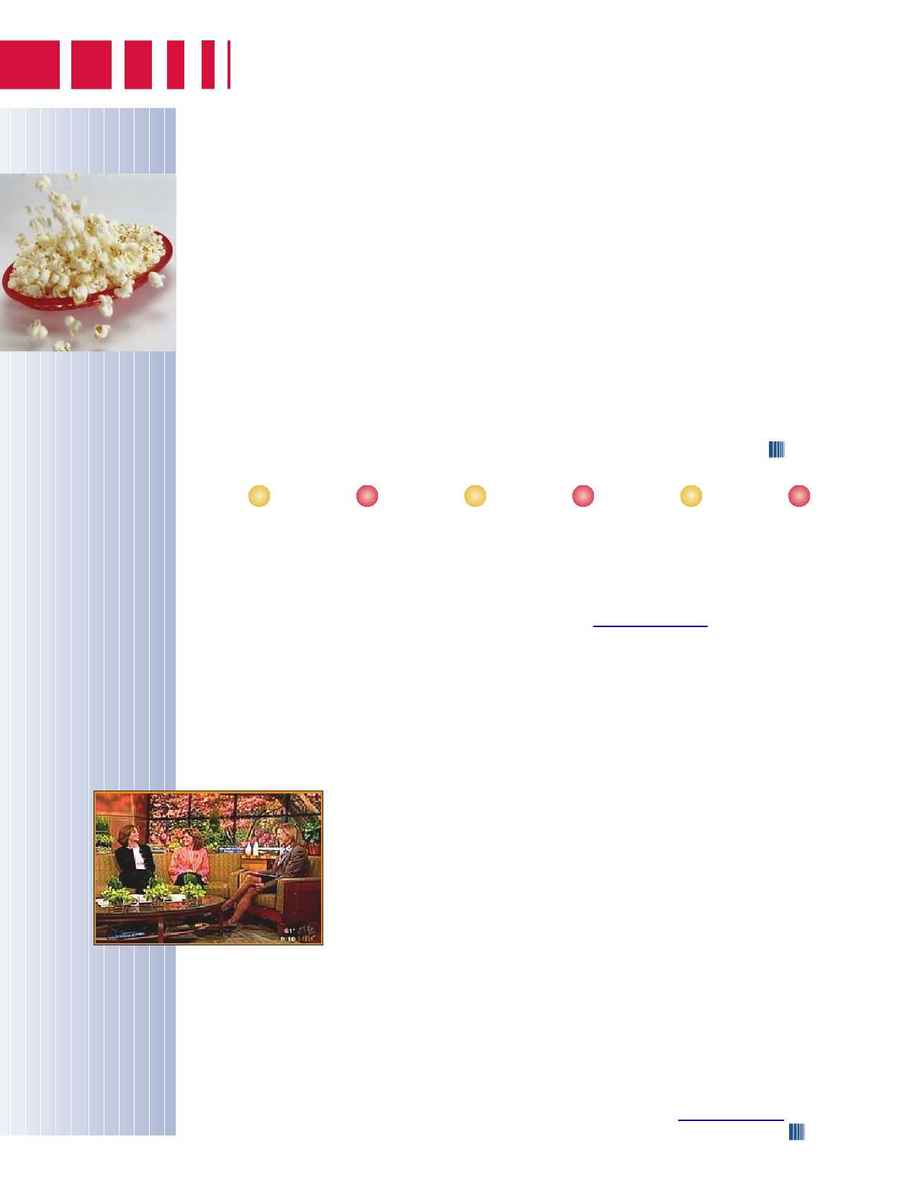 Additional Studies Support "Online Dieting" for Weight Maintenance
"CaloriesCount.com Dieter" and Researcher Appear on the
Consumers may find a new ingredient has
"popped" into their light
microwave popcorn. The Food and Drug Administration (FDA)
recently announced the approval of olestra (brand name Olean
in prepackaged ready-to-heat popcorn.
Olestra is a calorie-free cooking oil that comes from soybeans
and is fat-free. Use of olestra in various products not only reduces
the fat but also reduces calories by as much as 50 percent.
In related news, Frito-Lay has announced a name change of its
WOW! Chips (which contain olestra). The new chips, which include
Lay's and Ruffles potato chips as well as Doritos and Tostitos, will be
called "Light." Frito-Lay began shipments of these new products in
mid-September. Chips containing olestra are significantly reduced in
fat and calories compared to the regular versions.
Additionally, snacks containing olestra no longer need to carry a
label concerning possible digestive problems. The FDA reviewed new
scientific data, which led to the ruling. The clini-
cal studies involved many people eating olestra-
containing products under "real-life" conditions.
Light microwave popcorn made with olestra
offers yet another great-tasting choice for health
conscious consumers. Use of low and reduced-fat
products continues to remain high. Regular usage
(at least once every two weeks) of low-fat, reduced-
fat, fat-free products is found among a vast majori-
ty (88%) of American adults, according to a 2004
survey conducted for the Calorie Control Council.
An overwhelming majority of dieters (94%) report
use of these products and almost nine out of ten
consumers (87%) are interested in being offered
additional reduced-fat products.
in Obesity Research and led by Jean Harvey-
Berino of Vermont University found that an Internet program was as
effective as in-person counseling in promoting long-term weight main-
tenance. After losing weight through a six-month program, participants
were assigned to one of three groups, either frequent in-person sup-
port (F-IPS), minimal in-person support (M-IPS) or Internet support
(IS). The researchers found that those in the Internet support group
were able to sustain a weight loss that was comparable to those who
received in-person support. Previous stud-
ies have shown that "online dieting" can be
effective for weight loss as well.
Dr. Harvey-Berino discussed her recent
research with Katie Couric of NBC's Today
Show. Joan Rainwater, a member of
CaloriesCount.com who lost 32 pounds and
has kept it off for almost a year, added to
the discussion by talking about her own
experience with online dieting. The follow-
ing is an excerpt from the show:
Katie Couric: "What did Cyber Dieting do
for you that traditional forms couldn't?"
Joan Rainwater: "First of all, it's convenient. I didn't have to go any-
where. I didn't have to sit through a meeting. I didn't have to get on a
scale in front of other people. I could, you know, weigh myself on my
own bathroom scale and log on, and it was easy. I just did
CaloriesCount.com. I entered my food in a food
diary every single day. I could tell calorie content at
the end of the day. I printed out grocery lists, I
printed out weekly menus. So it was so convenient
and easy... Their [CaloriesCount.com's] whole
premise is healthy eating and exercise for life.
So I knew it was going to be a lifestyle change."
However, Joan isn't the only one logging on
and finding success. In April, CaloriesCount.com
worked with one of its corporate wellness partners
to launch an online weight loss challenge. Over
1,600 employees participated in this pilot program.
The average weight loss of all employees who
successfully completed the Challenge was 10
pounds. Fifty-one percent of those who successful-
ly completed the Challenge were able to drop five
percent of their initial body weight, on average, in
eight weeks.
A post-Challenge survey indicated that the
majority of employees were happy with the online
weight loss challenge, with 93 percent saying they
felt CaloriesCount.com was a helpful resource and
were satisfied with the program. Additionally, 89
percent of respondents felt that taking part in the
Challenge positively impacted their work ability,
and 99 percent would like to participate in more
Challenges with CaloriesCount.com.
Olestra "Pops" in Microwave Popcorn
Joan speaks with Today Show host Katie Couric and
University of Vermont researcher, Jean Harvey-Berino,
about how she lost 32 pounds with the help
of CaloriesCount.com.