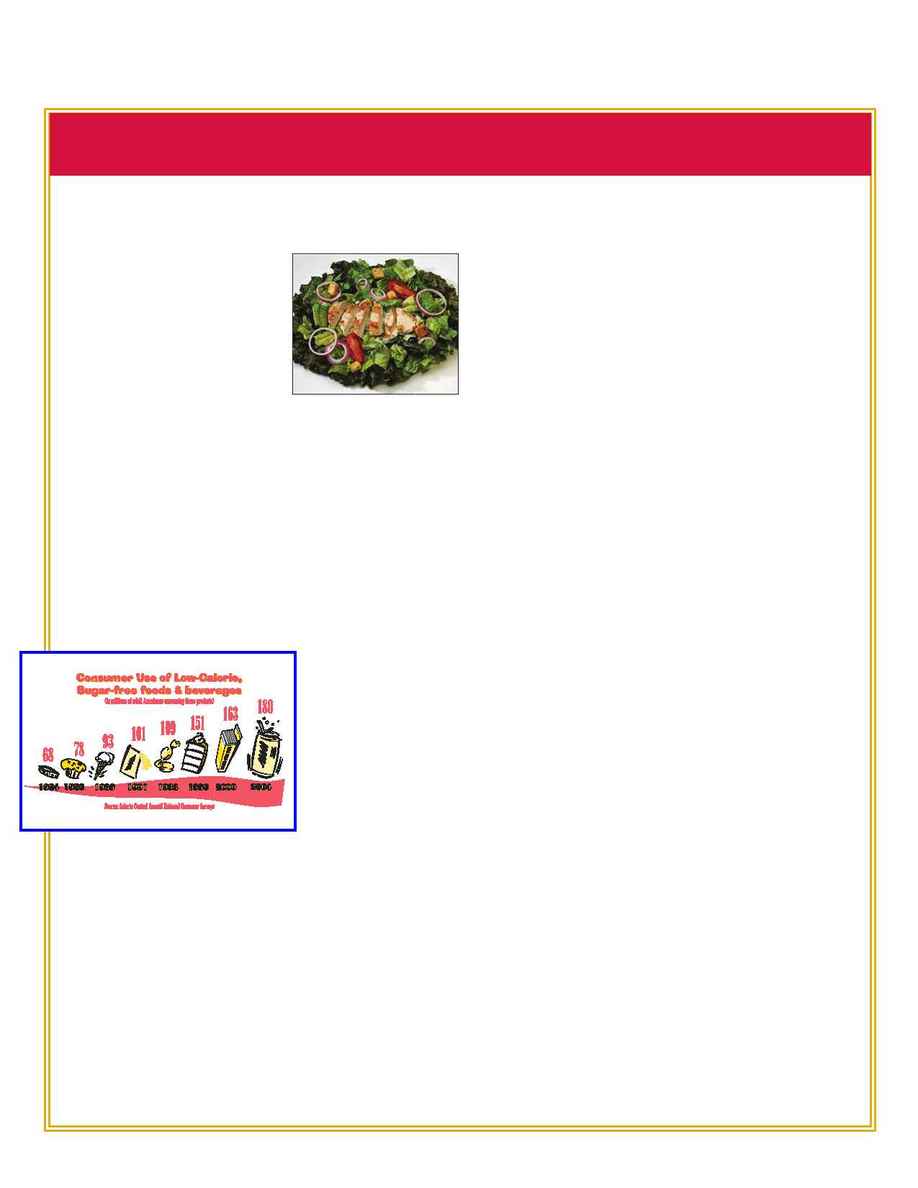 Low-Calorie/Low-Fat Bulletin
MORE OPTIONS NOW AVAILABLE AT CHAIN
Many restaurant chains are intro-
ducing food items and new menus
that are lower in calories and fat to
meet consumer demand. For
example, Subway will offer a meal
for kids that will substitute a fruit
roll-up for a cookie in addition to
other substitutions. Taco Bell now
offers "Fresco Style" items that have a salsa-based sauce instead
of a cheese and sour cream-based sauce. This simple sauce sub-
stitution will reduce up to 40 percent of the calories and 70 per-
cent of the fat in the meal. In addition to a new line of Premium
salads, McDonald's will soon offer new chicken McNuggets, which
will have 50 fewer calories and less fat than the original. Among
others, Burger King and Wendy's have already unveiled reduced-
calorie and reduced-fat menu items including salads, salad dress-
ings, meats, and ice cream products. And for those who get their
nutrition from a "cup of joe," Caribou Coffee and Starbucks have
introduced a line of reduced-calorie and carbohydrate lattes.
While it may seem the
low-carb craze has
taken over, "light"
products continue to be
extremely popular. In
fact, 92 percent of
adults now consume
either low-fat/reduced-fat/fat-free or low-calorie/reduced-
sugar/sugar-free products on a regular basis (at least once every
two weeks), according to a 2004 Calorie Control Council Survey.
Use of low-calorie, reduced-sugar, sugar-free foods and bever-
ages is reported by 84 percent of those surveyed. Among dieters
that use is even higher (95%). The most popular reduced-calo-
rie, sugar-free products among users include carbonated diet
soft drinks (58%), sugar-free/light non-carbonated soft drinks
(53%) and sugar substitutes (46%). And over eight out of ten
users (85%) are interested in being offered additional low-calorie
products. Although some may think the majority of adults use
low-calorie and reduced-sugar foods and beverages simply to
control their weight, the recent survey indicates otherwise.
Seventy three percent use these products "to stay in overall bet-
ter health" followed by "to eat or drink healthier foods and bev-
erages" (68%) and "to reduce calories" (62%).
FDA ISSUES "CALORIES COUNT" REPORT TO HELP
The "calories count" message will be a key strategy in the Food &
Drug Administration's (FDA) plan to help reduce overweight and
obesity. In March, the FDA released a report by the FDA's Obesity
Working Group. The report contains a variety of recommenda-
tions, which the FDA will focus on in the coming months and
years. The variety of recommendations fall under the theme of
"calories count." Health & Human Services Secretary Tommy
Thompson, added, "Counting calories is critical for people trying
to achieve and maintain a healthy weight. This new report high-
lights FDA's overall strategy for getting consumers accurate, help-
ful information that allows them to make wise food choices at
home, at supermarkets and in restaurants. Taking small steps to
eat a more balanced diet and to stay physically active can go a
long way to reversing the epidemic of obesity that harms far too
many Americans."
FDA ALLOWS OBESITY-RELATED CLAIM FOR
LOW- AND REDUCED-CALORIE FOODS AND BEVERAGES
In response to a Calorie Control Council request, the Food and
Drug Administration (FDA) has stated that an obesity-related
claim may appear on low-calorie and reduced-calorie foods and
beverages. Regulations allow certain foods and beverages to be
labeled as "low calorie" and "reduced calorie" and, according to
FDA, the usefulness of such foods in reducing or maintaining
weight may also be indicated on the products. Therefore, foods
and beverages that meet the requirements for low-calorie or
reduced-calorie may be labeled, for example, "Low calorie [name
of food] may be useful in weight control. Obesity increases the
risk of developing diabetes, heart disease, and certain cancers."
WHOSE FAULT IS IT ANYWAY?
Most people do not blame the food and beverage industry for
their weight woes -- although several lawsuits may have people
believing otherwise. A national survey by Context Marketing pub-
lished in the April issue of Prepared Foods found that 90 percent
believe the obesity problem is not the responsibility of the food
and beverage industry and 77 percent do not feel food and bev-
erage companies should be held accountable.