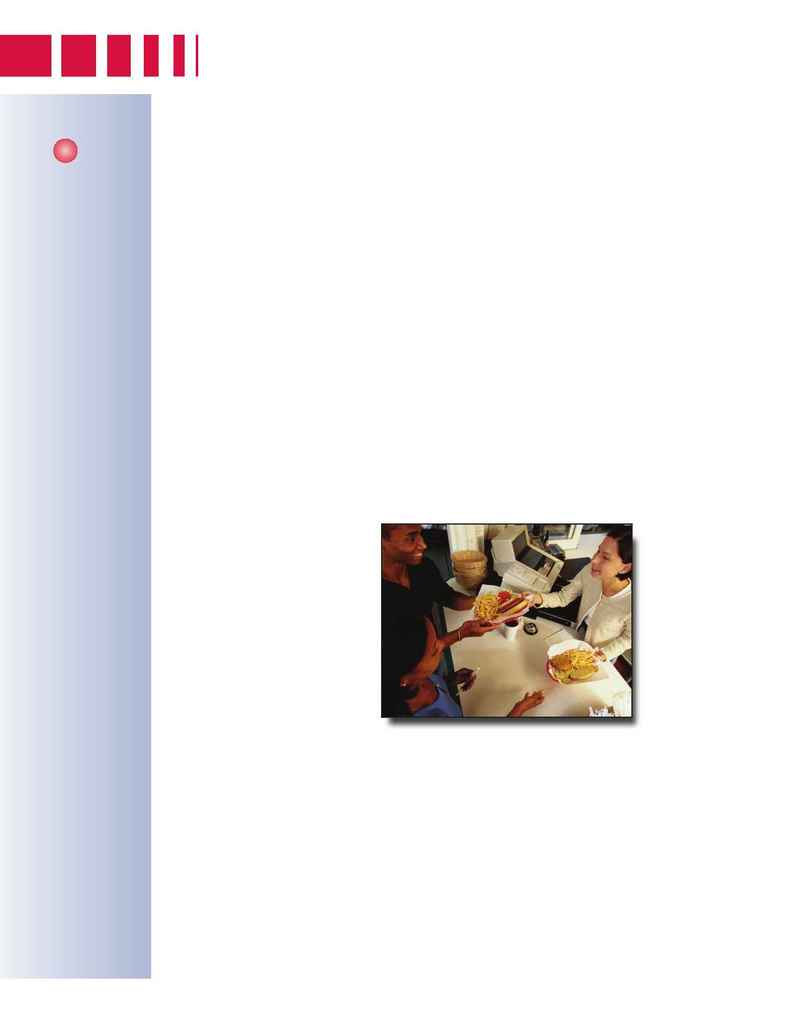 "... But we eat
what we eat
because we
choose to eat it,
not because an
evil industry
forced us,
intimidated us,
or coerced us
into eating the
foods we choose.
At some point,
people have to
take responsibil-
ity for their
actions."
-- Bob Condor,
N
EW
P
RODUCTS
M
AGAZINE
"blame game:" "We, the American people,
are the perpetrators. We're the ones
responsible for picking and choosing the
foods we eat. We know what's good for us;
e.g., fatty, high-calorie, high-sugar foods
are generally bad for us if not taken in
moderation, while fruit and vegetables are
definitely good for us. We all know that.
We learned it in school. ... But we eat
what we eat because we choose to eat it,
not because an evil industry forced us,
intimidated us, or coerced us into eating
the foods we choose. At some point, peo-
ple have to take responsibility for their
actions."
And, it seems that consumers agree
with Mr. Condor, for the most part. A
recent survey conducted online by
Research International and Lightspeed
Research found that 20 percent of parents
admitted to having an overweight child
and the majority of the parents blamed
themselves for
their child's
weight problem.
According to the
survey (which
included five
hundred
American adults
over the age of
18 from across
the country)
seventy-nine
percent said that
overweight indi-
viduals are responsible for what they eat and
how much they eat. Only 11 percent
blamed food manufacturers and companies
that sell food and just 10 percent blamed
the government. Additionally, of those par-
ents with an overweight child, the majority
of parents blamed themselves. Ten percent
of parents blamed the school system, eight
percent blamed the companies that make
and sell foods and another five percent
blamed the government.
Calorie Control Council surveys echo
these sentiments. A 2000 survey found
the fast food industry. McDonald's was recently sued by two young
teenage girls and their families for their obesity. The judge, how-
ever, dismissed the lawsuit.
Food and beverage companies are not taking the heat from
their accusers lightly. Kraft recently announced that they would be
reducing the portion sizes of many of their products as well as the
trans fat in their products. McDonald's has also pledged its sup-
port of healthy lifestyles. Like many other fast food restaurants,
McDonald's has introduced a new line of salads and is upgrading
the Willie Munchright cartoon, which teaches children about
healthy eating. Additionally, McDonald's has appointed a healthy
lifestyles advisory council. The Coca-Cola Company has also said
that they will no longer market their products to children. And,
new advertisements depict Coca-Cola's entire line of products, not
just one specific product. The purpose of such advertisements is
to showcase the fact that the company offers a variety of choices
including water, fruit drinks and diet soft drinks. Dr. Kenneth
Cooper, founder of Cooper Aerobics Center in Dallas, TX, has
signed on with PepsiCo's Frito-Lay to help develop a line of "smart
snacks." These "smart snacks" will display an icon on the pack-
age (in yellow, green and pink) with the words, "Great Taste, Smart
Snack." The icon will also have information regarding the fat and
cholesterol in the product. The
guidelines for "smart snacks"
include (per serving), 150 calories or
less, less than 35 percent of calories
from fat, less than seven percent of
calories from saturated fat and zero
grams of trans fat and 240
milligrams of sodium or less.
PepsiCo also sells such brands as
Quaker Oatmeal and Tropicana.
Additionally, many companies offer
reduced-calorie and reduced-fat ver-
sions of their products, so
consumers can choose the product
most appropriate for their diet.
Several companies have also come together to support a recent
venture by the Calorie Control Council to provide valuable informa-
tion about the importance of "sensible dieting" -- controlling calo-
ries, increasing physical activity and making permanent changes in
eating and exercise habits. With the support of food and beverage
companies, the Council launched www.caloriescount.com, a Web
site committed to helping consumers lose weight and maintain a
healthy weight and lifestyle over the long-term.
Consumers Have the Last Word
Bob Condor, publisher of the Daily Cup, recently noted the
following in New Products Magazine regarding the obesity
The Obesity Crisis -- Who's to Blame?
(continued from page 5)
(continued on back cover)