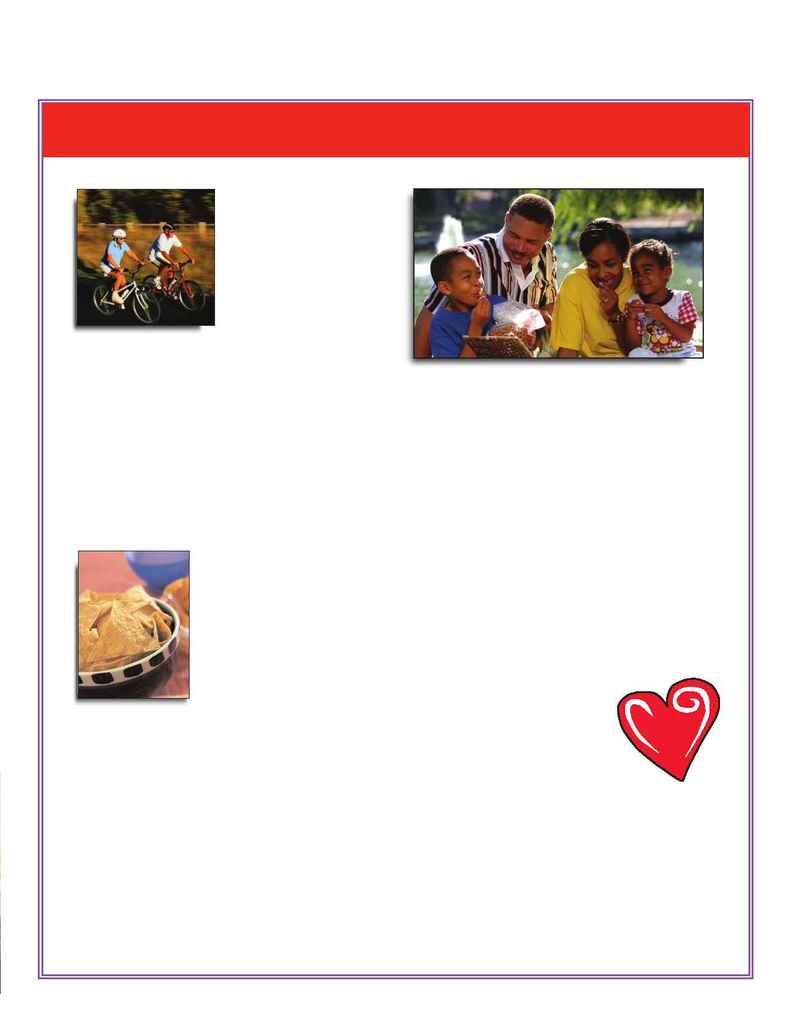 Low-Calorie/Low-Fat Bulletin
A study published in the New
England Journal of Medicine
indicates that being overweight
and obese is responsible for 14
percent of cancer deaths in men
and 20 percent of cancer deaths
in women. The researchers found
that several forms of cancer were associated with an increase in
weight including colon, esophagus, gall bladder, kidney, liver, pan-
creas, rectum, non-Hodgkin's lymphoma and multiple myeloma.
In women, excess weight increased the risk of breast, cervix,
ovaries and uterine cancer. In men, being overweight increased
the risk of prostate and stomach cancer. However, a survey con-
ducted by the American Cancer Society found that most people
don't associate excess weight with an increased risk of cancer.
The 2002 survey showed that only one percent of the participants
noted that weight loss was a way to reduce the risk of cancer.
The Food and Drug Administration
(FDA) has announced that snacks
containing olestra will no longer need
to carry a label concerning possible
digestive problems. According to
Procter & Gamble, which markets the
product under the brand name
Olean
, the FDA reviewed new scien-
tific data, which led to their conclusion. The new clinical studies
involved many people eating olestra-containing products under
"real-life" conditions.
There's a new sweetener making headway. Neotame is currently
approved in 14 countries and/or territories including the United
States, Mexico, Poland, Romania, Australia and China. There are
over two dozen food and beverage manufacturers globally using
neotame in 400 different products. Neotame is being used in
combination with both nutritive and non-nutritive sweeteners to
reduce calories and carbohydrates while maintaining or improv-
ing the products' taste profile.
OBESITY PREVENTION SHOULD START EARLY
Experts are recommending that obesity prevention start early.
The American Heart Association (AHA) issued a statement com-
menting on the importance of intervening in childhood to pre-
vent childhood obesity and ultimately cardiovascular disease later
in life. The statement was reported at the AHA's 43rd Annual
Conference on Cardiovascular Disease Epidemiology and
Prevention. The statement notes that scientific evidence has
shown that risk factors in children lead to disease in adulthood.
The statement also encourages physicians to "be vigilant for the
subtle signs indicating the development of insulin resistance,
glucose tolerance and type 2 diabetes." The full statement was
published in Circulation: Journal of the American Heart
Association. Similarly, the American Academy of Pediatrics
issued its first-ever policy on childhood obesity. The new policy
recommends that pediatricians check their patients' Body Mass
Index (BMI) on a yearly basis.
HEART DISEASE MAINLY A RESULT
New studies indicate that heart attacks are
mainly the result of unhealthy lifestyles, not a
result of "bad genes," as many people think. The stud-
ies evaluated over half a million people and found that approxi-
mately 90 percent of people with severe heart disease have one or
more of the following: smoking habit, diabetes, high cholesterol
or high blood pressure. Researchers estimate that based on these
statistics, 650,000 of the new heart attacks that occur each year,
could be delayed or prevented by quitting smoking, reducing cho-
lesterol and controlling high blood pressure. The research was
published in the Journal of the American Medical Association.