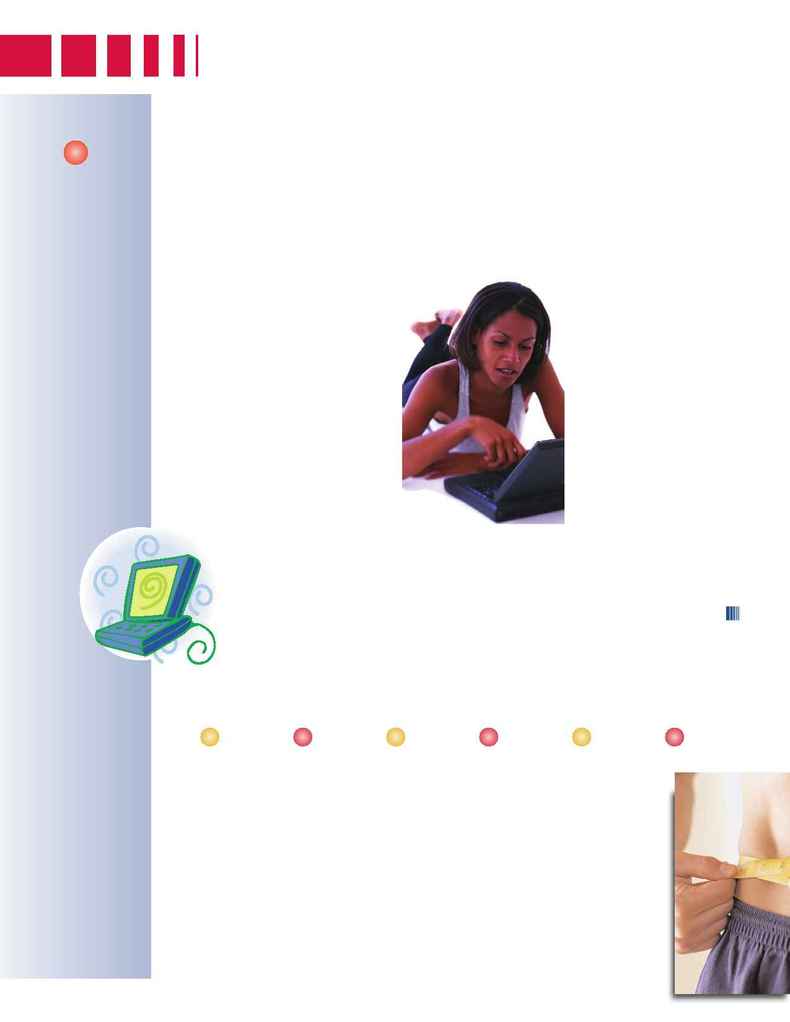 "Research
shows that indi-
viduals who join
online weight
management
programs can
be successful in
losing weight,"
-- Dr. John Foreyt,
B
AYLOR
C
OLLEGE
OF
M
EDICINE
age of 10 pounds (a five percent loss of their initial weight, which can
affect overall health) compared with the other group who lost an aver-
age of four pounds. Researchers also found that those who spent more
time on the Web lost more weight.
As more and more people look to lose weight, many experts are find-
ing that "online dieting" is attractive to many because people can log on
anytime and because such sites offer anonymity. "Research shows that
individuals who join online weight management programs can be suc-
cessful in losing weight," says John Foreyt, a leading obesity researcher
with Baylor College of Medicine and Scientific
Advisory Board Member for
CaloriesCount.com
healthy eating and exercise weight loss
"toolkit," offers members support
through message boards, a weekly
newsletter, access to a variety of tools
including an Online Food Diary, an
Enhanced Calorie Calculator, a Diet
Assessment Calculator, Meal Plans,
recipes, access to experts and more.
Dr. Foreyt notes, "Sites like
CaloriesCount.com, which offer con-
venience and privacy, are very appeal-
ing to many people. Consumers with
full-time jobs, families and a busy schedule in general may not be able to
find the time to attend weight-loss support meetings. Online programs
offer individuals the ability to get the information and personalized tools
they need 24 hours a day, seven days a week." For more information about
the research and various online tools, visit: www.caloriescount.com.
Tate, Deborah, F., PhD, Jackvony, Elizabeth, H., Wing, Rena, R. Effects of Internet Behavioral
Counseling on Weight Loss in Adults at Risk for Type 2 Diabetes. April 9, 2003. Vol. 289. No. 14.
1833-1836.
recent study by researchers at Brown
University Medical School and published
in the Journal of the American Medical
Association indicates that online, Internet-
based weight loss programs can help people
lose weight, including those at risk of devel-
oping diabetes. Other studies have shown
that online dieting can be effective, but this
new JAMA study specifically evaluated the
effectiveness of "online dieting" over a long-
term period of one year. Researchers stud-
ied 92 overweight men and women with an
average age of 48 and Body Mass Index
(BMI) of 33. Participants were also at risk of
diabetes and were assigned to one of two
groups -- either a basic Internet program or
an Internet program coupled with email
counseling. The group assigned to the basic
Internet program received a tutorial on
weight loss, a new tip and a link each week
of various Internet resources. The partici-
pants in the email-counseling group also
received the tutorial and were assigned a
weight loss counselor. Participants in
this group reported their calorie
and fat intake, exercise and were
able to send any questions or
comments to the therapist
through a Web based diary.
that the email-counseling
weight as the basic Internet
group. After 12 months they lost an aver-
Using the Internet to Lose Weight Successfully
A study published in the American Journal of Clinical Nutrition found that using low-calorie sweeteners
may aid in the prevention of weight gain. Researchers studied 41 subjects and evaluated their weight, body
composition and blood pressure. Participants followed a regular diet supplemented with food and drinks
containing either sucrose or low-calorie sweeteners for two and a half months. The average Body Mass
Index (BMI) of the participants was 28 (which is considered overweight). The researchers found that par-
ticipants consuming the sucrose sweetened foods and beverages had an increase in caloric energy, while
those consuming the low-calorie sweetened foods and beverages showed a statistically significant decrease
Low-Calorie Sweeteners May Be Useful in Weight Control
(continued on back cover)