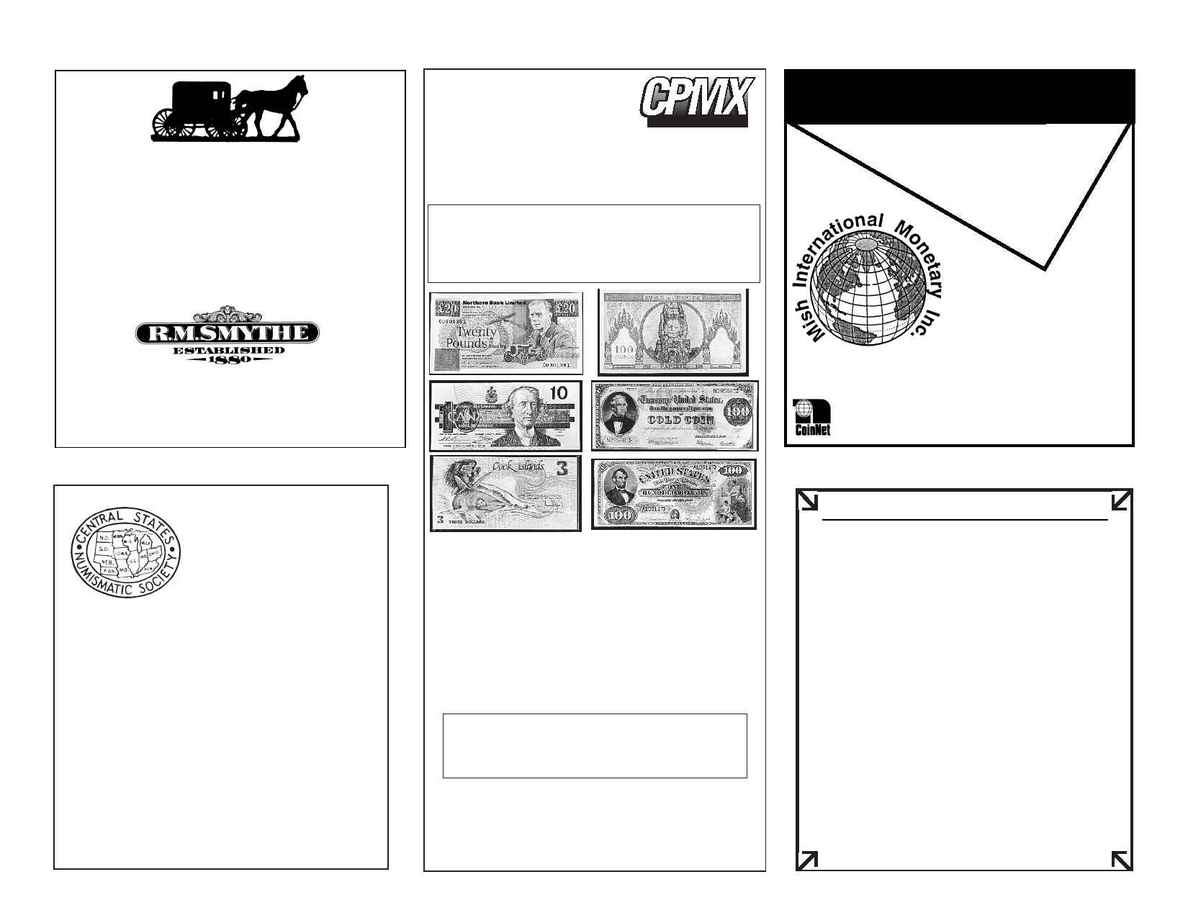 FEBRUARY 5 - 8 2004
STRASBURG STOCK - BOND
AND CURRENCY SHOW
HISTORIC STRASBURG INN
ROUTE 896 - HISTORIC DRIVE
STRASBURG PENNSYLVANIA
(Hotel Reservations: 800-872-0201 - $94)
Featuring a Major Stock - Bond Auction by
INTERNET: www.smytheonline.com
E-MAIL: info@smytheonline.com
Professional Preview Thursday February 5th 2PM - $25
Pennsylvania Auctioneer License AY-000186-L
For details, call Mary Herzog at 800-622-1880
Long Beach, CA (pg. 17)
January 28-31 - February 1, 2003
Fort Worth, TX (pg. 28)
Feb. 7-8, 2004
Nashua, NH (pg. 28)
February 15, 2004
Lakeland, FL (pg. 17)
February 26-29, 2004
Greenville, SC (pg. 28)
February 27-29, 2004
Rosemont, IL (pg. 16)
February 26-29, 2004
Bourse Information:
Kevin Foley
P.O. Box 573, Milwaukee, WI 53201
(414) 421-3484 · FAX (414) 423-0343 · E-mail:
kfoley2@wi.rr.com
10th ANNUAL
CHICAGO PAPER
MONEY EXPO
Thursday, Friday, Saturday, Sunday
February 26-29, 2004
Holiday Inn ­ O'Hare ­ 5440 North River Road, Rosemont, Illinois
* 100 Dealer Bourse Area
* Society Meetings
* Educational Programs
* Complimentary Airport
Hotel Reservations
Please call the Holiday Inn O'Hare directly at
(847) 671-6350 and ask for the special Chicago Paper
Money Expo rate of $99 S/D.
The Chicago Paper Money Expo is sponsored by Krause
Publications, the World's Largest Publisher of Hobby Related
Publications, including Bank Note Reporter & the Standard
Catalog of United States Paper Money.
For more info about this show and others, visit our Web site at
www.collect.com
B A N K N O T E R E P O R T E R
You're Invited to the...
Show Hours
(Professional Preview - $50)
Mish International
General Practitioners - Numismatic Coins
All Other Mail:
P.0. Box 937
94026
We are happy to help you attribute,
evaluate, and market items
in our areas of
expertise
U.S. & FOREIGN COINS
ROBERT MISH - 40 YEARS
TEL 650-324-9110
Fax 650-322-6091
ANTIQUE & FINE WATCHES
IRA MISH - 29 YEARS
TEL 650-853-8425
Menlo Park, CA
Mish International Monetary, Inc.
Send Packages to:
1154 University Drive
94025
65th
Anniversary
Convention
"Make the Show
that will
Make Your Year!!!"
THURSDAY THRU SUNDAY
MAY 6 - 9
PNG DAY WEDNESDAY MAY 5
Early Birds 3PM - $50
MAJOR HERITAGE AUCTION &
CURRENCY AUCTIONS
OF AMERICA AUCTION
MIDWEST AIRLINES CENTER - MILWAUKEE, WI
275 BOURSE TABLES SETUP THU 8AM-7PM
JERRY LEBO
754-753-2489 FAX 754-753-4379
Visit Our Web site: www.centralstates.info