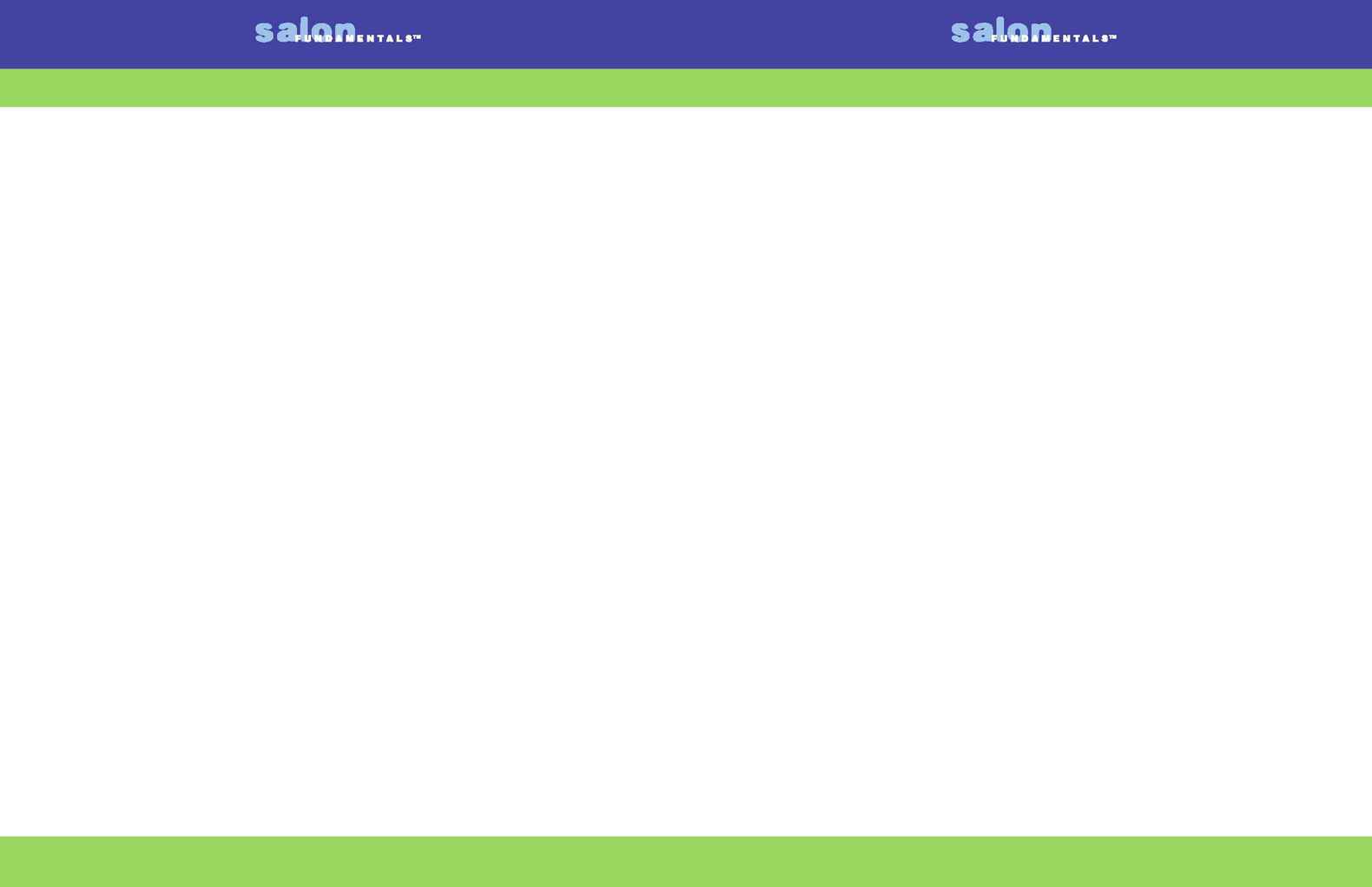 SALON FUNDAMENTALSTM COSMETOLOGY AND ESTHETICS
NATIONAL PROFESSIONAL DEVELOPMENT WORKSHOP
Join the Salon Fundamentals team as they present learning and teaching strategies to assist
students in achieving licensure and entry-level proficiency for both cosmetology and esthetics
careers. The team will share current best practices for designing and implementing interactive
and relevant instruction. Separate break-out sessions for cosmetology and esthetics educators
will occur each afternoon where successful methods for preparing students for written and
practical state board exams will be presented.
A special feature of this workshop is an important industry first: a panel discussion featuring
National-Interstate Council of State Boards of Cosmetology, Thompson Prometric, PSI, Promissor,
Continental Testing and regional State Board representatives. They will share their insights and
perspective on the process of licensure testing. Bring your questions or submit one in advance on
the enclosed registration form so the panel can prepare for the session with your concerns in mind.
SATURDAY, SEPTEMBER 30, 2006
7:30 a.m. - 9:00 a.m. Registration
9:00 a.m. - 12:00 p.m. Session
12:00 p.m. - 1:00 p.m. Sponsored lunch compliments of Bioelements
1:00 p.m. - 1:30 p.m. Break
1:30 p.m. - 5:00 p.m. Session
5:30 p.m. - 6:30 p.m. Tour of Corporate World Headquarters
9:00 a.m. - 12:00 p.m. Session
12:00 p.m. - 1:00 p.m. Sponsored lunch compliments of Salon Fundamentals
1:00 p.m. - 1:30 p.m. Break
1:30 p.m. - 3:30 p.m. Session
Hotel Orrington is the only AAA four-diamond hotel in Evanston, IL. After completing a
$34 million renovation, Hotel Orrington brings a refreshing alternative to the typical North
Shore hotel, joining contemporary style and historic elegance with impeccable guest service.
With its classic modern look and excellent location, Hotel Orrington provides a unique oasis
of urban sophistication for the modern traveler.
Achieving landmark status with its long-running success, Hotel Orrington has greeted visitors
to Chicago, IL, with refinement and magnificence for nearly a century. The fundamentals of
their mission, attention to detail and unsurpassed customer service, have continually made
Hotel Orrington one of the best places to stay in the Chicago area.
Located just north of Chicago, Evanston has a stunning natural setting on Lake Michigan with
unique business districts, attractive homes on tree-lined streets and pleasant public parks. The
downtown area is filled with shopping venues and excellent restaurants. Home to Northwestern
University, Evanston has a variety of excellent higher education opportunities, as well as a
successful public school system.
RECOMMENDED GROUND TRANSPORTATION
We recommend American Taxi for transportation to and from O'Hare Airport. After landing
at O'Hare, determine what terminal you are in (1, 2, 3 or 5). Once you have your luggage
in your hand, please call them at 847-673-1000 and they will advise you of your pick-up location
at the second island outside the baggage claim doors. They will also advise you of your assigned
cab number.
We recommend you book your return flight Monday night at 7:00 p.m. or later to avoid missing
any class time on Monday.
BIOELEMENTS -- MEAL SPONSOR
Bioelements offers highly advanced professional treatment techniques including custom blending,
incredibly easy-to-sell retail skin care and makeup, the ultimate business-building support system,
and free advanced education to back it all up. And we're continually growing and evolving--
introducing the latest advances in product development, adding new support systems, and above
all, evolving with our spas' needs. More than just an "off-the-shelf" product line, Bioelements
is a complete program for skin care success.
Note: Travel, lodging and meals (with the exception of 2 lunches) are not provided.
TUITION-FREE SALON FUNDAMENTALS
QUESTIONS? CALL ERIN WALLACE ­ 800.886.4247