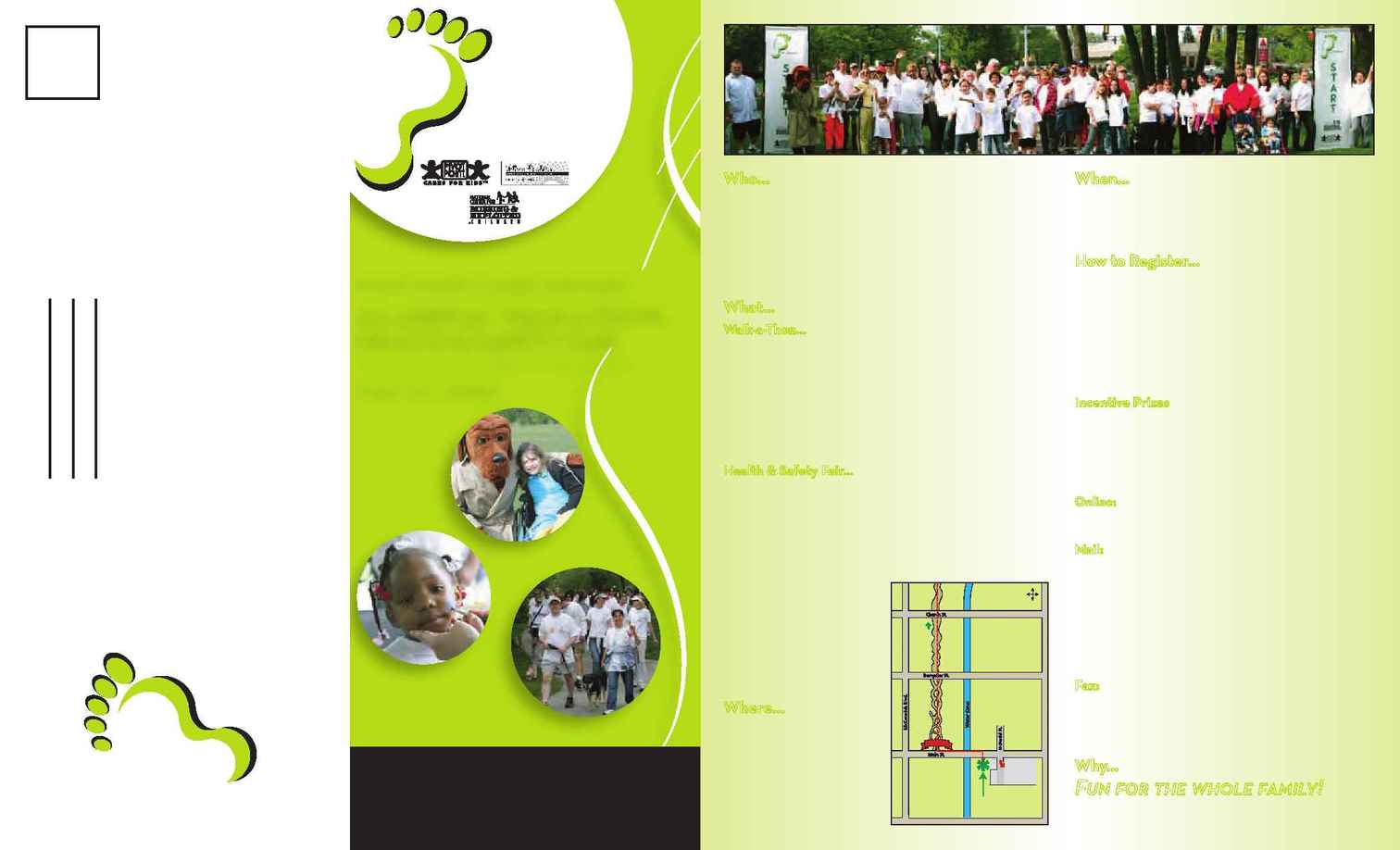 for Children
w
a
l
ki
ng
Who...
Anyone who wants to make a difference! So grab your friends,
family and friendly canines and make a day of it. Pivot Point
Cares for KidsTM is hosting its fourth annual "Walking for
Children" Walk-a-Thon, Health & Safety Fair, in conjunction
with Dr. Tony Breitbach of Wellness Revolution. It is an event
not to be missed!
What...
Walk-a-Thon...
The Pivot Point Cares for Kids Walk-a-Thon is a grassroots
event that reaches out to help recover missing children from
coast to coast and beyond. With your participation and financial
contributions, we are able to support the efforts of the National
Center for Missing & Exploited Children. Today NCMEC has a
96% child recovery rate. Together we can help make it an even
higher recovery rate!
Health & Safety Fair...
All participants of the walk are invited to join us at a Health
and Safety Fair, where there will be many activities for the
whole family including:
· FreeHealthScreenings
· CrimePreventionUnit
· FirePreventionUnit
· Fingerprinting
· BikeSafety
· InternetSafety
· FacePainting
· Performanceby
RickyRecycle
Where...
This year's Walk-a-Thon
steps off at the Skokie
Sculpture Park, located
along McCormick Boulevard,
between Main Street and
Bridge Street in Evanston
and Skokie. Parking is free.
When...
Sunday May 21, 2006, in honor of National Missing Children's
Day (May 25). Please arrive between 8:00 a.m. and 9:00 a.m. to
check in. The walk will begin promptly at 9:00 a.m.
How to Register...
All registration forms must be postmarked by May 8th in
order for the minimum $25 donation to be accepted. No
registration fee for kids under 12. After May 8th, you may
register at the event site for the minimum $35 donation.
will be a registration tent located on the grass between the
Sam's Club shopping center parking lot and McCormick
Boulevard (Channelside Park).
Incentive Prizes
$25
- OfficialWalk-a-ThonT-Shirt
$150 - 3SessionsofMicrodermabrasion
$250 - DayofBeautyforyouandThreeFriends
$500 - Freeexam,computerizedscreeningand
nutritionalevaluationwithDr.TonyBreitbach
Online:
To register online, go to:
http://www.pivot-point.com
Mail:
To register by mail, please complete attached form and send
to: (must be postmarked by May 8th.) Make check payable
to
NCMEC.
PivotPointCaresforKidsTM
1560ShermanAve.,Suite700
Evanston,IL60201
Fax:
You may also fax in your completed registration form. The
fax number is 847-866-8742, and send in check. Make check
payable to
NCMEC.
Why...
Fun for the whole family!
T

POINT

C
S

F
OR

KID

SHERMAN

A
VE
.,

Suit
e

7
00
E
V
ANS
T
ON,

IL

60
f
o
r

C
h
i
l
d
r
e
n
wa
lk
ing
S
T
AMP
REGISTRATION AREA
W
A
LK ROUTE
FREE
PARKING
Walk-a-Thon Map
· FreeHealthyFood
andDrinks
· Raffle