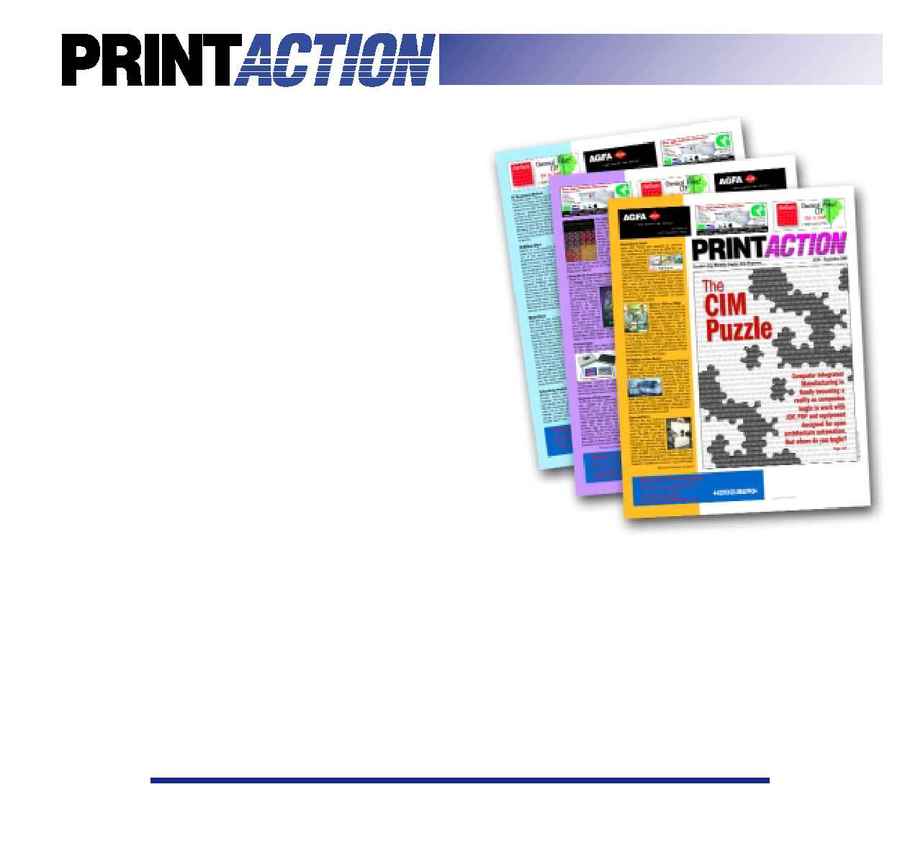 Established in 1971, Print
Action
from its early founding as an informed and
reliable source of news about industry events,
people and companies. Print
Action
gained high recognition as the industry's voice
and the dependable vehicle for display and
classified advertising that gets results!
Action
is published each and every
month in a highly visible, well-read, glossy news
tabloid format. The latest, "hot-off-the-press" news,
combined with the immediacy of our news tabloid
format, ensures an excellent reader environment for
your advertising with us. Print
Action
experienced editorial team, plus regular authoritative
columnists and contributors producing Canada's
largest, most informative printing industry publication.
Our editorial investment in industry news and features
delivers high readership among our more than 10,400 CCAB/BPA-audited circulation,
strengthened by our consistent first coverage of industry news.
Regular departments: Authoritative columnists with extensive industry experience provide industry
information on management and production topics in every issue. Our primary purpose is to present
timely coverage of crucial news and feature articles designed to keep printers up-to-date in this
fast-changing world of printing technology.
C A N A D A ' S P R I N T I N G I N D U S T R Y M A G A Z I N E
C A N A D A ' S P R I N T I N G I N D U S T R Y M A G A Z I N E
Youngblood Publishing Ltd. Publishers and Producers of Graphic Arts Media
4580 Dufferin Street, Suite 404, Toronto, Ontario M3H 5Y2
Telephone: 416-665-7333 · 1-800-363-3261 · Fax: 416-665-7226