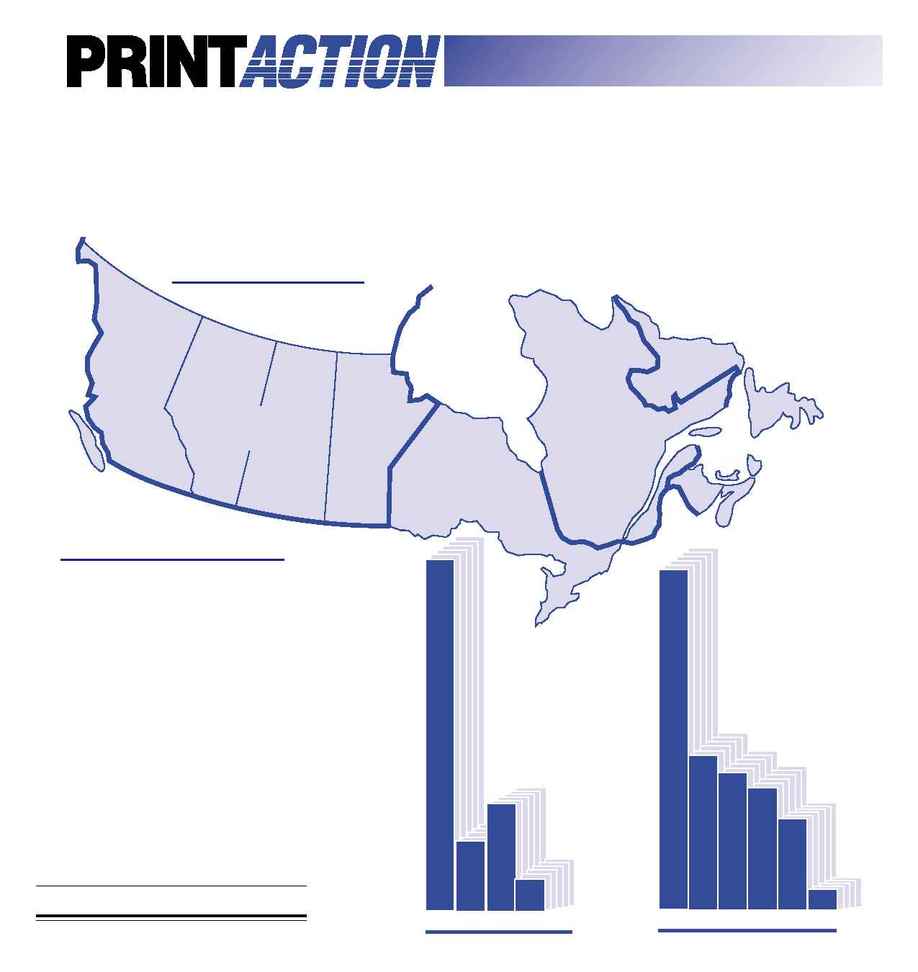 Quebec
1,888
(18%)
Ontario
6,013
(58%)
Atlantic
Canada
448
(4%)
Western Canada
2,070
(20%)
S
ummary by business classifications of PrintAction's 2002 circulation data
for current issues, including a graphical representation of our monthly
distribution across Canada.
PrintAction - the only printing industry magazine in Canada published
each and every month. Our primary circulation (89.4%) is among commer-
cial printers, packaging printers, newspapers, trade printers and binderies, and
in-plants across Canada. Our primary readership is owner/management
(83%) including top management, as well as production management and
supervisory titles in pre-press, pressroom, and bindery.
99% of readers are qualified/re-qualified within 2 years, and 99%
of mailed copies are personalized by name and title/job function.
All data shown here are for qualified copies in Canada only, excluding
foreign subscriptions, and are from publisher's up-to-date, current issue
circulation records not necessarily or yet submitted for audit (CCAB/BPA con-
ducts audits on select issues annually and subsequently issues audit statements
for advertisers to verify circulation claims). PrintAction's CCAB/BPA audit
statements on past issues are available from publisher.
C I R C U L A T I O N P R O F I L E
C I R C U L A T I O N P R O F I L E
Quick Printers/Copy Shops
Publishers/Creative/Agencies/
Design Studios
(colour separators, binderies, service bureaus, etc).
Schools, Associations & Others
Manufacturers/Distributors
All data are from publisher's circulation records for Canada Only.
As of November, 2002
1 to 9 Emp. 52%
10 to 19 Emp. 15%
20 to 49 Emp. 13%
50 to 99 Emp. 11%
100 or more 8%
Unstated
1%
Executive & General Mgmt, Pres, Owner 73%
P
r
o
d
M
gmt
10%
Other 14%
Unstated
3%