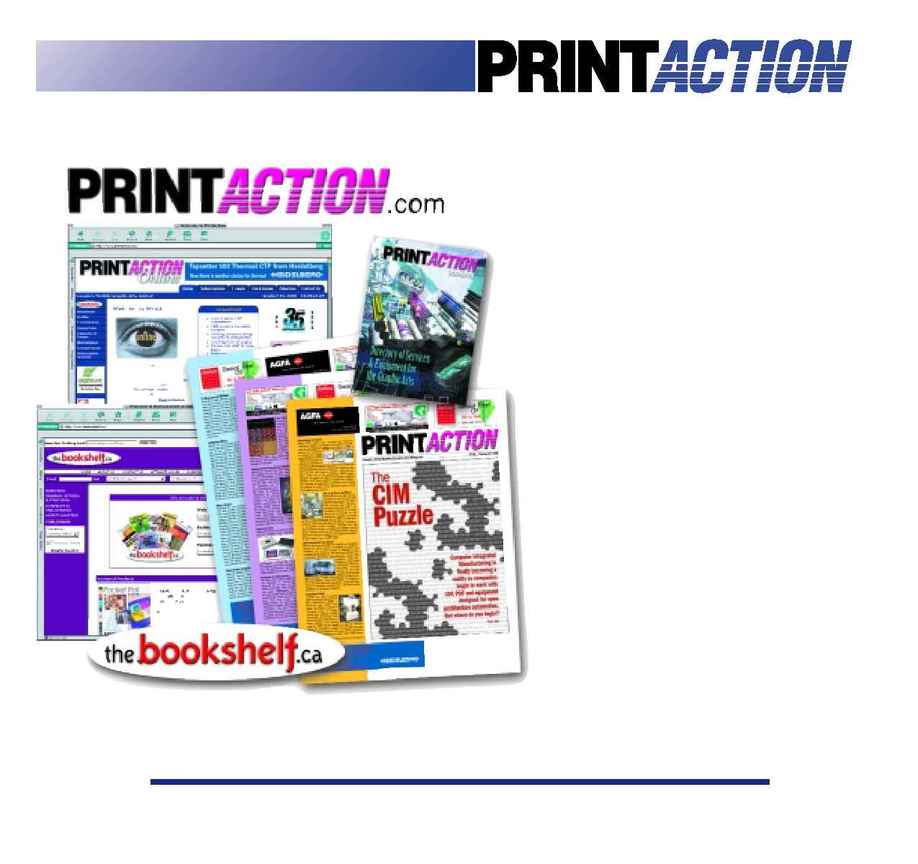 PrintAction ­ The authority on Canada's graphic arts industry, PrintAction
magazine is the country's only trade magazine to supply news and timely fea-
tures on a monthly basis. Every month, the magazine also highlights new prod-
ucts, market-changing equipment installs, and a section dedicated to the finest
print produced in Canada.
PrintAction Online ­ Covering news as it happens, PrintAction
Online links readers from across the globe to what matters in Canada's
graphic arts industry. www.printaction.com is unique in providing
web-exclusive features in the categories of E-commerce, Global Print,
Strategy and Profile. E-commerce digests how to apply digital commu-
nications to business. Global Print looks at the competing graphic arts
world. Strategy is a mix of insight for the direction of business. Profile is
a Q&A with some of the industry's leading thinkers.
e-newsletter ­ Providing regular news updates, PrintAction's elec-
tronic newsletter brings the news of the graphic arts to the desk-
top. It also highlights features posted on www.printaction.com and
important industry events.
thebookshelf.ca ­ In the categories of Design & Prepress,
Graphic Design & Printing, and Printing, thebookshelf.ca provides
the most comprehensive graphic arts bookstore on your desktop.
The site is the information resource for the latest topics in the
graphic arts, with regularly featured books and special offers.
MarketPlace ­ The leading classified advertising forum for the
Canadian printing industry! More printers, trade services and
dealers include their ads in MarketPlace than any other vehicle
because it reaches a responsive audience with an unmatched
delivery guaranteed by our CCAB audit and ads booked in
PrintAction are automatically run at PrintAction Online.
PrintAction Directory of Services & Equipment for the
Graphic Arts ­ Annual directory for the trade, provides print-
ers with the most complete and handy up-to-date source of cur-
rent information on suppliers and services throughout the year.
Seminar and Conference Program ­ Organized by Youngblood
to present a forum for an effective exchange of information and ideas on timely
and relevant topics of interest to printing industry management.
Y O U N G B L O O D P U B L I S H I N G L T D .
Y O U N G B L O O D P U B L I S H I N G L T D .
Publications and Services Produced by Youngblood Publishing Ltd.
Youngblood Publishing Ltd. Publishers and Producers of Graphic Arts Media
4580 Dufferin Street, Suite 404, Toronto, Ontario M3H 5Y2
Telephone: 416-665-7333 · 1-800-363-3261 · Fax: 416-665-7226