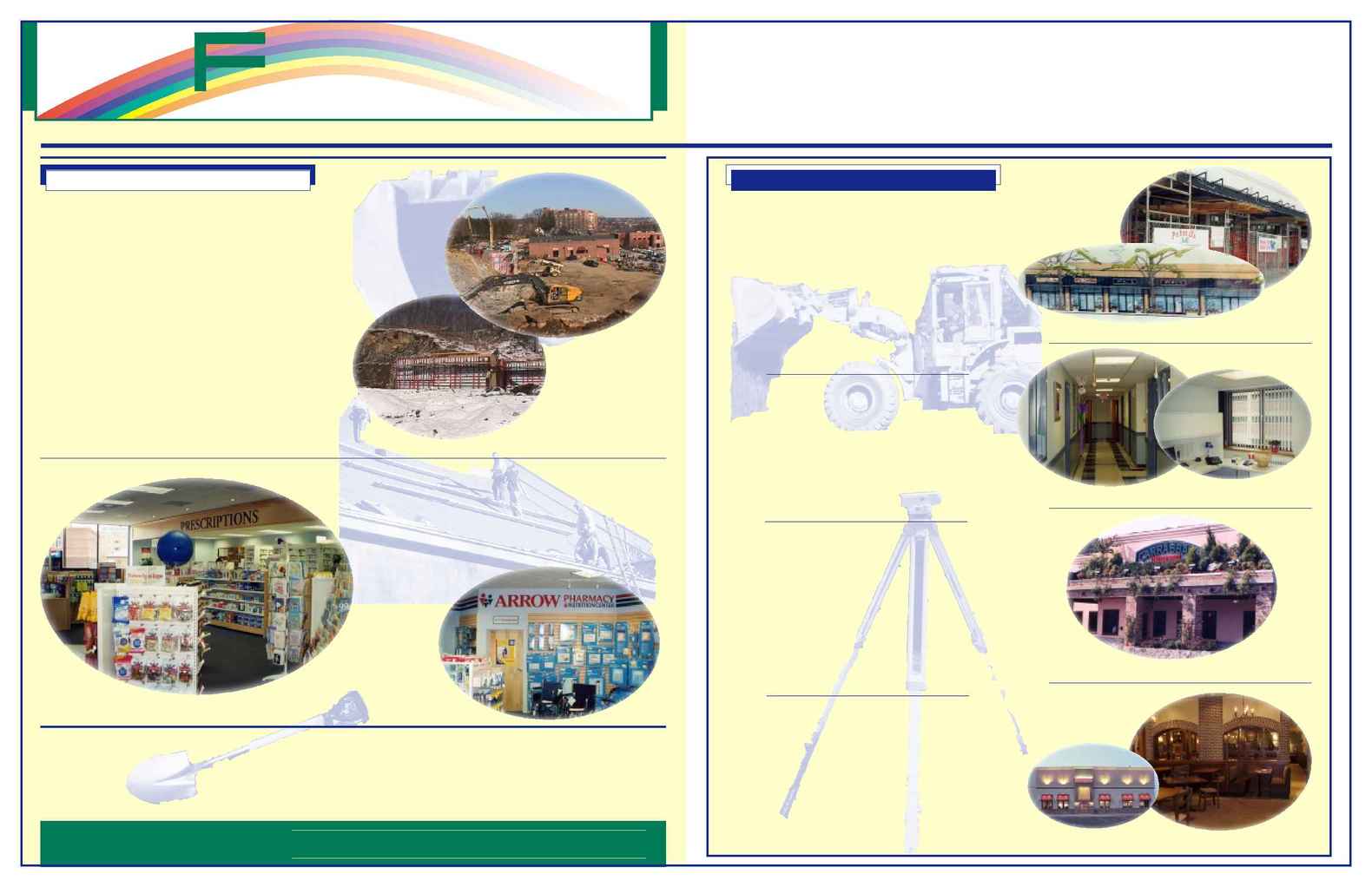 page two
Naugatuck Valley Surgical Center and Parking Deck
Waterbury, CT
Familymeds
-- New Britain, CT
s 99 Old Brickyard Lane s P.O. Box 7294 s Kensington, CT 06037-7294 s tel. (860) 560-8400 s fax. (860) 829-1399
JOB PROGRESS REPORT
Short Project Reviews . . .
s Kryspy Kreme - Medford, MA -- currently under construction with an anticipated June completion s Presbyterian Church
of Coventry - Coventry, CT -- recently completed renovations and new addition s CATIC - Rocky Hill, CT -- Interior
renovations completed for office and administrative spaces s Sinatra Medical Offices - Manchester, CT -- Recently completed
patient rooms, x-ray facilities, cardiopulmonary rooms, office and administrative space on a design/build basis s Gambro Dialysis
facility - Bloomfield, CT -- Interior renovations completed for treatment, isolation, exam, dietician, reception and office rooms
page three
s General Contractors s Construction Managers s Design/Builders
Newsletter of FORTUNATO CONSTRUCTION GROUP
PROJECT HIGHLIGHTS
Extensive renovations have been made to the historic 1920s era
storefronts on the 900 block of Farmington Avenue in West
Hartford, Connecticut. A dozen retailers occupy space here,
including such popular landmarks as Pfaus Hardware, The El-
bow Room, and Art Framing & Studio Gallery. Fortunato
provided extensive ADA accessibility and code compliance
upgrades for store entryways, new standing seam canopy treat-
ments and decorative column detailing. Architect on the project
was The Design Forum of West Hartford, CT. Project Manager
for Fortunato was Rich Fortunato.
Rendering of renovations underway to 1920s facade
West Hartford Center
West Hartford, CT
Renovations were recently completed to a portion of this six-
story brick building located on the campus of New Britain
General Hospital. Metal studding, new HVAC and fire protec-
tion sprinkler systems, flooring and window systems were in-
stalled to convert the space for use in providing adult residential
services programs. Project Manager for Fortunato was Pete
Romano with architectural services provided by Jacunski Humes
Architects of Newington, CT.
Community Mental Health Affiliates
New Britain, CT
building and parking deck
under construction
Arrow Pharmacy & Nutrition Center
Carrabba's Italian Grille
This Italian grille style restaurant was the third project performed
by Fortunato Construction for the Carrabba's chain. The 6,600
square foot facility required extensive site work and is located
adjacent to a popular Macy's store. Serving as a prototype design,
the 240-seat restaurant has an all-brick exterior with structural
porches on two sides and features plantings on the exposed roof
sections. The interior has a wood fired beehive pizza oven and
double kitchens -- one exposed for customer viewing. Project
Manager for Fortunato was Rich Fortunato and Job Superinten-
dent was Bill Crandall.
Carrabba's
Bedford, NH
A new 230-seat Bertucci's was recently completed by Fortunato
at the Cherry Hill Mall in Cherry Hill, New Jersey. The 8,000
square foot facility houses two brick ovens and features chande-
liers, ceramic floor tile, brick archways, and vibrant color schemes.
Project Manager was Marc Pelletier and Job Superintendent was
Bob Piazza. Architectural services were performed by Millen-
nium Design Group of Quincy, Massachusetts.
Bertucci's Restaurant
Cherry Hill, NJ
The new Bertucci's Restaurant at Cherry Hill Mall
The Field Report is designed and produced for the Fortunato Construction Group by
Anagnostis Associates, Inc. -- marketing consultants & graphists, (860) 228-2994
Fortunato Construction Group is currently working on a new
medical/surgical building addition and two-level parking deck in
Waterbury, Connecticut. French Mill Associates retained Fortunato
to prepare the site and construct the building shell and parking
structure. The two-story building addition is comprised of approxi-
mately 8,000 square feet of space per floor. Naugatuck Valley
Surgical Center retained Fortunato to provide tenant in-fill of the
first floor area to accommodate treatment rooms, clean work
rooms, anesthesia offices, administrative offices and dressing rooms.
When completed, the new spaces will provide a substantial expan-
sion to Naugatuck Valley Surgical Center's existing facilities in an
adjoining building. Architects on the project are Johnson &
Michalsen Architects of Branford, Connecticut and Naugatuck
Valley Surgical Center is represented by Jonathan Worley as
Project Manager. Mike Steinbrecher is Project Manager for
Fortunato and Job Superintendent is Stephen Kravitz.
Fortunato Construction recently completed interior renovations for
the Familymeds retail store -- Arrow Pharmacy & Nutrition Center
-- located on South Main Street in New Britain, Connecticut. Work
involved the relocation of the pharmacy, new fixtures throughout
the store, millwork, floor and ceiling treatments. Power-assisted
doors were installed along with ADA accessibility and code com-
pliance upgrades.
Architectural
design for the
project was
provided by
Blue Moon
Design of
East Hartford,
Connecticut.
Adult residential facilities
visit our web site at:
www.fortunatoconstruction.com
ield Report
The