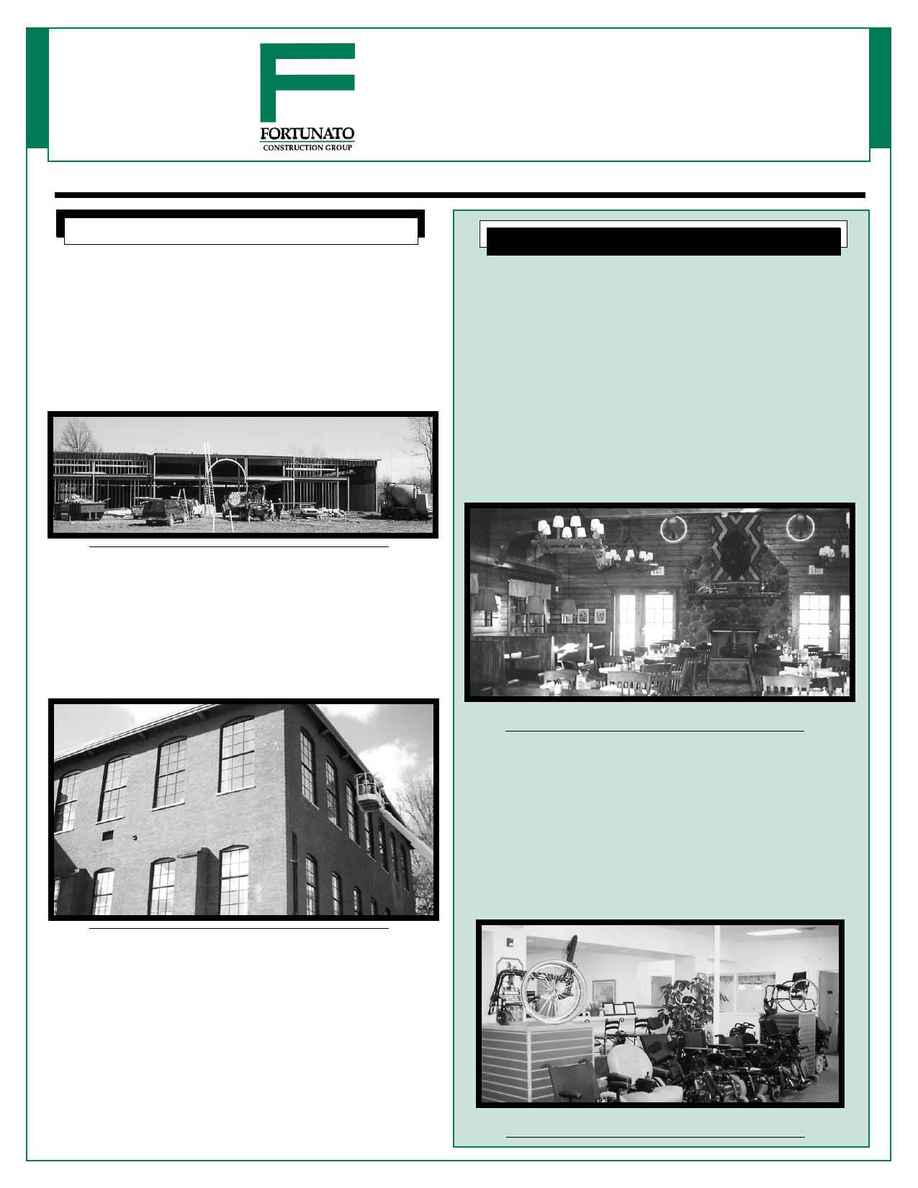 page two
Staples Retail Store
Glastonbury, CT
Fuss & O'Neill Offices
Manchester, CT
s 99 Old Brickyard Lane s P.O. Box 7294 s Kensington, CT 06037-7294 s tel. (860) 560-8400 s fax. (860) 829-1399
F
ield Report
The
Newsletter of
FORTUNATO CONSTRUCTION GROUP
Construction is well underway for a new Staples retail store
located on Putnam Boulevard in Glastonbury, CT. The 23,100
square foot facility will have a brick veneer exterior and the
familiar Staples red aluminum roofing accent. Parking for more
than 115 cars has been planned and the project is expected to be
completed and open to the public in July.
JOB PROGRESS REPORT
PROJECT HIGHLIGHTS
Fortunato Construction was selected to build the new Dakota
Restaurant located on Silas Deane Highway in Rocky Hill,
Connecticut. The 10,000 square foot building offers seating for
approximately 300 persons and was designed in the "Adirondak-
style" for which the chain has become familiar. The restaurant is
owned by Hospitality Well Done and Dave Melincoff, President,
stated, "We express our great appreciation to Fortunato for their
willingness to accommodate our constant design changes and
creative input. They were remarkable to work with on this
project." Job Superintendent for Fortunato was Mike Steinbrecher.
Renovations and historic restoration will be completed in early
spring on a three-story office building for the engineering firm
of Fuss & O'Neill. Job Superintendent is Bob Wheeler and
architectural services have been provided by FLB Architecture
& Planning, Inc..
Dakota Restaurant -- Rocky Hill, CT
Dakota Restaurant
Rocky Hill, CT
Hudson Home Health Care -- Newington, CT
Recent Project News . . .
· The Presbyterian Church of Coventry, Connecticut has
awarded Fortunato a design/build project to include a new
sanctuary and building addition. Construction will be
underway this spring.
· A second Dialysis Facility constructed for Fresenius was
recently completed by Fortunato in Bristol, Connecticut.
· Brinker Macaroni Grill in Methuen, Massachusetts
celebrated its grand opening after final construction was
completed recently by Fortunato.
· Chili's Grill & Bar opened a new facility constructed by
Fortunato in Smithfield, Rhode Island. Several other
restaurants were constructed for this client in recent years.
Approximately 18,000 square feet of space was reconstructed to
provide administrative offices, showroom and warehousing for
Hudson Home Health Care in Newington, Connecticut. Exten-
sive cabinetry, glass display areas, new electrical, plumbing and
retrofitted HVAC systems were installed throughout. Job Super-
intendent was Russ Roushon and architectural services were
provided by the Design Forum.
Hudson Home Health Care
Newington, CT