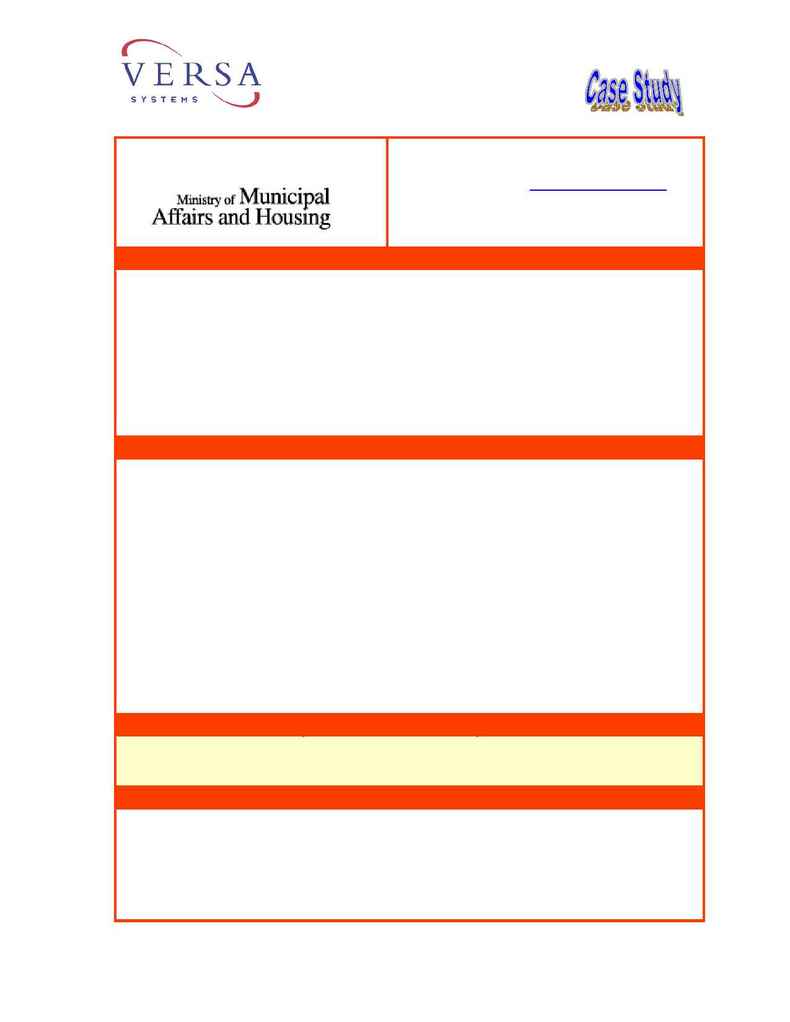 Ontario Ministry of Municipal
Affairs and Housing
For more information on this project contact:
or call our toll free number:
Project Description:
The Ontario Ministry of Municipal Affairs and Housing (ONMAH) is a government agency that
manages six major businesses: local government, Smart Growth, land use planning, housing
market, building regulation and rural development.

In 2003, ONMAH received new legislation requiring the regulation of approximately 18,000 building
officials, designers and Registered Code Agents as well as approximately 10,000 firms and their
principals. The timing of the legislation meant the implementation of a back office solution had to be
completed within 6 weeks. The agency was tasked with conducting a business revamping that
included the analysis of their business processes, the implementation of a market-leading licensing
system and the roll-out of internet portal services. The project was divided into 3 phases with the
last phase completed in the summer of 2004.
Scope of Work Performed:
LicenseEaseTM was selected as the licensing system that fully supports the Department's application
processing, licensing, examinations, enforcement, discipline and compliance functions. The ease of
use, flexibility and speed of implementation was a large part of the decision to select LicenseEaseTM.

The project was delivered in 3 phases. Phase 1 included project management, profession setup,
hardware review and business process review. LicenseEase was fully implemented and MAH staff
were trained within 6 weeks of project commencement. Phase 2 included customization
specifications and development, system administration training, Go-Live and support. This Phase
was also completed within 6 weeks. Phase 3 included any additional customization of public facing
(web) elements, data conversion, development and testing, acceptance testing, final conversion and
Go-Live.

The final phase of the solution included online web applications with a robust and easy to use
interface. The website requires minimal end user training and is easy to support and maintain. In
addition, the website supports online exam scheduling and booking, online public register, online
application and payment processing and tracking and integration with the Ontario Government's
Common Credit Card Payment (CCPAY) system.
Project Relevance:
Benefits to Client:
Provides customer access to real-time information, seven days a week
Enables clients to work with the government over the web
Reallocates resources from manual processing to direct client service
Speeds up licensing and permit processing which, in turn, reduces costs and time-to-market.
Protects the public, through increased compliance and access to timely accurate information.
Unifies government service, by creating the capability to share information and present an
integrated interface to customers.