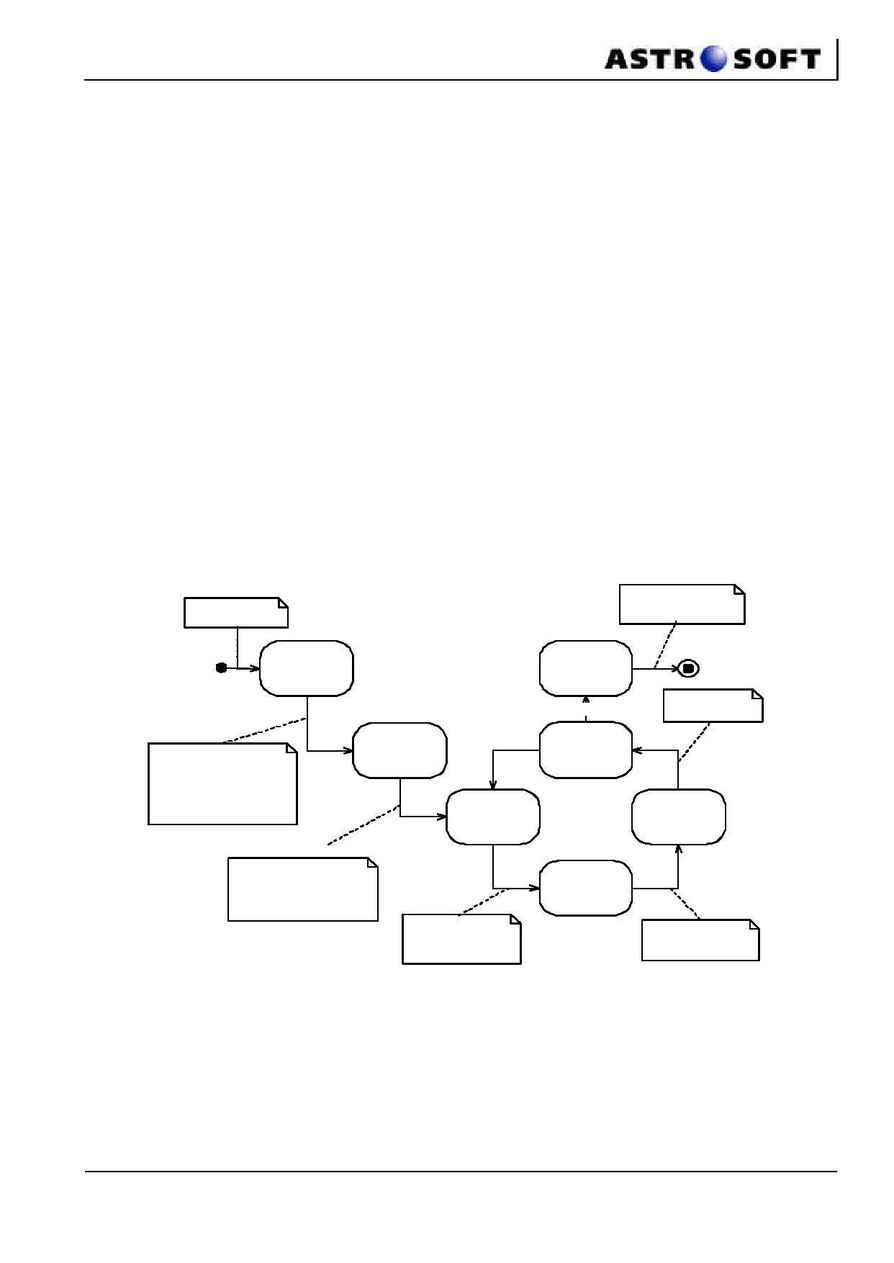 Technical Profile
Astrosoft Group · 10 Litovskaya street, 194100, St-Petersburg, Russia · Phone/Fax +7-812-3247707
www.astrosoft-development.com · www.astrosoft.ru · contactus@astrosoft-development.com
Cooperation Methodology
Interaction with Client
During customer engagement process Astrosoft assigns International Operations Manager to interact with
client, propose suitable outsourcing solution, negotiate business terms and establish general cooperation
scheme. From pilot project Astrosoft assigns also Project Manager, his key activities include interactions with
client, project organization and staffing, planning and tracking of progress, requirements and change
management. During pilot project Astrosoft Project Manager and Project Coordinator from customer's side
discuss and implement detailed cooperation scheme for smooth interaction in future projects.

Astrosoft is using Microsoft Project Server to create centralized project web portal with secured access from
different points. It's quite effective practice both for interaction with customer and between members of project
team. The users of project portal get actual information about project progress, issues, milestones, document
statuses using set of collaboration tools implemented in this solution. Also usual practices during project
execution are weekly reporting by Project Manager, teleconferences and on-site status meetings.
Development Process
Astrosoft Software Development Process (ASDP) is represented as a set of activities united into the workflows.
Every workflow enables the achievement of certain observable results and has a corresponding role distribution
and a set of denoted artifacts (project materials, documents and deliverables of any kind). The process includes
Management workflows group (project management, changes management, quality management and
environment management) and Development workflows group (requirements determination, analysis and
design, construction, customer interaction).

The general scheme of development process is presented on diagram below. This general methodology is
adopted for each concrete case taking into account differences in initial requirements and cooperation schemes.
Preliminary
Analysis
Conceptual
Design
Detailed
Design
Implementation
Testing
Deployment
Termination
Software Specification Doc
Detailed Project Plan
Preliminary Testing Plan
Estimated Risks List
Prototype
Detailed Design Doc
Reviewed Project Plan
Reviewed Testing Plan
Reviewed Risks List
C o d e
Reviewed Testing Plan
Software Documentation
Software Release
Testing Database
Project Archive
Project Summary Report
Post-project maintenance
Commercial and
Technical Proposal
Contract
Preliminary Project Plan
Team Assignment
Risks List
Customer Requirements Spec
Environment Description
Software Development Plan
Project Management
Project Management workflow in ASDP is based on Rational Unified Process (RUP) and adapted for concrete
customer and project depending on selected outsourcing methodology. Usage of special collaboration tools
(Microsoft Project and Microsoft Project Server, Microsoft Sharepoint Portal Server, Astrosoft TestRoom ­ web
based defect tracking system) is mandatory part of development process management in Astrosoft. Astrosoft
Project Managers are high-qualified and result oriented specialists with wide range of knowledge in interaction
methodology, software technologies and business processes in specific industries. The company encourages
Project Managers to obtain new skills and qualifications on provided training courses.